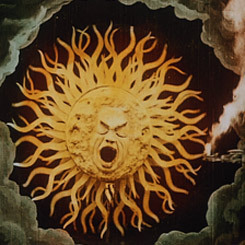 Jul 16, 2012
Two silent film classic shorts are featured in this lunchtime program, including Georges Melies' fantastical Impossible Voyage and Chaplin's iconic Tramp caring for The Kid.
IMPOSSIBLE VOYAGE
Using every known means of transportation, several savants from the Geographic Society undertake a journey through the Alps, to the Sun, which finishes under the sea. Director: Georges Méliès.
THE KID
The Tramp cares for an abandoned child, but events put that relationship in jeopardy. Director: Charles Chaplin.