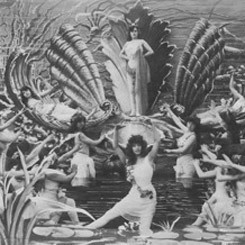 Jul 23, 2012
Let Buster Keaton and George Melies spirit you away on your lunch break in the Kingdom of Fairies and The Cameraman.
KINGDOM OF FAIRIES
At the royal court, a prince is presenting the princess whom he is pledged to marry when a witch suddenly appears! Though driven off, the witch soon returns, summoning her servants to carry off the princess. Director: Georges Méliès.
THE CAMERAMAN
Hopelessly in love with a woman working at MGM Studios, a clumsy man (Buster Keaton) attempts to become a motion picture cameraman in order to be close to the object of his desire.