Thollem's Hot Pursuit of Happiness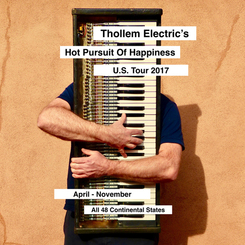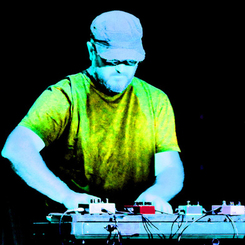 May 26
Live music: Thollem solo w/ video, plus Lori Goldston & Amy Denio!
"The time of our lives at the center of a world on the edge..."
Hot Pursuit of Happiness is Thollem's spanking new solo show forging a friendly onslaught of PunkWorldNoiseBluesAvantAmericana through an unruly electronic beast of vintage keyboards, stomp boxes and a microphone. About 21st Century America and its insane absurdity, always somewhere between being pursued and pursuing, healthy rage against it all, love and death, the time of our lives. New songs about now and from recent albums Machine In the Ghost, Conformity Contortion, Tsigoti and Who Are U.S. The 2017 tour is set to ACVilla's hyper-speed video of Silver Ochre's trip around the U.S. last year. Thollem's bringing HPOH stateside statewide from April 6th - Nov. 19th.
With "extreme imagination" (Greg Burk, LA Times), Thollem has spent his life skirting and erasing the edges of boundaries musically, culturally, geographically. His work is ever changing, evolving and responding to the times and his experiences, both as a soloist and in collaboration with hundreds of artists across idioms and disciplines. "Thollem might be a musician, or he might be some kind of wizard scientist...the experience might melt your mind." (The Denver Westword)