Northwest Film Forum offers year-round film and education programming just for young people and their families. We support film lovers and filmmakers of all ages—learn more on this page about our annual youth and family programs in the classroom.
Sign up here for our youth and family email list, and be the first to hear about new camps, classes and screenings.
Do you have questions? Contact Liz Shepherd, Youth Programs Director, [email protected].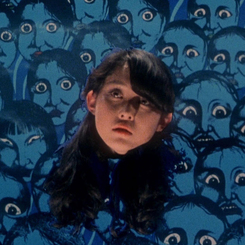 Sunday School: Horror Edition
THIS CLASS HAS PASSED
JOIN THE YOUTH PROGRAMMING MAILING LIST TO BE THE FIRST TO HEAR ABOUT UPCOMING YOUTH CAMPS AND CLASSES!
October 30th - November 20th (Sundays) 11:00am - 2:00pm (includes screenings and discussions)
Instructors: Katie Pappageorge and Felicia Alumbaugh
Tuition (covers all four sessions): $45 ($40 for family of NWFF members)
Level: Ages 15-19
Limited to 15 students

Ever wanted to dig deeper into your favorite films and genres? Now is your chance to sign up for Northwest Film Forum Sunday School! This class will help you acquire the skills to talk about films both critically and analytically, learning more about the language of cinema.

For this 4-week series, the topic is HORROR films! Horror gives us a unique opportunity to talk about what we're afraid of and what we believe in (as individuals and as a culture), and it is one of the most stylistically daring genres. We'll look at world and Hollywood classics and recent works, exploring different ways of "reading" film.

Each Sunday session will consist of two parts: film screening and discussion. For the first half of the sessions, we will watch movies together, keeping in mind the historical context of the films. In the second half of the sessions, we will have discussions and in-depth readings of the films. Students will be provided with some light reading material to better discuss certain concepts or possible problems seen in the films. Please bring a bagged lunch.

These sessions are organized for teenagers who are interested in film analysis and history. Students will be encouraged to to express their thoughts, ideas, and readings of the films in a fun and welcoming environment.

Week 1 - Silent Horror: The Cabinet of Doctor Caligari (1920)
Week 2 - Horror and Stylization: Hausu (1977)
Week 3 - Shock, Schlock, and Slashers: Carrie (1976)
Week 4 - The Future Is Female: The Babadook (2014)

Instructor bios:

Katie Pappageorge is in her third year of assisting with programming for Children's Film Festival Seattle. She currently works as an ABA therapist and has worked at arts camps, created historical exhibits, and even taught Sunday school (not the movie kind). Her interests include horror literature, shojo manga, and fan culture.

Felicia Alumbaugh is a senior at the UW. She studies Film and French. She is an intern for the Children's Film Festival (2nd year). She is a professional movie theater popcorn popper by day. Her interests are in silent films, documentaries, and languages.

Content Advisory:

Some of the movies that we will watch and discuss for this course include depictions of violence, nudity, and situations or dialogue that may be considered controversial or objectionable. This class is meant to create a serious intellectual context for the discussion of such movies and their place and relevance in the history of the cinema. Parents and students, please take this into serious consideration in signing up for this class.

Click here to sign up for this class