Press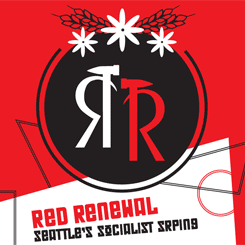 Red Renewal: Seattle's Socialist Spring
MARCH 18—MAY 1, 2014
RED RENEWAL: SEATTLE'S SOCIALIST SPRING
Presented in partnership with Town Hall, ARCADE, PubliCola at SeattleMet, Tasveer, DEFA Film Library, Capitol Hill EcoDistrict, The Harry Bridges Center for Labor Studies at the University of Washington and Charles Mudede
With the election of Kshama Sawant to Seattle City Council and the ongoing political battle for a $15 minimum wage, the future of workers' rights is a conversation gripping Seattleites of all backgrounds this spring. Red Renewal brings together community groups from across the city for collective contemplation of new and old films that resonate with ongoing conversations about Seattle's economy and politics. Expect workers' songs and digging in Seattle's audiovisual archives, Soviet crocodiles and Slovenian psychoanalysts, radical labors of love, virtual public spheres and difference of opinions. It all begins with a screening and discussion with Kshama Sawant and Charles Mudede at Town Hall on March 18.
See the the full film and event schedule for download as a Word document on this page. [Updated March 6]
Please confirm show dates/times with Northwest Film Forum before release, and email us for access to the Press and Publicity Dropbox, for advance stills and film background/EPKs.