Start-To-Finish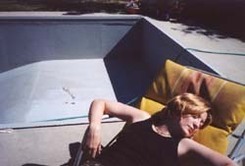 Hedda Gabler
"Seattle Filmmaker Paul Willis isn't sitting around whining about how hard it is to get financing for independent films. He's doing something about it - finding coin for his contempo take on 'Hedda Gabler' by creating an unusual financing structure."
-Patricia Saperstein, Weekly Variety, April 8-14, 2002

"(Director Paul Willis) has siphoned off Hedda's embalming fluids and reinjected the hot blood that once made her so harrowing and worthy of the canon to begin with. And he stuck her in Wenatchee."
-Brendan Kiley, The Stranger, June 10, 2004 [link to full review]



Artist Paul Willis directed this contemporary feature film adaptation of Henrik Ibsen's late 19th century play Hedda Gabler. This project is produced in association with Best Ten Dollar Suit Pictures and Printer's Devil Theatre, who staged the play to critical acclaim in Fall of 2000 at Sand Point Naval Base. Printer's Devil collaborated heavily on the casting and workshopping aspects throughout pre-production. Paul Willis is a founding member of Printer's Devil, a theater writer and director, and a active member of the Seattle theater community. He is currently in post-production on a feature length documentary on the Hank Williams Tribute Night at Seattle's Tractor Tavern.
About Hedda Gabler
The film and theatrical versions of this story were developed simultaneously through a series of intense workshops throughout 1999 and 2000. As a result, the two unique manifestations of this project had great influence on each other. The stage development revealed the story's structure and the immediacy of the action, while the film development helped to couch the story in a contemporary American context, punctuating the story's relevance. Through both manifestations, two very important themes continue to emerge: one, the struggle to reconcile what you thought would become of your life with what it has become; and two, it is 'the things that we don't say' that truly count. Telling this story with film allows the sharpest essence of these themes to come to the forefront. With the use of different film textures and camera perspectives, the sub-textual lives of these characters can be captured more acutely. In creating a landscape of the suburban, middle class dream, especially as depicted by American movies, we have the opportunity to expose its underbelly. By watching these characters as their beliefs erode the film can capture a stark but more accurate picture of the fragile beginnings of a middle class American family.

Hedda Gabler is a classic Norwegian play about not fitting into your life. All six characters are on the brink between their youth and their adult lives, reckoning for the first time their possibly mistaken life choices about career, family, and love.
Production Notes
The film of Hedda Gabler was shot on location in a middle class ranch-style house at the end of a cul-de-sac, in a suburban neighborhood in Wenatchee, WA, in June and July 2002. All actors and crew were on location for six weeks working in a tight collaborative process. Hedda Gabler premiered at the 2004 Seattle International Film Festival. It has gone on to play venues as diverse as the TTV Festival in Riccone, Italy and an Ibsen scholar program at Chico State University. In early 2008, it will be available for purchase on DVD.