Start-To-Finish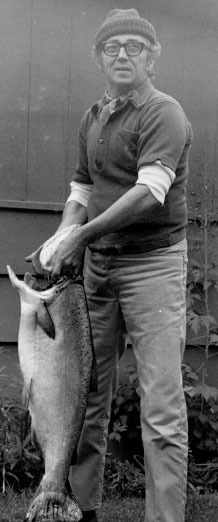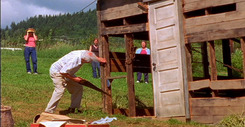 Buffalo Bill's Defunct
Directed by Matt Wilkins
Produced by Eliza Fox
About the Filmmakers
Eliza Fox: Producer/Writer
Ms. Fox has produced and co-wrote Interior Latex, I wish I could Find Five Dollars on the Ground, Ain't Got No Chicken Bones in My Brain, and The Gods Looked Down and Laughed. She co-produced Oh Shit- That's My Mind. She was a creative consultant on The Agnostic Party. Nicknamed "The Problem Solver," she has worked on every aspect of her projects from conception through final editing, and most importantly has successfully completed all of them on schedule and within budget.

Erich Volkstorf: Cinematographer
Erich Volkstorf began his career in 1981 as a photographer for KTNV TV in Reno, Nevada. Three years later he relocated to Seattle for the PM Magazine series. He has been an independent Director of Photography for fifteen years and has worked with such groups as The Boeing Company, Microsoft, and the Bon Marche. Erich has been the Director of Photography on several feature length and short films including Shredder Orpheus, Shelter From The Sun and Interior Latex. He has won numerous awards including three silver medals from The International Film and TV Festival of New York, two 1st Place Awards in the National Film Outdoor-Travel Film Festival, and an ITVA International Golden Quill Award.
Director's Statement
Ninety percent of communication is non-verbal. The voyeuristic instincts we possess help us learn quickly and deeply by simply watching others interact. I rely on this form of behavioral communication, rather than dialogue, and a dogmatic approach to the written word. This creates an idiosyncratic film peculiar to myself and my players, that belongs somewhere in the open-frame, pragmatic realist school of filmmaking described by Ray Carney:
http://people.bu.edu/rcarney/acad/formstext.htm

My stories are inspired from personal experience-- incidents that happened to me, or that I witnessed, or occasionally anecdotes I've heard through the grapevine. I like stories that I'm instinctually attracted to-- stories that I don't completely understand at first, but that have a magnetic pull.

As an artist who makes films, I have a strong desire to connect with audience members who are sensitive to subtlety and who are open to new challenges. I know of no greater feeling of accomplishment than to affect like-minded stangers on a profound emotional level, to make a handful of good friends in a single screening.
-Matt Wilkins
Press
Seattle Times:
Dismantling the Past
By Tom Keogh

"An ambitious and often moving feature, produced locally and directed by Seattle's Matt Wilkins, "Buffalo Bill's Defunct" is both shrewd and sophisticated filmmaking. Essentially a collection of poignant short tales about the grown children and grandchildren of ornery but magnanimous "Buffalo" Bill (Earl V. Prebezac, co-founder of Edmonds' Driftwood Players), the action begins when Bill accidentally rams his truck through a wall of his dilapidated shed. Deciding it's time to demolish the rustic hut, widower Bill enlists his kin in removing its family paraphernalia from bygone years. This dismantling of the past becomes a catalyst for learning more about Bill's kids (and their kids) through spare vignettes that have been compared, with good reason, to stories of the late Port Angeles writer Raymond Carver. One of the best pieces stars Keith Fox as an emotionally reckless and taciturn father whose grown daughter (Frances Hearn) reluctantly bonds with him while humiliating her drunken boyfriend (Michael White). Improvising dialogue and behavior, the entire cast and Wilkins find a quiet if urgent soulfulness somewhat obscured at times by overly busy editing."
Click here to read the original article

The Oregonian:
beyond the multiplex
Friday, October 15, 2004
By MARC MOHAN

"WEST HOME -- When he accidentally drives through the door of his dilapidated garage, an elderly curmudgeon named Bill (Earl V. Prebezac) tries to cover up his ineptitude by declaring he's decided to tear the thing down. As various family members are enlisted to help with this absurd task, the shed is emptied of ramshackle heirlooms and board games, sparking gossip and remembrance in the form of flashbacks. In one tale, Bill's granddaughter takes her boyfriend to meet her father, and a cruel drunken prank ensues. In another, the family's youngest generation confronts natural reality in the form of a roadkill fawn. Dancing elliptically around themes of familial disintegration and modern disconnectedness from the world, "Buffalo Bill's Defunct" earns its subtitle: "Stories From the New West." Director Matt Wilkins and producer Eliza Fox, winners of a Judges' Award at the 2001 Northwest Film and Video Festival for the short film "Interior Latex," have crafted a solid, impressive-looking film. The semi-improvised performances are consistently naturalistic, and the production as a whole marks a promising feature debut for these Seattle-area filmmakers."
Click here to read the original article


WW Pick In the Willamette Week:
Buffalo Bill's Defunct
By DAVID WALKER

"Filmmaker Matt Wilkins' funny and touching tale of family dysfunction was a big hit at the Seattle International Film Festival. Wilkins paints a portrait of an extended family in eastern Washington, brought together by a lie told to cover an accident. Local indie filmmakers would be well advised to watch Buffalo Bill's Defunct, a solid film that was primarily improvised."
Click here to read the original article

Seattle Weekly:
THIS WEEK'S ATTRACTIONS
By Laura Cassady
"Local director Matt Wilkens has made a fictional family album, complete with bittersweet memories, hilarious snapshots, yellowing pages, and moments that might have been better off forgotten. The remarkable part is that it's done without employing cliché or manipulation. You'll cringe at the uncomfortable moments, but that's expected. You're not cringing at the film, you're cringing with it—and on the other hand, the film is weirdly heartwarming, but not enough to embarrass you. Revolving around a harebrained scheme, spearheaded by Grandpa Bill (the titular Buffalo), to tear down a dilapidated garage on the family land, the film explores the generational push/pull of family members who love one another, sure, but might not always speak the same language. To its credit, the movie doesn't take a heavy-handed approach to the dysfunctional family thing—in fact, the family is refreshingly functional. There are satisfying undercurrents of awkwardness and broken ties. You see it in the odd way that little Wiley smacks his dolls around and the way that Bill is clueless and inappropriate and asks his daughter if her boyfriend has any weird sexual habits. Is he starting to lose his grip, or is he just a weird old guy? In the end, he's so sweet it doesn't matter—but then again, he's her dad, not ours. Wilkens has said he's interested in nonverbal communication, and while much is "said" by Bill with his sea-blue eyes, half-closed by age, his family does talk and talk and talk as well. But Wilkens often separates their dialogue from the action. Their speech is used as in voice-overs in tangentially related scenes where the actors almost never face the camera. The script in Defunct was largely improvised, and, because the largely local cast is easy and talented, these scenes paint an incredibly real-feeling family in the midst of some real-feeling changes. (NR)"
Click here to read the original article
Seattle Post-Intelligencer
By SEAN AXMAKER
"When aging Grandpa Bill (Earl Prebezac) backs his old pickup right through the garage door, he covers up the accident with a spontaneous project: He razes the old shed and the entire family gets in on the haphazard demolition derby. Matt Wilkins' family portrait is the third local production from Wiggly World's "Start to Finish" project, and the most personal. The lives of Bill, his children and his grandkids over these couple of days are viewed like snapshots illuminated with uncompromising glare of a flashbulb. The naked observation of family dynamics in mundane moments, squirmy behavior and oblivious selfishness that only sometimes breaks through to empathy unsettlingly gives the film a startlingly unique quality."
Click here to read the original article
Seattle Times
By MOIRA MCDONALD
"Matt Wilkins' BUFFALO BILL'S DEFUNCT: STORIES FROM THE NEW WEST has a looseness to it that's reminiscent of free verse."
Click here to read the original article
The Stranger and The Portland Mercury
By SHANNON GEE
THE STRANGER picks BUFFALO BILL'S DEFUNCT at the festival: * Buffalo Bill's Defunct--* Stories from the New West * DESIGNATES A STRANGER PICK * "Crotchety, curmudgeonly Grandpa Bill leads his goofy brood in not raising a barn, but tearing down a garage. Local director Matt Wilkins' largely improvised feature is somewhat untraditional in structure, but it feels keenly real in its graceful and humorous sketches on family relationships."
Click here to read the original article