Start-To-Finish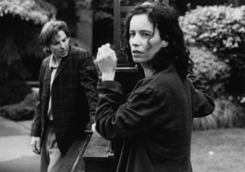 Money Buys Happiness
Directed by Gregg Lachow


"Thoughtful and lyrical...takes to heart Chekhov's belief that people can be doing the most mundane things, while underneath, they are destroying one another's lives."
-Variety

"Lachow is a filmmaking original. His film has the same plot as Eyes Wide Shut (a suddenly estranged husband and wife with a child go their separate ways on sexual/spiritual nighttime journeys), but Lachow cuts Kubrick for humor and humanity."
-Gerald Peary, Boston Phoenix
Synopsis
Money Buys Happiness takes us on a 3-day journey through the hills and valleys of a complicated marriage. Georgia is 35 years old and looking for love; her husband Money is also embarked on a quest, although even he isn't sure what he's trying to find. The film finds our heroes fighting outside their friend's house the night he hangs himself, leaving behind a piano and a note that says "See ya." The couple gets dibs on the piano and agree to break up when they get it home, but when Money insists they take a day to push it 50 blocks to their house, their lives are temporarily suspended and they are propelled into the greatest fight of all--the fight to figure out what they want out of life. As Money attempts to push the piano home before sundown and the beginning of the Sabbath, Georgia searches out the mysterious "V" who long ago sent her a declaration of undying love. The film chronicles their intertwined odysseys--the dance of two lovers growing in different directions, each at a different pace--and their attempts to rediscover each other. Oscillating easily between biting black comedy and a poetic realism reminiscent of Godard or Renoir, Money Buys Happiness is a transforming movie-going experience.
About the Filmmakers
Gregg Lachow (Writer/Director) has made numerous short films, including the Emmy-nominated To Have and To Hold for PBS. His first feature film, the comedy The Seven Mysteries of Life, premiered at the Taos Talking Picture Festival in 1995; it was hailed by Variety as "an unexpected delight" while John Hartl of The Seattle Times called it "a charming, deadpan farce." Lachow's second feature, The Wright Brothers, premiered at the Los Angeles Independent Film Festival in 1997; Kevin Thomas of the Los Angeles Times said the picture is "unlike any film biography you've ever seen" and called Lachow "a very real and original talent." Paula Nechak of The Seattle Post-Intelligencer said "Lachow accomplishes wonders" and called the film "a fanciful counterbalance of ideas and images with an ingenious script rich with thoughts and dreams."

In addition to his narrative film work, Lachow is the co-founder and director of the internationally-acclaimed performance group Run/Remain, which has toured its unique blend of theater, film, live music, and dance to wide acclaim in the U.S. and Europe. Lachow has received individual artist grants from the National Endowment for the Arts, the Andy Warhol Foundation, the King County Arts Commission, and the Seattle Arts Commission, among others. He is a graduate of Harvard College, where he was editor of The Harvard Lampoon.


Megan Murphy (Georgia) has collaborated with Gregg Lachow for ten years. On film she starred in The Wright Brothers and The Seven Mysteries of Life, as well as in Lachow's short, To Have and To Hold. As a member of the interdisciplinary performance group Run/Remain she co-created, choreographed, and performed in six full-length works and numerous short pieces. With the Brussels-based Needcompany she co-created Ca Va and toured it throughout Europe, and co-starred in the film Rabbit Day.


Jeff Weatherford (Money). Jeff's film credits include Renaissance Man and Frank Clark's Blond Fist. Television credits include guest roles on Ellen and Dr. Quinn Medicine Woman, and recurring roles on Another World and Comedy Central's Almost Live. Off-Broadway Jeff played Gregg in The Sum of Us. Regional theater work includes A.C.T., Portland Stage, Intiman, A Solo Theater, and most notably in Emily Mann's production of The Glass Menagerie at the McCarter Theater Center. Jeff graduated from Julliard in 1990.


Jamie Hook (Director of Photography/Co-Producer) has worked extensively in film in Seattle for the last 6 years. In 1995, he founded WigglyWorld Studios, a non-profit film-arts organization that has grown to include two nationally renowned cinemas, The Grand Illusion and The Little Theater, as well as a fully-functioning filmmaking facility with an annual budget in excess of $400,000 and a membership in excess of 500 persons. The calendar program at The Grand Illusion Cinema was recognized by Variety magazine as one of the ten best in the nation (July, 1997), and has been instrumental in launching such films as Schizopolis (Steven Soderbergh); Hands on a Hard-Body; and Village of Dreams. WigglyWorld has received grants from the National Endowment for the Arts and Micorsoft, as well as numerous local and national arts funders, including the Washington State, King County, and Seattle Arts Commissions. In addition to his work with WigglyWorld, Jeremy has acted as editor on all of Gregg Lachow's features, as well as numerous other shorts films.

Principal Cast & Crew
Georgia: Megan Murphy
Money: Jeff Weatherford
Peter: John Holyoke
Jane: Cynthia Whalen
Carla: Cathy Sutherland
Vincent: Michael Chick
Steve: Caveh Zahedi

1st Assistant Director: Marie Vershueren
Script Supervisor: Jessica Wilson
Associate Producer: Per Anderson
Line Producer: Zoe Knight
Art Directors: Blake Hellman, Adam Roffman
Sound: Kristofor Mellroth
Casting: Rachel Parks
Costumes: Nina Moser
Music: Jim Ragland
Director of Photography: Jamie Hook
Editors: Jamie Hook and Gregg Lachow
Producers: Jamie Hook and Gregg Lachow
Writer/Director: Gregg Lachow
Production Notes
Money Buys Happiness is the first film to emerge from Northwest Film Forum via its groundbreaking Start-to-Finish project. The film was shot in Seattle in 1998, Money Buys Happiness premiered at the 1999 Seattle International Film Festival to a sold-out house at the Cinerama Theater as a benefit for the Start-to-Finish program. It went on to play the Los Angeles International Film Festival, the Hamptons and many others. It was released theatrically on 35mm by Northwest Film Forum, and on DVD by Vanguard Cinema.
USA | 1999 | 104 Minutes | Color | 35mm | 1:1.85 | Stereo | English