Start-To-Finish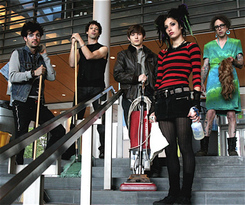 Immaculate Conception of Little Dizzle
A feature film written and directed by David Russo

Stay updated about Little Dizzle - visit the official website: http://www.littledizzlefilm.com/
The Immaculate Conception of Little Dizzle premiered at the Sundance Film Festival in January 2009
Click here for more details
Click here for information about the Little Dizzle's inclusion in the Seattle International Film Festival 2009
The 6th recipient of the Start-to-Finish grant is internationally acclaimed Seattle filmmaker David Russo, who will write and direct the feature film The Immaculate Concenption of Little Dizzle. The Start-to-Finish grant is an innovative grant project through which the non-profit Northwest Film Forum throws the entirety of its resources behind a filmmaker's feature film.

David Russo has the unique distinction of being one of only a handful of artists in this country to sustain himself financially as a short filmmaker. Many of his films received distribution not only domestically but around the globe. Russo is best known for his award-winning short films "Populi" (2002) and "Pan With Us (2003)," both of which premiered in competition at Sundance (with Pan With Us winning an "Honorable Mention") before going on to play festivals around the world, including Telluride, Toronto, Aspen, Edinburgh and Clermont-Ferrand. Pan With Us was released theatrically in "The Animation Show" (2005), a touring showcase of short films curated by Mike Judge and Don Hertzfeldt. Populi has been acquired by Vulcan, Inc., and installed as a permanent public media artwork at Qwest Field in Seattle. Russo's latest film "I Am (Not) Van Gogh," was recently completed and premiered in a retrospective of his work at Seattle's Bumbershoot arts festival in summer 2005. Russo was named one of Filmmaker Magazine's "New Faces of Independent Film," and was the recipient of alt-weekly The Stranger's "Genius Award" for filmmaking in 2004.

Russo"s Start-to-Finish project will be his feature-length debut. The Immaculate Conception of Little Dizzle (the original working title was #2), a character-driven comedy, is the story of Dory, a white collar worker loses his job and finds himself working as a night janitor at a market research firm. He soon discovers the janitors are being experimented on surreptitiously, with unexpected results.

The Start-to-Finish grant provides assistance in all aspects of fundraising, unlimited use of Northwest Film Forum's production (studios & rehearsal space, cameras, lights, sound recording, etc.) and post-production resources. NWFF also provides the time and expertise the its staff- particularly Executive Director Michael Seiwerath, who serves as Executive Producer on the film. The previous Start-to-Finish project, Robinson Devor and Charles Mudede's Police Beat, premiered in Dramatic Competition in the Sundance Film Festival and has since played to great acclaim at festivals around the world, including Munich, Edinburgh, Karlovy Vary and Vancouver. It is currently in limited theatrical release nationally.

The NWFF's commitment to the project does not end with production, or even with the creation of a film print. NWFF works hand-in-hand with the producer and director on the film festival strategy, and stays with the project through a sale or self-distribution.

"David is one of the most internationally respected filmmakers in the Northwest, and we are excited to be working with him," comments Seiwerath. "David has produced an amazing body of short work. The Start-to-Finish grant is designed to help filmmakers like him make the leap to feature films."

"I am humbled by Northwest Film Forum's faith in the script," says Russo. "It's an utterly unique, courageous project for an utterly unique, courageous organization. NWFF's progress these past few years has been astounding, and I'm glad this feature has been invited to be a part of furthering it."

Previous Start-to-Finish features also include Matt Wilkins' Buffalo Bill's Defunct and Paul Willis' Hedda Gabler, which premiered at the Seattle International Film Festival in 2004. The first Start-to-Finish film, Gregg Lachow's Money Buys Happiness, premiered at the Seattle International Film Festival in 1999, and has played in retrospectives of the filmmaker's work in New York and Los Angeles. The film received national video distribution and is currently available in video stores nationwide.

While many programs exist to fund documentaries, the United States has virtually no model for non-profit organizations to directly fund artistic feature films. NWFF's Start-to-Finish grant is inspired by state-supported funding programs in Canada, England, France, and Iran, where feature filmmaking is perceived foremost as an artistic and cultural product, not simply in terms of commercial value. Filmmakers are nominated for Start-to-Finish based on the quality of past work, and are then selected by a representative of NWFF staff, its Board of Directors, and three working local filmmakers. There is no application process, a format similar to the MacArthur Fellowship selection process. In addition, no screenplay submissions are required. Each cycle of the Start-to-Finish award process lasts up to 24 months, overlapping considerably with the following cycle.

The Immaculate Conception of Little Dizzle shot in June 2007..