Message to Love: The Isle of Wight Festival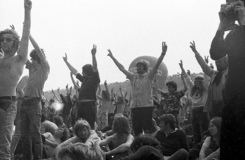 May 23 - May 27, 2010
(Murray Lerner, USA, 1970, DigiBeta, 127 min)
This vital historical document depicts a climate in which the boundless hippie optimism of the 1960s was about to be chewed up and spit out by the materialistic capitalism of the 1970s. Poorly organized by three upstart concert promoters, the festival brought together 600,000 music fans for a star-studded five-day event. Unfortunately, few festival attendees bothered to purchase tickets, and the resulting dramas kept the concert from becoming the free-and-easy event that people hoped it would be.
While the lineup reads like a who's who of the era's greatest artists—The Who, Free, Taste, Tiny Tim, John Sebastian, Donovan, Ten Years After, The Moody Blues, Kris Kristofferson, Joni Mitchell, Miles Davis, Leonard Cohen, ELP, Joan Baez, Jethro Tull, The Doors and more—the overlying tensions threatened to drown out the music. Despite this, the show had many standout moments, including what would turn out to be the final stage performance of Jimi Hendrix.
Ultimately, director Murray Lerner was aiming for something greater than mere musical reverie, and the finished product reflects that, including several heated exchanges between the promoters and angry managers. The final Isle of Wight festival was not simply a financial fiasco. It spoke of a much greater loss, the loss of a generation's innocence.


"...[An] engrossing time trip backward....A complex, flavorful overview that's like a nonfictive counterculture Nashville..."—Variety