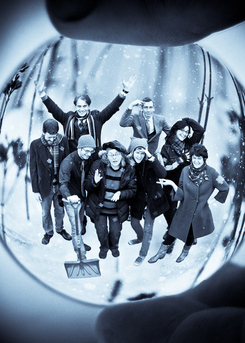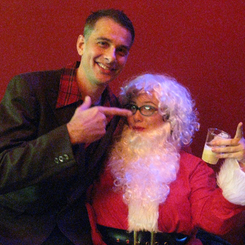 Dec 20, 2010
Your favorite film luminary (film critic & professor Dennis West) as Santa…The annual Nog-Off egg-nog championship…Back alley dreidel games…Dancing…Good cheer… It must be our annual holiday party!

Bring friends and family. Bring food to contribute to the potluck table. And bring egg nog, if you think you've got what it takes to compete! (Entries in the Nog-off competition need to arrive by 7:15pm, and Santa will announce the winner at 8pm.)
Party highlights include a new collection of vintage holiday footage and TV specials, and a special visit from Liberace!
Music provided by DJ Flim Flam and Airpocalypse.
Hailing from the Pacific Northwest, Airpocalypse is America's premier
Air Guitar band! Fresh back from their world tour, Airpocalypse is
bringing the brutal fury of Rock N Roll to the public in an easily
digestible form. All rock, no guitars.