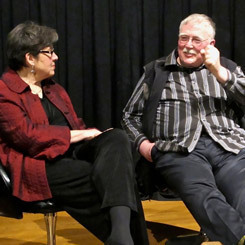 Jan 13 - Jun 15, 2012
Join us for a monthly discussion with three long-time Seattle film critics (and occasional guest commentators) who have much to say on the subject of cinephilia past, present and future. The conversation includes former Film Comment editor Richard Jameson, Everett Herald/KUOW critic Robert Horton and MSN.com critic Kathleen Murphy.
Framing Pictures begins its second year in January 2013 by considering the unique comic auteur Pierre Étaix, a major presence on the arthouse scene of half a century ago, neglected for most of the interim, but due for an in-depth retrospective at Northwest Film Forum in February. The framers will also explore the strange case of Sparrows, an esteemed late-silent film whose director made this one masterpiece and then went on to decades of hack work; SIFF Cinema will be showing the movie later in the month. No hack is South Korea's Hong Sang-soo, who should also command some talk time in this first conversation of 2013; his latest film starts February at the Grand Illusion.