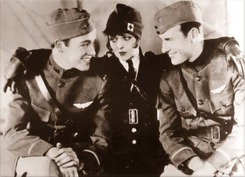 Feb 13, 2012
(William A. Wellman, 1927, USA, 35mm, 139 min)
Wings is a 1927 silent film about World War I fighter pilots, produced by Lucien Hubbard, directed by William A. Wellman. Wings was the first film, and the only silent film to win the Academy Award for Best Picture. Jack Powell (Rogers) and David Armstrong (Arlen) are rivals in the same small American town, both vying for the attentions of pretty Sylvia Lewis (Ralston). Jack fails to realize that "the girl next door", Mary Preston (Bow), is desperately in love with him. The two young men both enlist to become combat pilots in the Air Service. When they leave for training camp, Jack mistakenly believes Sylvia prefers him. She actually prefers David and lets him know about her feelings, but is too kindhearted to turn down Jack's affection.

Mary joins the war effort by becoming an ambulance driver. She later learns of Jack's reputation as an ace and encounters him while on leave in Paris. She finds him, but he is too drunk to recognize her.

The climax of the story comes with the epic Battle of Saint-Mihiel. What happens next makes this film worthy of its Academy Award.

Wings stars Clara Bow, Charles "Buddy" Rogers, and Richard Arlen. Gary Cooper appears in a role, which helped launch his career in Hollywood, and ironically, out of all the lead performers in the film, it was Gary Cooper's supporting role, which would shoot him to stardom.