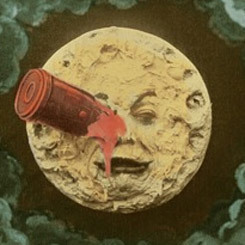 Jul 09, 2012
Three classic silent film shorts are presented for your viewing pleasure, including Georges Melies' seminal A Trip to the Moon (Le Voyage dans la lune), and two of Charlie Chaplin's hilarious classics.


A TRIP TO THE MOON
This 1902 French black and white silent science fiction film is loosely based on two popular novels of its time: From the Earth to the Moon by Jules Verne and The First Men in the Moon by H. G. Wells
ONE A.M.
A drunken homeowner has a difficult time getting around his home after arriving late at night. Director: Charles Chaplin.
THE IMMIGRANT
Charlie is an immigrant who endures a challenging voyage and gets into trouble as soon as he arrives in America.