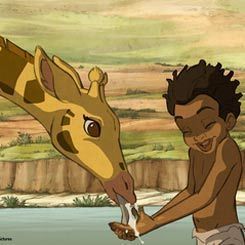 Jan 24 - Feb 03, 2013
(Rémi Bezançon, Jean-Christophe Lie, France/Belgium, 2012, animation, 78 min)
Festival opening night!
Washington State premiere!
This gorgeously colorful animated film marks the feature debut of Rémi Bezançon, who teams up here with The Triplets of Belleville supervising animator Jean-Christophe Lie to tell the thrilling story of an escaped slave boy and the baby giraffe he befriends, following them on an incredible journey from Africa to Paris. Inspired by the true story of the first giraffe to arrive at a Paris zoo in 1827. Winner of the Children's Jury Grand Prize at the 2012 Chicago International Children's Film Festival.
In French with English subtitles. Ages 8 and up. Includes scenes depicting cruelty, danger and villainy, though the uplifting story also has a very positive message and offers a fascinating historical perspective (and it won't spoil anything to say there is a happy ending!).
Special ticket pricing for opening night: $10 Film Forum members / $12 general admission / $38 per family of four.
Buy tickets for January 24 (opening night) >>
Buy tickets for February 3 >>