Pancake Breakfast and Short Film Smorgasbord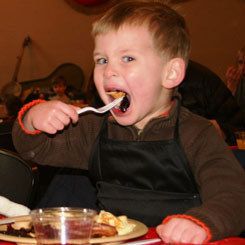 Jan 26, 2013
Breakfast + film screening!
This all-you-can-eat breakfast of fluffy homemade pancakes and sizzling bacon is fun for the whole family! And of course we'll have gallons of hot coffee on hand for adults. After breakfast, come to Northwest Film Forum for a special screening of some of the best live action and animated short films in this year's festival. The breakfast is held at the Central Lutheran Church, just down the street from the Film Forum, at 1710 11th Avenue. All ages.
Special ticket pricing: $14 general admission / $50 per family of four
Buy Pancake Breakfast Tickets for the 10:30am screening >>
Buy Pancake Breakfast Tickets for the 11:00am screening >>
Please note breakfast begins at 9:30am, with two film screenings following at 10:30 and 11am. Please choose which of the two screenings you'd like to attend that follow the breakfast. We know this may be slightly confusing, but want to make sure everyone has a seat at the screening of their choice!