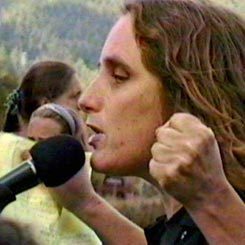 Mar 11, 2013
(Mary Liz Thomson, USA 2012, Blu-ray, 94 min)
Director and producer in attendance!
Join producer Darryl Cherney & Earth First! co-founder Mike Roselle for a special Q&A following this riveting, musical and wry award-winning documentary about the legendary Earth First! and labor organizer Judi Bari.
Bari was car-bombed in Oakland in 1990 while on a tour of college campuses with Cherney, advocating to save the redwoods. Despite receiving many death threats, the pair was instantly arrested by the FBI and Oakland Police for bombing themselves. They subsequently sued the authorities for violations of the Constitution.
Who Bombed Judi Bari? is composed entirely of archival footage, including appearances by Bonnie Raitt, Woody Harrelson, Jerry Brown and David Grisman. Stricken by cancer after surviving the bombing, Bari narrates the film herself via her deathbed deposition for the trial she won't live to see. Follow Bari and Cherney through the incredible array of rare footage as they battle to save not only the redwoods, but themselves as well.
>> Interested in environmental activism? Don't miss Eco Warriors on March 12.