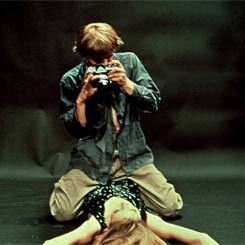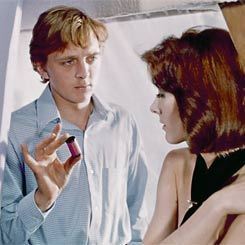 Feb 24, 2015
Screening held at the Seattle Art Museum, 1300 First Avenue
Post-screening discussion moderated by Joe Milutis!

Blow-Up stars David Hemmings as a photographer in swinging London who, trying to balance his time shooting glamorous models for glossy magazines with more soulful street photography, seems to photograph a murder in a public park. Part murder mystery, part post-modern exploration of a riddling universe, this is the film that blew up Antonioni's career and made his name synonymous with Pop Art and Modern Worry. Please note, this screening is hosted at the Seattle Art Museum, 1300 First Avenue. Special ticket pricing: $12/General Admission, $10/SAM and NWFF Members, $8/Students and Seniors.
Series tickets may be purchased online, at the Ticketing Desk at the Seattle Art Museum or the Asian Art Museum, or over the phone with a credit card by calling the SAM Customer Service Center at 206.654.3210.
Don't miss our post-screening panel discussion with Oscar H. Romero and James Tweedie, moderated by Joe Milutis!
Panelist Bios
Joe Milutis is a media artist and writer whose interdisciplinary work includes experimental sound and radio; video works; new media; experimental narrative and poetics; theoretical writings; and various media/literature hybrids. He is the author of Failure, A Writer's Life (Zer0 Books, 2013) and Ether: The Nothing That Connects Everything (Minnesota, 2006). He has done a supercut of Antonioni's L'Avventura containing only the shots with the backs of Monica Vitti's head (available as part of his online essay "F2F").
James Tweedie is Associate Professor of Comparative Literature and Cinema Studies. His essays have appeared in Cinema Journal, Cultural Critique, Public Culture, Screen, SubStance, and other journals, edited volumes, and anthologies. He is the author of The Age of New Waves: Art Cinema and the Staging of Globalization (Oxford University Press) and co-editor (with Yomi Braester) of Cinema at the City's Edge: Film and Urban Networks in East Asia (Hong Kong University Press).
Oscar H. Romero, MD, APsA, FIPA is a Supervising and Training Analyst and a faculty member of the Northwestern Psychoanalytic Society and Institute (NPSI) and the Seattle Psychoanalytic Society and Institute (SPSI). He is a Clinical Associate Professor of Psychiatry at the University of Washington School of Medicine. He is in the private practice of psychiatry and psychoanalysis of adults in Seattle, Washington.