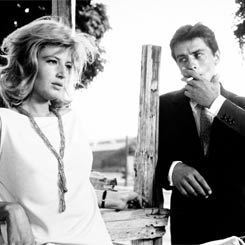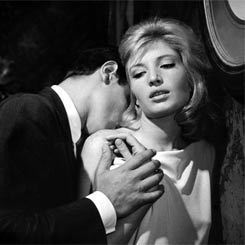 Mar 10, 2015
Screening held at the Seattle Art Museum, 1300 First Avenue
Post-screening discussion moderated by Sean Nelson!
L'eclisse is a gorgeous puzzle that begins with a romantic break-up: Vittoria, played by Monica Vitti, in her third role for Antonioni, only knows vaguely that something is wrong with the man she has been seeing. The camera knows it, too, framing a nearby water tower as if it had been erected on the moon. When Vittoria takes up with a young stockbroker, she is no less in doubt. One of the most beautiful and arresting films about a drifting state ever made. Please note, this screening is hosted at the Seattle Art Museum, 1300 First Avenue. Special ticket pricing: $12/General Admission, $10/SAM and NWFF Members, $8/Students and Seniors.
"Monica Vitti. Is this human being not a miracle on two legs? And how the camera just loves everything about her—the elegant clothes she wears, her noble Germanic hair, her sure Italian figure. Indeed, I have seen this movie maybe three times, and all I can recall of it is not the story or the score (does it even have one?) but this human that cinema transformed into a creature from a world that is just too wonderful for us men and women of meat and bone to believe. I dream of Monica Vitti." —Charles Mudede, The Stranger
Series tickets may be purchased online, at the Ticketing Desk at the Seattle Art Museum or the Asian Art Museum, or over the phone with a credit card by calling the SAM Customer Service Center at 206.654.3210.
Don't miss our post-screening panel discussion with Maxine Nelson, Albert Sbragia and Erin Schlumpf, moderated by Sean Nelson!
Panelist Bios
Sean Nelson worked at The Stranger on and off between 1996 and 2006. His job titles included: Associate Editor, Arts Editor, Film Editor, Copy Editor, Web Editor, Slog Editor, and Associate Editor Emeritus. He has contributed extensively to every section of the paper. His writing, if you can call it that, has also appeared in/on The Los Angeles Times, Entertainment Weekly, MSN, Alternative Press, The Seattle Times, Seattle Weekly, The Portland Mercury, DIW, and Heeb Magazine. His book about Joni Mitchell's Court and Spark was published by Continuum Books, as part of the 33&1/3 series. He has also had essays in Da Capo Press's Best Music Writing anthologies, in 2008 and 2010. Regrettably, Nelson is also a musician. He has recorded and performed with Harvey Danger, Death Cab for Cutie, The Decemberists, Robyn Hitchcock, the Minus 5, The Long Winters, and many others. Nelson also works on independent movies, taught a songwriting class for UW extension, and hosted a show on KEXP for several years.
Maxine Nelson, LICSW, FIPA is a graduate of the Northwestern Psychoanalytic Society and Institute (NPSI) and practices psychotherapy and psychoanalysis in Bellevue. In the 2000's, Maxine produced two psychoanalytic film series that were held at the Seattle Art Museum: Luminous Psyche: Selected Films of Max Ophuls in 2003 and Luminous Psyche 2005: Selected Films of Bernardo Bertolucci in 2005. For both series, local psychoanalysts were paired with film scholars to facilitate discussions with the audience following the screening of each film. In addition to these series, Maxine has programmed films for a number of psychoanalytic conferences in Seattle, including Pedro Almodovar's The Skin I Live In for the Northwest Alliance for Psychoanalytic Study's 2011 Forum and Mona Achache's The Hedgehog for the Tenth International British Object Relations Conference, held in Seattle in October 2014.
Albert Sbragia is Associate Professor in the Departments of French and Italian Studies and Comparative Literature at the University of Washington. His teaching and research interests focus on modern and contemporary Italian literature, cinema and culture. He has taught courses on all aspects of Italian cinema as well as on American directors such as Scorsese and Coppola and on European auteurist cinema. Film publications include essays on Fellini and Pasolini, French and American auteurism.
Erin Shevaugn Schlumpf's research focuses on aesthetic responses to trauma: how film and literary form are imprinted by past disasters. Her current book manuscript, Melancholy, Ambivalence, Exhaustion: National Trauma and Global Postmodernism, uses case studies from Post-Occupation France, Post-Tiananmen Square China, and Post-Apartheid South Africa to reveal a shared language of trauma, an imaginative reckoning with the past in the present. She received her PhD in Comparative Literature from Harvard University in 2012 with an emphasis on the film and literature of France and China. Currently a Lecturer in Film Studies at Seattle University, Dr. Schlumpf's courses examine how image and text interrogate national, racial, gendered, and sexual identity politics.