Bike-in at Naked City Brewery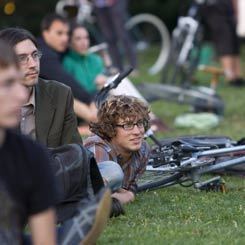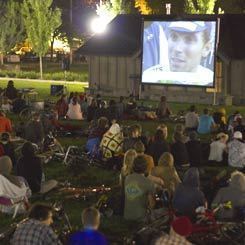 Aug 22, 2015
This summer, our annual Bike-in movie migrates from Cal Anderson to Naked City Brewery's screening room. Join us in Greenwood for a night of great beer and a premium selection of local short films. Gear up for the next edition of Local Sightings Film Festival in September with this "best of" program from last year's fest -- plus a sneak peek of what's in store this year!
Landing Ship X-1
Dave Hanagan – Portland, OR – 8 min
When two spacemen arrive to explore a desolate planet they discover a menacing presence in the form of a '70s glam rock icon.
Serenade
Kendra Ann Sherrill – Serenade, WA – 8 min
Pre-pubescent love is a complicated thing.
The Night Shift
Shannon Snider & Stefanie Malone – Seattle, WA – 3 min
Beth's Cafe is more than just a place to order a 12 egg omelette: it's a family.
Prospect
Zeek Earl & Chris Caldwell – Seattle, WA – 14 min
A teenage girl must use her wits to survive on a toxic alien planet.
The Big Day
Quinn Armstrong – Seattle, WA – 5 min
Jared doesn't spend his big day as expected. . .
Connie
Abbey Sacks – Kirkland, WA – 1 min
A rhythmic interpretation of a short story by Joyce Carol Oates.
Catch It
Sarah Menzies – Seattle, WA – 10 min
One surfer's nomadic lifestyle takes her to the pristine waves of the Lofoten Islands in Northern Norway.
The Beast Inside
Amy Enser, Drew Christie – Seattle, WA – 4 min

A teen in a homeless family describes his challenges and creative resistance in this animated short documentary.
Date Stories
Heather Pilder Olson – Seattle, WA – 11 min
A film that travels through time, exploring the ways dating is portrayed on screen.