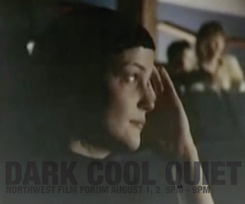 Aug 01 - Aug 02, 2015
Dark Cool Quiet is a programmed block of video art and experimental films addressing similar concerns, shown in an air-conditioned, schmooze-free theater space. The program gathers together meditative works with themes of place, space, light, time, and human discomforts and euphorias. Makers are pulled from both local and national scenes, with a goal of cross-pollinating art and film audiences.
Viewers may enter any time; the approximately 2 hour loop of works plays from 5 to 9pm Saturday, August 1 and Sunday, August 2. Gallery information is supplied in the program notes, and drinks are available for purchase during the show.
Works by: Guy Maddin, Clyde Petersen, Adam Sekuler, Vanessa Renwick, Rodrigo Valenzuela, Laska Jimsen, Susie Lee, Vincent Moon, Margo Quan Knight, Dakota Gearhart, Zack Bent, Juniper Shuey, Linas Phillips, Dayna Hanson, Sierra Stinson, Amanda Manitach, Keseypollock, Allison Schulnik, Stefan Gruber, C.W. Winter, and more.
About Curator Britta Johnson
Britta Johnson is a Seattle-based stop-motion animator. Her website is
www.thekmpi.net