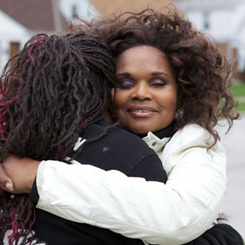 Nov 08, 2015
(Kim Longinotto, 2015, United States)
FREE! Seattle Premiere!
Brenda Myers-Powell in attendance!
Dreamcatcher takes us into a hidden world through the eyes of one of its survivors; Brenda Myers-Powell. A former teenage prostitute who worked the streets of Chicago, Brenda defied the odds to become a powerful advocate for change in her community. With warmth and humour, Brenda gives hope to those who have none.
Following the screening, a discussion about the legal implications of prostitution and human trafficking on both a local and national level will feature:
-Main subject Brenda Myers-Powell
-Producer Lisa Stevens
-Detective-Sergeant Tom A. Umporowicz, Seattle Police Department, Vice/High Risk Victims Unit, Human Trafficking Task Force.
-Stephanie Daniels Wilson, the Founder of the Dreamcatcher Foundation
-Homer King
The British Council in partnership with Women Make Movies and Fledgling Fund are very pleased to support the national tour of the award winning documentary film, Dreamcatcher by British director, Kim Longinotto.