Bring Me the Head of Tim Horton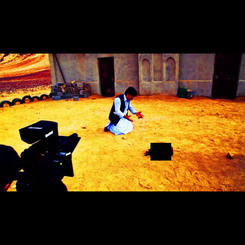 Oct 17, 2015
(Guy Maddin, Evan Johnson, and Galen Johnson, 2015, 31 min)
Guy Maddin and his co-directors turn the "making of" documentary on its head (pun intended) with this characteristically mind-blowing and wildly eccentric inside-the-scenes look at the filming of Canadian army action movie HYENA ROAD (credited as the nation's very own "Canadian Sniper").
A first for Maddin, this documentary-cine-essay-whatsit, casts the director himself as a lonely, broke, infinitely misanthropic and already dead extra, existentially castigating the proceedings of this overblown multi-million dollar masquerade of faux soldiers, spectral enemy attackers, pasted-on green screens, and populist war-movie posturing, all of which is thrown into maelstrom of jarring, color-coated montage (courtesy of collaborators Evan and Galen Johnson) designed to give you a heady dose of psychic whiplash.
By turns earnest and absurd, philosophical and parodic, Bring Me the Head of Tim Horton is also startling in its sense of urgency, blending experimental playfulness with political indignation into a ferociously bizarre yet brilliant rumination on the nature of war, violence, representation, drones, disco, and the ever-obsessive influence of Canadian hockey.