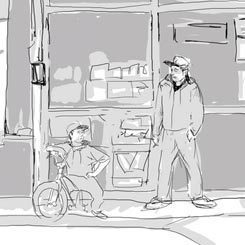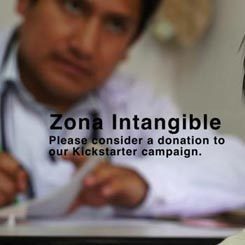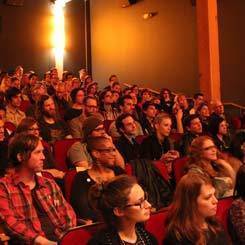 Nov 01, 2015
Free industry event!
Happy hour!

Crowdfunding campaigns are an increasingly crucial stage in the making of short and feature films, webseries, documentaries and other moving image media projects. Seattle area filmmakers and fans do a terrific job of supporting each other's campaigns online. Join the Crowd is our offline platform for artists to spread the word about their projects, connect with fellow crews and support each other's work. Join the Crowd features short presentations of projects currently in the midst of a campaign, plus a recent crowdfunding Success Story, with the filmmaker on hand to offer wise words to anyone who wants to learn tips and tricks of crowdfunding.
In the spirit of crowdfunding, we strongly recommend giving a minimum of $10 to a featured project--and if you're on the team of a featured project, give to one of your peer projects!
In this reflective, first-person film, writer-director Ann Hedreen traces the unlikely connection between a health clinic serving families in a settlement on the outskirts of Lima, Peru and her great-uncle, an American who helped create the modern-day Peruvian fishmeal industry. Hedreen asks questions about the meanings of home and history, migration and memory, while revealing the complex ties between refugees who fled the violence of the Shining Path terrorists to start new lives in a desert outpost, and a North American they never met.
THE TEAM:
Ann Hedreen: Writer, producer, narrator, co-director
Rustin Thompson: Camera, sound, editor, co-director
Nick Thompson: consultant
THE COSTS:
-$2,500 for archival Associated Press film footage of the civil war between the government and the Shining Path
–$1,650 for photo rights to still images shot during the civil war
–$5,000 for translation costs
–$5,000 for video and audio post-production expenses (combined with post-production grant)
–$5,000 for music composition
–the remainder for final editing and scripting
THE GOAL: $30,000 by November 24.
------------------------------
Float is a short film set in mid 1990s North Seattle, following the day-to-day trials and tribulations of Cambodian-American hustler Rocky Mang. Still living at home with his family, Rocky spends his days cruising the streets of North Seattle, slanging cheap goods on the corner as he struggles to help his family make ends meet. His days are a hazy wash of grinding and hustling, only broken by his persistent attempts to convince a local bikini barista named Jenni-Mo to go on a date.
THE TEAM:
Tristan Seniuk and Voleak Sip (Co-writers / Co-directors), Zack Tupper and Andy Mininger (Producers), AJ Rickert-Epstein (DP), Music Supervisor (Jono Hill)
THE COSTS:
Looking to raise 15k to cover initial preproduction into production costs. More specifically will go towards - securing talent and locations, rentals for camera and lighting packages, purchasing raw film stock, art rentals and purchases, crew compensation, and production insurance.
THE GOAL: $15,000 by November 13.
------------------------------
Jack Ridge is a former piano prodigy who has retreated to his family's farmland in North East Texas. Jack is living in the past, but the future is coming for him.
THE TEAM: Director and Producer - David Franklin; Writer and Producer - Paden Fallis; Composer - Jono Hill; Actor - Jason London (Dazed and Confused); Actor - Danny Mora (McFarland, USA); Actor - Annalee Jefferies (Ain't Them Bodies Saints); Actor - Jenni Tooley (Boyhood)
THE COSTS: We're seeking "finishing funds" to help us through the final stages of post-production. Sound post, mixing, color correction and vfx are all expensive! And the money we raise will all be spent here in Seattle, so you will be supporting the local post-production community.
THE GOAL: $16,500 by November 7 (stretch goal: $20,000.)
------------------------------
Asylum: noun asy·lum ə-ˈsī-ləm - 1. sanctuary; a place of refuge and protection. 2. An institution for the care of the mentally ill. 3. A short film created to promote healing and to raise awareness.
When a woman's protector becomes her abuser and her perfect life turns into a perfect hell, reality is no longer bearable. Jackie Curtis seeks asylum by retreating so deep inside her mind that nothing can ever hurt her again. Escape proves impossible when she learns that is where her devastating memories also hide. Will Jackie be brave enough to meet them face to face and have the courage to trust someone enough to help her find her way back?
THE TEAM: Crew: Melinda Raebyne, Tony Doupe, Bodgan Darev, Landon Salyer, Alder Sherwood, Tim Vernor, Rik Deskin, Mark Zimmerman, Mariya Apostolova
Cast: Melinda Raebyne, Rich Morris, Alder Sherwood, Ben Andrews, Richard Carmen, Rik Deskin, Michael James Grant, Anny Havland
THE COSTS: The funds raised on our Go Fund Me campaign will go to the production of the film first and then to the post production cost. Anything raised beyond the requested amount will go to cover the remaining post production expenses, cast rates and film festival.
THE GOAL: $10,000.00 (stretch goal $15,000.00) by November 15.