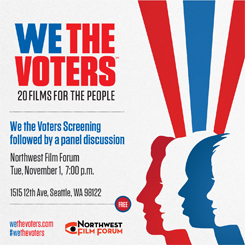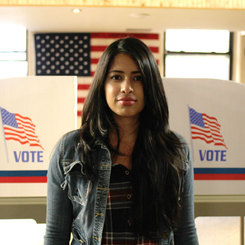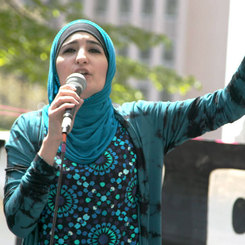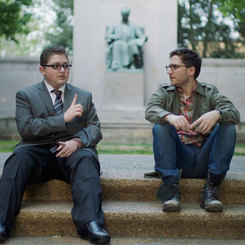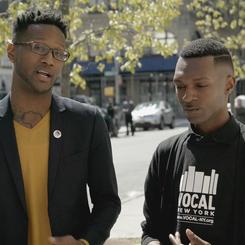 Nov 01, 2016
Co-presented with Vulcan Productions & the Washington Bus
Director Ronnie Krensel in attendance!
We the Voters (WTV) is a web-based collection of short films that aims to inspire and activate young Americans through 20 nonpartisan films about democracy, elections, and U.S. governance. The project features nonpartisan films, apps and games that demystify how the government works. We the Voters promotes a call to action and encourages voters to make informed choices and seize the power of their vote.
In this special free event, a selection of WTV films will be screened, followed by a panel conversation featuring experts involved with the project. These films cover a wide range of extremely relevant topics, and viewers will leave the screening more informed and prepared to cast their ballot.
The wide range of topics covered by We the Voters includdes the history of political rallies and civil disobedience in American, a reality television satire in which ladies who lunch argue over their political differences (tables are flipped but the brunch is saved by some bipartisan mediation). Through these films, audiences will explore the experiences of Latino immigrants as they struggle to attain citizenship, shot in beautifully stark black & white, they will learn the truth about government lobbying in a Daily Show-inspired exposé by an inept but intrepid reporter, and watch as a pair of podcasters offer a 'millennials guide to polling' that will help you tell the good polls from the bad. Together, these films provide young voters with information they need in order to feel empowered in their choice on election day.
Panel Discussion Speakers:
Ronnie Krensel, WTV Film Director, Real Voters of the USA
Rocky Collins, Executive Producer, Vulcan Productions
Dave Ferrero, Senior Program Officer (Education), Vulcan Philanthropy
Sonny Nguyen, Engagement Coordinator, Washington Bus
Michael Danielson, Media Educator, Seattle Prep