HUMPDAY Extravaganza II: "The Humpening"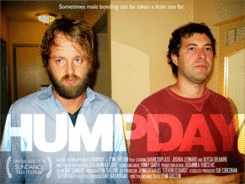 Jan 10, 2009
Lynn Shelton's latest opus, "HUMPDAY", is premiering in competition at Sundance and we need your help to get it there…

"Hey, hold on just one second," you might be kvetching to your computer screen right about now, "Didn't you guys already throw a HUMP-DANCE fundraiser?!?!"

And to this, our reply would be: "Indeed we did!"

Unfortunately, the chosen evening of our original shindig happened to coincide with the "Great Seattle SnowDump of the '00's". This little hit from Mother Nature took quite a bite out of our fundraising goals for the evening since only a few stalwart, frost-bitten souls were actually able to get themselves there.

Thus, as they say in the Movie Biz: "Take Two!"

OPEN TO THE PUBLIC!!!! (Feel free to pass this invite along to others!)

Come by for
• A re-enactment of the unveiling of the beautiful HUMPDAY trailer!
• An Exclusive 3-minute Sneak Peak of HUMPDAY gems!
• A reprise of "HUMPUNCH"! Along with our signature drink: "The Swordfight"!
• The ever-popular "DJ HUMP"! (For reals this time!)
• A new, fabulous HUMPDAY raffle! With HUMPTASTIC prizes like:
- A night at the Renaissance Hotel!
- HUMPaLICIOUS Treats from Babeland!
- Membership to Grand Illusion!
- $50 Ice Cream Gift Certificate!
- A Mariner's-Lover's Dream Package!

Still, only $5/door!

"Sometimes male bonding can be taken a little too far. For example: when two straight dudes decide to try and have sex. With each other. On film.
HUMPDAY: a bromantic comedy."

www.humpdayishere.com


ps. Can't make it to the party but still wanna help out? You can donate to the cause via PayPal at our website:
http://www.humpdayishere.com/donate.php

or write a tax deductible check to:
"Northwest Film Forum" with "Humpday" in the memo field...send it along to: 1515 12th Ave Seattle, WA 98122