The Labrynthine Alain Robbe–Grillet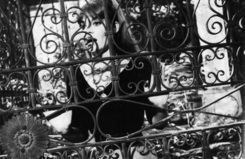 The Labrynthine Alain Robbe–Grillet
AUGUST 6-14, 2008
Revered for many years as the figurehead of the Nouveau Roman (The New Novel) with a resume that includes works such as Les Gommes, Le Voyeur and La Jalousie, Alain Robbe–Grillet, who passed away earlier this year, is perhaps one of the most undeservedly neglected of great film–makers. He is known by most only for his screenplay of New Wave cornerstone Last Year at Marienbad, directed by Alain Resnais and an international success of the time. However, Robbe–Grillet, like Marguerite Duras, afterwards devoted his time equally to novel writing and filmmaking. Since 1962 he directed nine full–length features as well as writing the screenplays for two others. He published twelve novels over the same period, the most recent of which comprise his semi–autobiographical trilogy, which was concluded in 1994 with Les Derniers Jours de Corinth. Even though Robbe-Grillet's films have long been a source of inspiration and discussion for directors and film theorists, as well as inciting much controversy due to the uncompromising nature both of the narrative technique and the graphic imagery, they have not been presented to a large public since they were first made.
Northwest Film Forum is pleased to take a long overdue corrective action, bringing recognition to this extraordinary artist with screenings of Robbe-Grillet's first four films, all presented here in new 35mm prints.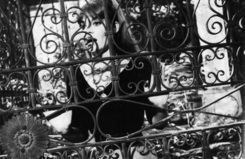 Sep 06 - Sep 07, 2008
Robbe-Grillet's first solo directorial feature, scripted before Last Year at Marienbad, The Immortal Woman was only completed in 1962. Winner of the Prix Louis Delluc, this enigmatic film tells the story of N., who falls in love with the elusive stranger Leila in Istanbul. She disappears mysteriously and he is determined he will find her again. Robbe-Grillet plays out this dance of desire, illusion, and death in Byzantium, repeating sequences in altered form to emphasize the unreliability of fact, the elusiveness of the past. The eerie, evocative soundtrack includes unnerving music by Georges Delerue.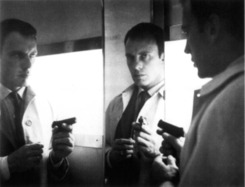 Sep 06, 2008
(Alain Robbe–Grillet, France, 1966, 35mm, 95 min)
This film was banned in the UK on its initial release in 1967. Jean (played by Robbe–Grillet himself) writes a screenplay for a film while on board a Trans–Europe–Express. Jean–Louis Trintignant plays the protagonist of the film–within–the–film–a professional drug–smuggler with sado–masochistic tendencies who gets involved with a prostitute and double agents while commuting between Paris and Antwerp.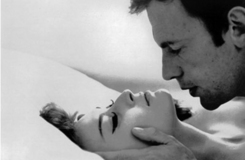 Sep 13 - Sep 14, 2008
(Alain Robbe–Grillet, France, 1968, 35mm, 116 min)
Is the man lying or not? With Robbe–Grillet, it is impossible to tell, and probably beside the point. Boris Varissa, the Kafkaesque protagonist played by Jean–Louis Trintingant, arrives in a small town that is in mourning for a local resistance hero, Jean Robin, who disappeared before the end of the war and is presumed dead. No one recognizes Boris, though he claims to have been Jean's assistant and savior. Boris adjusts his tales of his relationship with the fallen hero to the listener, and his stories increasingly take on the quality of myth. Of course, Robbe–Grillet devotes plenty of time to the erotic—Boris enjoys the sexual pleasures of several women during their time of mourning, and watches a lesbian affair between maid and sister –and ends all narrative certainty with a time–tried device that might leave you agog. The Man Who Lies was written for Trintingant, who won the Best Actor award at the Berlin film festival, where the film also won the award for Best Screenplay.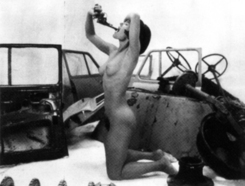 Sep 13 - Sep 14, 2008
(Alain Robbe–Grillet, France, 1971, 35mm, 121 min)
This was Robbe–Grillet's first excursion into color, shot in Tunisia and Czechoslovakia. While part of an actor's group, Catherine tries some 'fear powder' offered to her by mysterious stranger Duche–min. He vanishes and she sets off for North Africa to find him, living for real the hallucinations she had witnessed earlier. Says Robbe–Grillet, "This is a film about colors. About the blue and white of the landscape, and about the red that would come to stain it cruelly."