New York Noise: Tales From the No Wave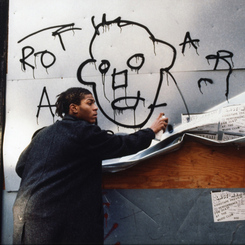 New York Noise: Tales From the No Wave
AUGUST 12–18, FRIDAY–THURSDAY
NEW YORK NOISE OR TALES FROM THE NO WAVE
Join us for a season of rarely-seen films from a defining period in the history of American underground cinema! New York Noise or Tales From the No Wave offers selected screenings from New York's explosive yet fleeting era of underground filmmaking, known as "No Wave" Cinema.
Rising from the ashes of a bankrupt and destitute 1970s Manhattan, and reacting to the modernist aesthetic of 1960s avant-garde film, No Wave filmmakers threw out the rules and embraced their own brand of vanguard moviemaking. Inspired by the films of Andy Warhol, Jack Smith, John Waters and the French New Wave, many of the films combined elements of documentary and loose narrative structure with stark, even confrontational imagery. Much like the No Wave music of the period from which the movement garnered its label, these filmmakers freed themselves of the constraints of formal training and pillaged the nascent East Village arts scene for co-conspirators in the likes of Lydia Lunch, James Chance, Jean-Michel Basquiat, Debbie Harry, Richard Hell, Vincent Gallo, Steve Buscemi, Nan Goldin, Cookie Mueller and many others.
With wildly varying styles, they shared the common mindset of fast-and-cheap, catalyzed by collaboration. Equipment could be begged, borrowed or stolen, your friends could be your actors and the city could be your set.
Series passes $20/Film Forum members, $25/General
Sponsored by The Hideout!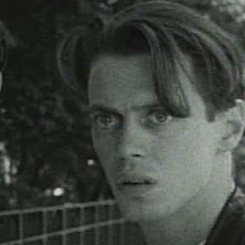 Seattle Premiere!
Sponsored by Easy Street Records
Aug 12 - Aug 18, 2011
(Céline Danhier, 2010, USA, DigiBeta, 94 min)
What ever happened to crumbling Manhattan and all its denizens? This is a portrait of the vibrant art scene that thrived around what looked like a bombed-out city. Filmmakers like Richard Kern, Susan Seidelman, Nick Zedd, Lizzie Borden, Amos Poe and Jim Jarmusch, as well as performers Debbie Harry, Steve Buscemi and Lydia Lunch, grant us a brash insider's take on this cinematic "No Wave." Blank City is an exhilarating oral history of "No Wave Cinema" and the transgressive movement that electrified America's modern independent film scene.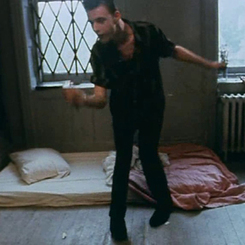 Aug 12 - Aug 14, 2011
(Jim Jarmusch, 1980, USA, 16mm, 75 min)
Jim Jarmusch made his debut with a film rich in autobiographical references, featuring the "misfits" who would go on to populate most of his cinema. The gaze is contemplative, the movements are linked to precise meanings and the influence of European authors is clear. Made with the help of friends and artists of New York's underground scene, like John Lurie and the future director Tom DiCillo, the film was presented at the European festivals of Rotterdam and Mannheim. It's an oblique study of a young man (Chris Parker) adrift on the streets of New York. As he roams, he has chance encounters with a car thief, a saxophone player and a grizzled war veteran, among others. Learning their stories, he begins to seem more and more isolated.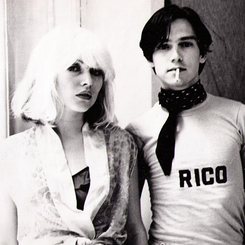 Aug 15 - Aug 16, 2011
(Amos Poe, 1977, USA, 16mm 77 min)
Amos Poe, considered by many to be the father of modern independent American cinema, made his first feature film, Unmade Beds in 1976 as an homage to Godard's Breathless and the French New Wave. As Poe explains, '"I wanted to start where Godard started, to go back to basics: innocence, romanticism, bohemianism, all things that made up New York City for me at that time." He cast a remarkable group who, for the most part, had never acted before: Debbie Harry from Blondie, the artist Duncan Hannah and recent arrivals like Patty Astor (who, with her Jayne Mansfield body, would go on to feature in several No Wave films and eventually open the groundbreaking Fun Gallery in the East Village).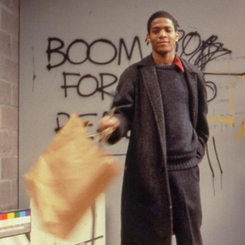 Aug 17 - Aug 18, 2011
(Edo Bertoglio, 1981/2000, USA, 35mm, 72 min)
Featuring Jean Michele Basquiat, Vincent Gallo and Debbie Harry amongst other downtown New York luminaries of the era, Downtown 81 depicts the extreme creative ferment of the Lower Manhattan music and art scenes in the early 80s. Basquiat wanders through Manhattan, looking for a place to stay. Along the way he skims the surface of what was, in retrospect, a golden age of creativity. As Fab 5 Freddy shows him around, Basquiat sees James Chance and The Contortions, DNA, even Kid Creole and the Coconuts. What other movie score features Liquid Liquid, The Lounge Lizards, Rammellzee, Gray and Tuxedomoon? It's a romantic immersion into a world that few took seriously at the time, but formed a blueprint for bohemianism for years to come.