No Borders, No Limits: 1960s Nikkatsu Action Cinema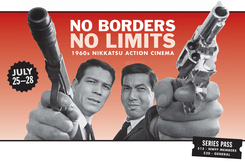 No Borders, No Limits: 1960s Nikkatsu Action Cinema
JULY 25-28, 2008

The label said it all: Nikkatsu Akushon. From the late 1950s to the early 1960s, action films from the Nikkatsu studio flooded the Japanese market. The genre included yakuza movies, urban dramas, jazz-inflected youth pictures, Eastern "Westerns," French New Wave-inspired emotional dramas and crime films. Less gritty realism than macho romanticism, Nikkatsu Action cinema was known for flashy stylistics, tortuous narratives, and a pantheon of male stars. In this series we present some of the studio's best films, featuring Nikkatsu's most enduring stars. Finally Seattle audiences can be exposed to this often artistic, always entertaining subgenre of Japanese cinema.

Special thanks to Marc Walkow who will be presenting the live soft titling of these films. Subtitles will be projected onto the screen during the film.

Series pass $15/NWFF members, $20/general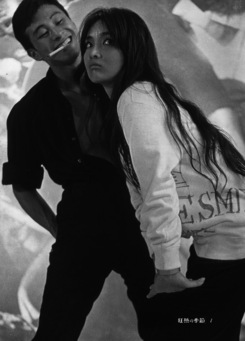 Jul 25 - Jul 26, 2008
Koreyoshi Kurahara, Japan, 1960, 35mm, 75 min
NO BORDERS, NO LIMITS: 1960s NIKKATSU ACTION CINEMA
THE WARPED ONES (aka SEASON OF HEAT and THE WEIRD LOVEMAKERS) is visually raw and stunning. Released not long after Godard's BREATHLESS, THE WARPED ONES has similarly amoral characters, frenetic pace and dynamic hand-held cinematography. But Kurahara's vision is more extreme, to the point of existing in a world of its own. The protagonist transcends the usual social and moral categories, like an animal in human form. (Kurahara reportedly told the actor Kawachi to think of his character as a "hungry lion roaring at the sun.") A fascinating experiment in style (not to mention the limits of human behavior), Kawachi's famously uninhibited performance catapults the film into the highest ranks of "bad youth" cinema, and perfectly captures the essence of Beat. A stylistic and amoral high point of early 60s cinema, THE WARPED ONES was actually released in dubbed form in the US by Radley Metzger's Audubon Films as THE WEIRD LOVEMAKERS.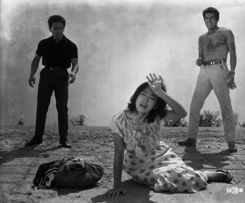 Jul 25 - Jul 26, 2008
Koreyoshi Kurahara, Japan, 1962, 35mm, 108 min
NO BORDERS, NO LIMITS: 1960s NIKKATSU ACTION CINEMA
Inspired by Federico Fellini's LA STRADA, and a sharp departure from the Nikkatsu Action norm, GLASS JOHNNY stars Jo Shishido as a bike track manager whose mission in life is to make a winner out of a struggling rider (Akihiko Hirata) and become rich. Before he can achieve this, he becomes the unwilling savior of a pure-hearted, simple-minded prostitute (Izumi Ashikawa) on the run from her pimp. Prior to GLASS JOHNNY, Ashikawa's portrayals of cute-but-spunky girls had won her a devoted male following--animator Hayao Miyazaki even later used her as a model for his anime heroines. In this film, however, she moves brazenly from childhood to womanhood, while following Giulietta Masina's journey in LA STRADA from victimhood to transcendence.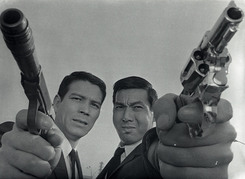 Jul 27 - Jul 28, 2008
Takashi Nomura, Japan, 1967, 35mm, 84 min
NO BORDERS, NO LIMITS: 1960s NIKKATSU ACTION CINEMA
In Takashi Nomura's noir thriller, Japanese tough guy actor Jo Shishido plays a hit man hired by a gang to eliminate a rival boss. The ensuing story includes a sidekick, narrow escapes, and numerous deadly complications. The final showdown, staged on a deserted beach at dawn, is as impressive as anything of the era in this neglected masterpiece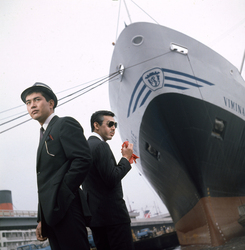 Jul 27 - Jul 28, 2008
Toshio Masuda, Japan, 1967, 35mm, 97 min
NO BORDERS, NO LIMITS: 1960s NIKKATSU ACTION CINEMA
VELVET HUSTLER stars Tetsuya Watari as Goro, a Tokyo hitman who likes his women like he likes his cars: fast and dangerous. After rubbing out a rival gang boss, he leaps into a conveniently parked red convertible and hotfoots it to the other side of Japan. After a year of lying low, he has wound up the kingpin of the Kobe underground, hanging out in smoky lounge bars, while avoiding both a suspicious police detective and the mysterious hitman sent to kill him. But Goro pines to leave vulgar Kobe to return to the sophisticated big city, perhaps with the striking Keiko (Ruriko Asaoka) by his side.