Still Lives: The Films of Pedro Costa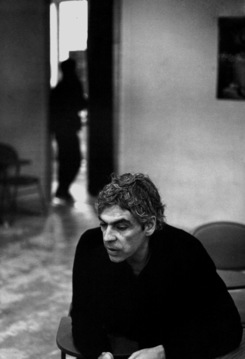 Still Lives: The Films of Pedro Costa
DECEMBER 3 – 12, 2007

Portuguese director Pedro Costa has long been recognized as a major auteur in Europe and Asia, and has been praised by artists as far-reaching as Jacques Rivette and Jeff Wall, but is often overlooked in North American film circles. Northwest Film Forum is thrilled to host this long overdue complete retrospective, which includes his latest feature COLOSSAL YOUTH, one of the best-reviewed films of the year. The series acts as primer and corrective, introduction and redress, advocating Costa's unique and unforgettable cinema. Costa does away with conventional boundaries between fiction and documentary, masterfully shooting non-actors who share the drug problems and dire straits of the "characters" they play. Influenced by directors as diverse as John Ford, Ozu Yasujin, and Jean-Marie Straub, Costa's fragmented narratives show us life in the most desperate conditions. These six feature films and two shorts reveal Costa as one of the world's great filmmakers.

The Pedro Costa retrospective was organized by Ricardo Matos Cabo (Lisbon), with additional thanks to Mark Peranson (Vancouver).
"Like Béla Tarr, Costa has a propensity for the long take and tableaux structure, a fondness for haunted, life-battered faces and desolate landscapes, and a Dostoevskian sense of life as hell. His Vanda trilogy now joins Sátántangó as one of the most formidable works in contemporary cinema, a true arte povera epic." -James Quandt, Cinematheque Ontario


Sponsored by KBCS 91.3 FM


Series Pass $20/NWFF members, $30/general
Sponsored by KBCS 91.3 fm
Pedro Costa, Portugal/Germany/Italy/Switzerland, 2000, 35mm, 178 min
Costa's superlative documentary/fiction hybrid IN VANDA'S ROOM gives viewers a close-up look at the lives of slum dwellers in Lisbon, as the saying goes, warts and all. "The film is the extraordinary portrait of Vanda, a young drug user from Fontainhas, the Cape Verdian quarter of Lisbon. Costa shot the film with a very small digital video camera, allowing him to meet his subject face-to-face, and it's hard to say whether or not Vanda was even aware of the camera's presence. While initially intending to stay within the confinements of Vanda's room, the filmmaker finally decided to include the rest of the quarter and to complete the study of 'another way of living' with the inhabitnts of Fontainhas. Thus, he creates a seemingly impossible equilibrium between what lies in front of and what lies behind the camera." -Viennale 2005
Sponsored by KBCS 91.3 fm
Pedro Costa, Portugal/France/Switzerland, 2006, 35mm, 155 min
Acclaimed by many critics as the best film of 2006, COLOSSAL YOUTH follows the adventures of Ventura, a new addition to Costa's makeshift studio system. Many of his friends, including Vanda (now with child), have been relocated from Fontaínhas to an antiseptic housing block. Partly disabled from a workplace accident, Ventura is concerned his home won't have enough room for his "children": as Costa encounters them, he hears their deeply personal stories of struggle. A luminous glow radiates from Ventura and his friends, revealing them as souls unable to find rest. Costa shot 320 hours of footage over 15 months to make this cryptic masterpiece. As usual, Costa presents a chorus of voices, but here the words are clearly thought out, creating a precision that is overwhelming.
Pedro Costa, France/Portugal, 2001, 35mm, 109 min
One of the best films about filmmaking ever made, Costa's documentary on Straub-Huillet is also comedy of the highest order. "This film portrait presents an extraordinary look into the creative process of filmmaking through a case study of longtime collaborators Jean-Marie Straub and Danièle Huillet, who are carefully observed at work reediting their recent feature SICILIA! …Costa meticulously records the dialectic, argumentative mode the filmmakers use to reach decisions about each cut... Equally compelling is the documentation of Straub's close commentary on techniques from such diverse influences as Chaplin and Eisenstein. This remarkable documentary, an episode from the landmark series 'Cinema of our Time,' is a brilliant examination of the art of editing and a meditation on the aesthetic and political implications of film technique." -Harvard Film Archive

Preceded by
NE CHANGE RIEN (2005, BETA-SP, 13 min)
Costa films actress-turned-chanteuse Jeanne Balibar.

Followed by
6 BAGATELAS (2001, BETA-SP, 18 min)
Six additional moments of life with Jean-Marie and Danièle Straub.
Sponsored by KBCS 91.3 fm
Pedro Costa, Portugal/France/Denmark, 1997, 35mm, 94 min
As Jacques Rivette has said about OSSOS, a film that out Bressons Bresson, "I think it's magnificent, I think that Costa is genuinely great." In the slums on the outskirts of Lisbon, a child is born into extreme poverty. Tina, his young mother, tries to commit suicide in order to spare her son an impoverished life lost in advance. Saved by his father, the child is shunted around the city's sordid streets and becomes the symbol of the fierce fight of love against death. Like CASA DE LAVA, OSSOS was shot by Bresson's last cinematographer, Emmanuel Machuel, and features striking portraits of the leads, all plucked from the streets. Vanda Duarte, an immense presence of ambiguous sexuality, makes a memorable debut as the baby's aunt, and her desire to continue filming, albeit in a less structured manner, spurred Costa to move to digital video and find his calling.
Sponsored by KBCS 91.3 fm
Pedro Costa, Portugal/France/Germany, 1995, 35mm, 110 min
Still Lives: The Films of Pedro Costa
Costa's fascination with the Cape Verdean immigrant population in Lisbon began with his second film, which takes place mostly on the island, a former Portuguese colony. Leão (Isaach de Bankloe), a Cape Verdian man working on a construction site in Portugal, has an accident and ends up in a coma. A nurse, Mariana (Ines de Medeiros), ready for a change of scene, volunteers to accompany him home, but upon her arrival, finds that nothing is as she expects. Mariana gets increasingly involved with the mysterious Cape Verdian community, which seems to have been transported from Jacques Tourneur's I WALKED WITH A ZOMBIE (Tourneur being another Costa favorite). Shot with the stunning backdrop of Mount Fogo, the peak of Cape Verde, and an active volcano (reminiscent of Rossellini's Stromboli), CASA DE LAVA is a mysterious film marred by a notoriously difficult shoot that's integral to his filmography. Note also the first appearance of the poem that Ventura repeats in COLOSSAL YOUTH, in part adapted from the last writings of Surrealist poet Robert Desnos.
Sponsored by KBCS 91.3 fm
Pedro Costa, Portugal, 1989, 35mm, 95 min
STILL LIVES: THE FILMS OF PEDRO COSTA
"A prodigious debut film bursting with visual and narrative ideas, homages, and a desperate romanticism, Costa's O SANGUE is a thrilling movie/movie for cinephiles. (It will remind you moment to moment of NIGHT OF THE HUNTER, Murnau, Bresson [that opening slap, straight out of MOUCHETTE], Cocteau, SPIRIT OF THE BEEHIVE, BOY MEETS GIRL.) Shot in splendid, inky black and white and lushly scored with Stravinsky, O SANGUE is a moody nocturne—even in broad daylight, it seems to be the dead of night—set during Christmas and New Year's in a provincial riverside town. Two brothers, the young, frail Nino and the older Vicente, who is deeply in love with school teacher Clara Danièle, are set upon by evil men (an uncle from Lisbon and two violent debt collectors) after their father disappears. At once a fairy tale, film noir, love story, and murder mystery, O SANGUE announced a major new talent in European cinema." -James Quandt, Cinematheque Ontario

Special introduction by CINEMA SCOPE editor Mark Peranson