From the Tsars to the Stars: A Journey Through Russian Fantastik Cinema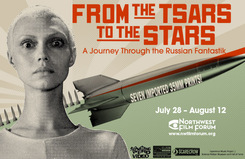 From the Tsars to the Stars: A Journey Through Russian Fantastik Cinema
July 28 - August 12, 2007

"This is why we have retro houses… Few high-powered legacies are as alien to us as the rarely screened fantasy cinema of the Soviet kingdom." -Michael Atkinson, The Village Voice

"Brave new worlds await the curious… An uncommonly bold blend of curatorial adventurousness and cultural excavation." -Joshua Rothkopf, Time Out New York

Wind demons and crystal palaces… Shimmering aquatic gill-men and limitless vistas of outer space… For over eight decades Russian cinema has had an inspired tradition of filmmaking that encompasses science fiction, folkloric fantasy and horror, and produces stunningly beautiful and entertaining movies -- only now being seen by American audiences in their original form.

Beginning with the pioneering animation of Ladislas Starewitch, through the silent classic AELITA: QUEEN OF MARS, and on to the astonishing visions of master filmmakers Alexander Ptushko and Pavel Klushantsev in the 1940s and 1950s, Russian genre cinema was amazingly colorful, technologically advanced and thematically ambitious. During the Cold War, sci-fi elements dominated, keeping with the Sputnik era space race between Russia and the U.S. More than a decade before 2001: A SPACE ODYSSEY, visual-effects pioneers Pavel Klushantsev and Mikhail Koryukov created breathtaking visions of man's voyage to outer space in such films as THE HEAVENS CALL and PLANET OF STORMS, drawing upon the latest technical advances to present a highly detailed and optimistic view of space exploration. And in 1962, Kazansky and Chebotarev's charming THE AMPHIBIAN MAN, a cross between Jules Verne and Hans Christian Andersen, became one of the biggest hits in Soviet film history. Ironically, many of these astonishing works did end up on Western screens -- mauled almost beyond recognition. At the height of the Cold War, enterprising U.S. producers like Roger Corman purchased Soviet sci-fi films at bargain prices and gave them to up-and-coming American directors, including Francis Ford Coppola, Curtis Harrington and Peter Bogdanovich, to re-fashion using newly shot footage. With added scenes of space vampires and tentacled monsters, the Russian films were released in American drive-ins with titles like VOYAGE TO THE PLANET OF PREHISTORIC WOMEN and QUEEN OF BLOOD. Our series features prints of the legendary Russian originals (with English subtitles), seen for the very first time in the U.S.

This series examines the history of Russian Fantastika with rare screenings of many of the aforementioned films, as well as Aleksandr Rou's classic adaptation of Nikolai Gogol's Christmas story, EVENINGS ON A FARM NEAR DIKANKA; a newly restored print of Richard Viktorov's TO THE STARS BY HARD WAYS; and Alexei Fedorchenko's pristine FIRST ON THE MOON. It'll be revelatory, it'll be mind-expanding, and it'll be fun. (Adapted from the original introduction by Robert Skotak.)

From the Tsars to the Stars: A Journey Through Russian Fantastik Cinema is presented by Seagull Films, the Film Society of Lincoln Center and the American Cinematheque, in collaboration with Concern Mosfilm, Russian State Archive Gosfilmofond and M-Film Studio. This series was curated by Alla Verlotsky, Robert Skotak and Dennis Bartok.

Sponsored by UW Russian and Eastern European Studies, KBCS Radio, Science Fiction Museum, and Something Weird Video.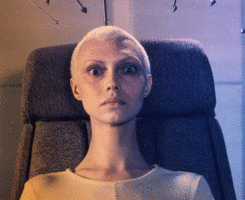 Aug 11, 2007
Richard and Nikolai Viktorov, USSR, 1981, 35mm,118 min
Boldly going where no man has gone before, the starship Pushkin finds an abandoned vessel in deep space filled with the decaying bodies of humanoids. There is, however, one surviving member of the crew, a gynoid (female android) named Niya who seeks the help of earthlings to restore her now severely polluted home planet of Dessa to its natural splendor. Pitched exclusively to a teenage audience and unashamed of it, this delirious space adventure features bionic women, cosmic mercenaries, and the most embarrassing guy-in-a-suit robot to never utter "Danger, Will Robinson." After the fall of the USSR, it inevitably became a cult hit among the Russian hipster set. In 2001, under the supervision of the director's son, the film enjoyed a full restoration and was saved after nearly being lost. -Robert Skotak

NOTE: The original version of the film (pre 2001) is known to MYSTERY SCIENCE THEATRE 3000 fans as HUMANOID WOMAN, and was written by renowned science-fiction author Kir Bulychev, whose novel ONE HUNDRED YEARS AHEAD was the basis of the Russian mini-series GUEST FROM THE FUTURE.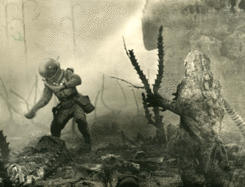 Aug 03, 2007
Pavel Klushantsev, USSR, 1961, 35mm, 83 min
"Working from a dullish source — a novel by the Soviet sci-fi eminence Aleksandr Kazantsev — director Klushantsev overpowers the party-line dialogue with excellent effects. Upon arrival to Venus, cosmonauts find furious volcanoes and sundry prehistoric beasts (a cackling, swooping pterodactyl is most memorable)." -Robert Skotak

NOTE: Large portions of the film were cannibalized by producer Roger Corman to make VOYAGE TO A PREHISTORIC PLANET (1965, Curtis Harrington) and later, VOYAGE TO THE PLANET OF PREHISTORIC WOMEN (1966, Peter Bogdanovich), a version which included additional scenes with Mamie van Doren.
Screens with CAMERAMAN'S REVENGE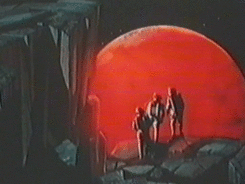 Jul 29, 2007
Mikhail Karyukov and Aleksandr Kozyr, USSR, 1959,35 mm, 80 min
A tale of two rival space probes, headed for Mars and the moon, that crash-land on a nearby asteroid, HEAVENS CALL features spectacular spacescapes, as well as a prescient prediction of the Earth's orbit cluttered by man-made satellites. Roger Corman helped himself to the film's plot and footage for the 1963 opus BATTLE BEYOND THE SUN, but core elements of the story (noble Russian cosmonauts helping stranded American astronauts) were unacceptable for US audiences during the Cold War, and the film was reconfigured into a cheesy drive-in movie. The pro-Russian elements were replaced with monsters by one of Corman's trusted directors -- an ambitious young director named Thomas Colchart, better known these days as Francis Ford Coppola.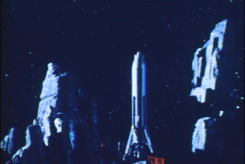 Jul 28, 2007
Francis Ford Coppola, USA, 1963, 16mm, 90 min
In this visually spectacular outer space adventure, two post-nuclear nations race against the clock to reach the planet Mars and claim dominance over a world beyond imagination. Commissioned by drive-in legend Roger Corman, directed by Francis Ford Coppola (his first film!) BATTLE BEYOND THE SUN was derived from the Soviet sci-fi epic HEAVENS CALL. The duo added new scenes to the original, re-wrote the dialogue and literally re-edited the whole thing to create this drive-in favorite!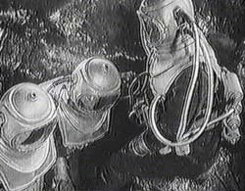 Jul 28, 2007
Vasili Zhuravlev, USSR, 1936, 35mm 70 min
The first Soviet sci-fi movie since the spectacularly popular AELITA: QUEEN OF MARS in 1924, this is the effects-filled story of Pavel (Sergei Komarov, who also appeared in Pudovkin's DESERTER and Barnet's OUTSKIRTS), a renegade space traveler. His voyage to the moon — he's fed up with the restrictions imposed by the "Moscow Institute for Interplanetary Travel" — offers a startlingly realistic technological prophecy. Konstantin Tsiolkovsky, a seminal space-travel theoretician, served as the production's science consultant (he was also the author of the film's source novel, OUTSIDE THE EARTH) and drew up more than 30 detailed blueprints for the "rocketplane" featured in the film. There may be a rocket named after Stalin, but the film still resounds with anti-doctrinal individualism, doubtlessly accounting for Ukrainian-born Soviet filmmaker Zhuravlev's sporadic post-COSMIC VOYAGE output.
Silent with Russian intertitles and English translation, with pre-recorded score.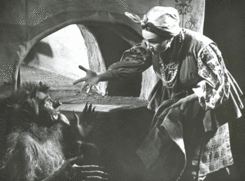 Aug 04, 2007
Aleksandr Rou, USSR, 1961, 35 mm, 69 min
"A glorious excursion into Technicolor fantasy and a film that remains very true to the spirit of Russian/Ukrainian literary master Nikolai Gogol, EVENINGS ON A FARM is one of the most beautiful works in the rich strain of Russian cinematic fantasy. The tale of a blacksmith (Aleksandr Khvylya) from a darkened village sent on an endless quest on Christmas Eve by his beloved Oksana (L. Myznikova) -- ends in St. Petersburg with a stop along the way for a conference with the devil. The story has been filmed a few times throughout Russian film history, but never with so much charm and such rich feeling for the satiric, folkloric power of the source material." -Kent Jones

NOTE: Based on Gogol's 1832 collection of short stories, this story is so well known in Russia that it has recently been adapted into a series of video games.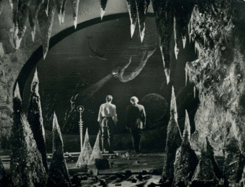 Aug 05, 2007
Gennadi Kazansky and Vladimir Chebotaryov, USSR, 1961, 35mm, 95 min
AMPHIBIAN MAN is one of the most beloved of all Russian films (65 million admissions in 1962, which roughly translates into 520 million American box-office dollars today). It's a tall tale about handsome, water dwelling gilled mutant Ichtyandr (Vladimir Korenov). His father has replaced Ichtyandr's faulty lung with the gills of a young shark. The story unfolds in a coastal locale among pearl divers, rogues and salty old seamen. When Ichtyandr saves a local fisherman's daughter (Anastasiya Vertinskaya) from a shark attack, he falls in love with her and wants to give up the water for a life on land. The film is perhaps the ultimate product of the late 50's-early 60's Soviet political "thaw." This enchanting hybrid of THE LITTLE MERMAID and THE CREATURE FROM THE BLACK LAGOON brims with surreal Latin song-and-dance numbers and Russian stars in brownface (shot on beautiful Cuban locations) that you must see to believe. Korenov and Vertinskaya (who went on to play Ophelia in Kozintsev's HAMLET and the Princess in Bondarchuk's WAR AND PEACE) both became huge Soviet stars as a result of this film's massive success. -Robert Skotak

"A dizzy morph from a CREATURE FROM THE BLACK LAGOON template to a forecast of EDWARD SCISSORHANDS, all shot in rich tropical greens... and fueled by mad-scientist ideas of a class-free 'underwater republic.'" -Michael Atkinson, Village Voice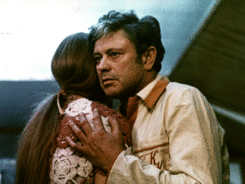 Aug 10, 2007
Andrei Tarkovsky, USSR, 1972, 35mm, 165 min
Scientist Chris Kelvin (Donatas Banionis) is sent to a space station whose inhabitants have been performing a series of experiments in an attempt to make contact with the strange planet known as Solaris. When he arrives, he believes that most of the crew has gone mad, until he's visited by an apparition: his former lover Hari (Natalia Bondarchuk), who had committed suicide long ago. Thus he learns the secret of Solaris and its ocean, which creates "copies" of real people, "simulacra made not of ordinary matter but of neutrinos which are modeled by the thinking ocean out of the human subconscious. They are a physical embodiment of all the temptations, desires and suppressed guilt that torment the human mind." -Maya Turovskaya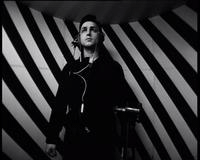 Aug 12, 2007
Alexei Fedorchenko, Russia, 2005, 35mm, 76 min
"Think it was Neil Armstrong and Buzz Aldrin? Well, think again, because as Alexei Fedorchenko's unsettling debut film reveals, a Soviet cosmopilot, Ivan Kharlamov, actually went there and back in 1938. He piloted his experimental, and highly secretive craft to the moon, returning to the Earth in Chile, from where he undertook an arduous journey across the Pacific, through China and Mongolia and finally into Mother Russia itself. FIRST ON THE MOON is a touching expression of unfettered utopian spirit - a sense of the limitless possibilities of human ingenuity and imagination - that characterized many people's vision of the Soviet experiment before its grim realities settled in. -Kent Jones

FIRST ON THE MOON won Best Documentary at the Venice Film Festival, despite the faux content.

"Fedorchenko's first feature is a crafty mock documentary positing a super secret Soviet space landing that predates the American giant leap by thirty years. Mixing real and phony archival footage, and fictitious present-day interviews with one of the figures involved in the project, First on the Moon is part intriguing, textured experiment in the ersatz, part spoof of Soviet propaganda films, and part sinister drama of Stalin-era repression." -George Kaltsounakis "Inventive, slickly made... While Western audiences may chuckle at the deftly executed mimicry of Soviet kitsch, viewers from Eastern Europe will feel the darker undertow." -Leslie Felperin, Variety