Lighter Than Air: The Films of Jacques Rivette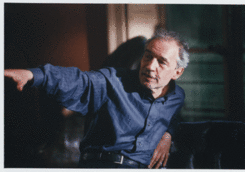 Lighter Than Air: The Films of Jacques Rivette
MARCH 2-18, 2007
"Rivette was more of a cinema nut than any of us, and his films prove that he is more of a moviemaker than any of us as well." Francois Truffaut
Like his contemporaries of the French New Wave such as Godard and Truffaut, Jacques Rivette came to filmmaking from film criticism. Yet of those luminaries who turned the critic's eye to the camera's eye, Rivette remains the least known in this country due to the fact that a majority of his films have been unavailable here. LIGHTER THAN AIR, the first Rivette retrospective ever in the United States, uncovers a wealth of rarely seen masterpieces and reveals a true master of cinema.
Rivette's films are mischievously playful with narrative, meaning, character and performance. He insists that his actors collaborate on the script and improvise in front of the camera, in fact crediting PARIS NOUS APPARTIENT as "mise en oeuvre" (implemented) by Jacques Rivette and CELINE AND JULIE GO BOATING as written by "Berto, Labourier, Ogier, Pisier et Rivette." Rivette's work underscores the paradox of crediting a single auteur for a collective art form.
But, perhaps more than actors, places play key roles in his films. The city of Paris has never been filmed as it has in many of Rivette's films. And the magical CELINE AND JULIE, the director's most commercially successful work and arguably one of his best, is a vertiginous love poem to the city on the Seine.
What makes Rivette's work unique in European cinema is its consistency of theme: a world controlled by sinister forces; the theatricality of all emotion, and of love in particular and the richness of detail which makes critical appraisal as varied (and contradictory) as the films themselves. Rivette's films are intriguing journeys through wondrous labyrinths, which like Paris, can never really belong to us. Timeless, bemusing, continually fascinating, Rivette's films have dated much less than the work of his contemporaries. We hope that this 12-film retrospective renews interest in the work of this far-too-rarely seen work by a pantheon director of French cinema, recruiting new acolytes along the way.

All films in French with English subtitles.
Series pass $60/$45 NWFF Members.

LIGHTER THAN AIR: THE FILMS OF JACQUES RIVETTE has been organized with the cooperation of Fleur Buckley, Simon Duffy, Sue Jones, and Waltraud Loges of the National Film Theatre, British Film Institute, Marie Bonnel, Delphine Selles, François Leloup-Collet, Cultural Services of the French Embassy in New York and the French Ministry of Foreign Affairs. Special thanks to the UCLA Film and Television Archive, The British Film Institute, Celluloid Dreams, Cinema Parallel, Connasissance du Cinéma, New Yorker Films, Pierre Grise Productions and Société Solaris et Société Sunshine. Made possible by support from the National Endowment For The Arts


Sponsored by Center for West European Studies at the Jackson School at The University of Washington, Seattle Alliance Francaise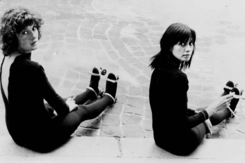 Sponsored by Center for West European Studies at The Henry M. Jackson School at U of W and Seattle Alliance Francaise



Mar 04, 2007
Jacques Rivette, France, 1974, 35mm, 192 min.
Rivette's best-known film is an elaborate fairy tale with literary roots in Lewis Carroll, Henry James and Borges and cinematic roots in Méliès, Marienbad and Laurel and Hardy. In a film-with-in-a-film structure, memory and fantasy stretch an encounter between a librarian, Julie (Dominique Labourier), and a magician, Céline (Juliet Berto), into the past and the future while never leaving the present. More whimsical but no less labyrinthine than PARIS BELONGS TO US, the story involves a white rabbit chase through Montmartre, a mysterious old house in the Paris suburbs and strange potions in the form of little candies placed on the tongue. In the house, a haunting melodrama involving Bulle Ogier and Barbet Schroeder is being played out. Can Céline and Julie intervene to change the plot? A film that has retained its cult status, CÉLINE AND JULIE invites repeat viewings.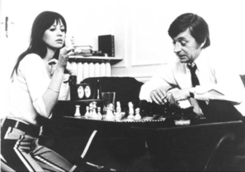 Sponsored by Center for West European Studies at The Henry M. Jackson School at U of W and Seattle Alliance Francaise
Mar 03 - Apr 13, 2007
Jacques Rivette, France, 1970, 16mm, 270 min.
For many cineastes, Rivette's OUT 1: NOLI ME TANGERE represents the Holy Grail. A nearly thirteen-hour adaptation of Balzac's HISTOIRE DES TREIZE, the film centers on Rivette's central obsessions: conspiracy, community, theater, games and madness. When French television turned down the complete version, Rivette created a four-hour version, OUT 1: SPECTRE, which focuses more intensively on the intertwining tales of two rival theater companies, two eccentric outsiders and a mysterious cabal. Only slightly less rare than NOLI ME TANGERE, SPECTRE both doubles and refracts its parent film, offering a work totally different, yet still an epic. With Jean-Pierre Léaud, Juliet Berto, Bulle Ogier, Pierre Baillot, Jacques Doniol-Valcroze and Françoise Fabian.

"What we are left with is not a digest of the long version, but another film having its own logic: closer to a puzzle or a crossword game, playing less on affectivity and more on rhymes or oppositions, ruptures or connections, caesuras or censorships." –Jacques Rivette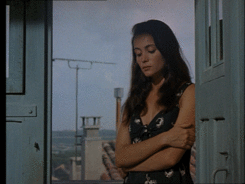 Sponsored by Center for West European Studies at The Henry M. Jackson School at U of W and Seattle Alliance Francaise
Mar 16, 2007
Jacques Rivette, France, 1995, 35mm, 169 min.
Paying tribute to MGMs low-budget musicals of the 1950s, specifically Stanley Donenas GIVE A GIRL A BREAK, HAUT BAS FRAGILE is a work which lovingly defies all expectations of the genre. The film follows three women who are each at a turning point in their lives. One has just awoken from a five-year coma, the second is trying to escape her criminal boyfriend and the third seeks her long-lost birth parents. They dance about the Paris streets before the film makes a surprising, genre-bending transformation. Many of the songs performed in the film were written by the actors themselves and infuse the film with a seemingly incongruous pairing of verite style and fantastic plotting. Rivette glories in the summery settings, the vivaciousness of his actresses, and the sheer joy of narrative in this most diverting of divertissements.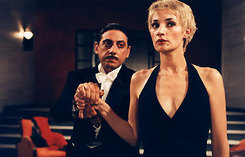 Sponsored by Center for West European Studies at The Henry M. Jackson School at U of W and Seattle Alliance Francaise
Mar 17, 2007
acques Rivette, France, 2001, 35mm, 154 min.
In his most commercially successful film in the US, a Luigi Pirandello theater production and Rivette's beloved Paris form the backdrop to a warm roundelay of six characters falling in and out of love.
"Serene and witty, it's a cerebral farce in which doors are for-ever opening and closing, sometimes on another world," writes J. Hoberman in THE VILLAGE VOICE.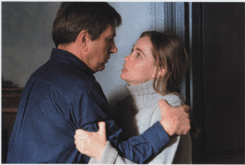 Sponsored by Center for West European Studies at The Henry M. Jackson School at U of W and Seattle Alliance Francaise
Mar 18, 2007
Jacques Rivette, France, 2003, 35mm, 151 min.
Film will be introduced by Asst. Prof. James Tweedie, U of W.
A fantasy film for grown-ups and incurable romantics, THE STORY OF MARIE AND JULIEN follows the haunted love affair of two isolated Parisians, but its ghosts and phantoms extend far beyond the screen. Taking its cues from Cocteau's poetic fantasies and Poe's uneasy tremors (there's even a cat named Nevermore), Rivette's not-so-straightforward narrative is alternately told from the point of view of the solid, time-fixated Julien, who fixes clocks for profit and blackmails a mysterious woman for fun, and the ethereal Marie, his obscure object of desire. Their dreamlike meeting, trance-like living and legend-like loving at first seem romantic, but soon a certain strangeness fills the air, as if some events have been lived or told before. Anchored by the earthy performances of Jerzy Radziwilowicz and Emmanuelle Béart as the star-crossed couple, this ephemeral tale hints that all love affairs are haunted by the loves that have happened before and adds the Rivettian idea that the same is true of all stories.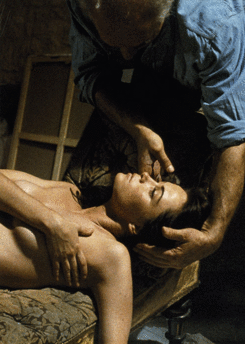 Mar 11, 2007
Jacques Rivette, France, 1991, 35mm, 238 min.
Film will be introduced by Ph.D. Candidate Fabrizio Cilento, U of W. With a story loosely based on Balzac's LE CHEF D'OEUVRE INCONNU, LA BELLE NOISEUSE re-introduced Rivette to the wider art-house audience. Edouard Frenhofer (Michel Piccoli in a career-defining role) plays an ageing artist who long ago abandoned the title painting, for which his wife (Jane Birkin) was the model. Despite initial reluctance, he is persuaded to resume work on his masterpiece, now using a young painter's girlfriend (Emmanuelle Béart) as the model. A stately, sexy rumination on the process and real-life effects of artistic creation and collaboration, it is also the only Rivette film focused primarily on a man.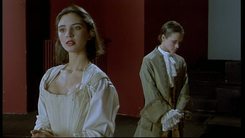 Mar 10, 2007
Jacques Rivette, France, 1989, 35mm, 140 min.
Four aspiring young actresses and their seasoned coach (Bulle Ogier) are pulled into one of Rivette's fantasy-realm plots, this time involving national terrorism. While the film interweaves a mystery plot with rehearsals of plays by Marivaux, Corneille, Racine and Moliere, most of its three-hour narrative quietly observes the quartet's daily lives. Typical of Rivette, essential truths are revealed through metaphor as the four women learn the rules vital to their adult lives.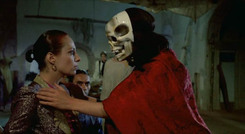 Mar 09, 2007
Jacques Rivette, France, 1976, 16mm, 145 min.
The second film in Rivette's projected four-part series SCENES FROM A PARALLEL LIFE, this enigmatic female pirate adventure with strains of mythology and avant-garde dance was described by critic Jonathan Rosenbaum as "the strangest by far of Rivette's films...[D]ays or weeks after you see this chilling conundrum of a movie, sounds and images may come back to haunt you."
"NOROÎT contains the most beautiful images and sounds of any Rivette film, and the fewest indications of what a spectator is meant to do with them, apart from look and listen." –Jonathan Rosenbaum, CHICAGO READER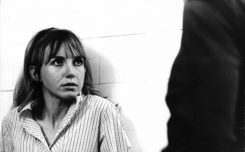 Sponsored by Center for West European Studies at The Henry M. Jackson School at U of W and Seattle Alliance Francaise
Mar 02, 2007
Jacques Rivette,France, 1968, 35mm, 255 min.
This pivotal masterpiece was Rivette's first film to use as key elements an extended running time, scenes written and developed with actors' participation and a blurring between art and reality. Focusing on the turbulent relationship between a director and an actress, the story moves between the couple's unraveling and rehearsal scenes for a Jean Racine play. "You emerge from it changed," writes CHICAGO READER film critic Jonathan Rosenbaum. "It's a life experience as much as a film experience."
"I reject the word 'script' entirely—at any rate in the usual sense. I prefer the old usage—usually scenario—which it had in the Commedia dell'Arte, meaning an outline or scheme: it implies a dynamism, a number of ideas and principles from which one can set out to find the best possible approach to filming." –Jacques Rivette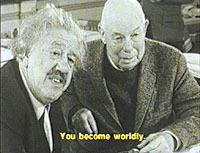 Sponsored by Center for West European Studies at The Henry M. Jackson School at U of W and Seattle Alliance Francaise
Mar 03, 2007
Jacques Rivette, France, 1967, BetaSP, 97 min.
In 1966 Jacques Rivette made a three-part TV documentary titled JEAN RENOIR, THE BOSS, and its centerpiece, THE DIRECTION OF ACTORS, has rarely been seen since. A PORTRAIT OF MICHEL SIMON BY JEAN RENOIR, or A PORTRAIT OF JEAN RENOIR BY MICHEL SIMON, or THE DIRECTION OF ACTORS: DIALOGUE is a missing link key to understanding Rivette's work. It's a raw record of the after-dinner talk between one of the world's greatest directors and his greatest actor, both in their early seventies, punctuated by clips from the five films they worked on together—TIRE-AU-FLANC (1928), ON PURGE BÉBÉ (1931), LA CHIENNE (1931), BOUDU SAVED FROM DROWNING (1932) and TOSCA (1941). It also includes occasional remarks by Rivette, the documentary's producers, Janine Bazin and Andre S. Labarthe and the distinguished still photographer, Henri Cartier-Bresson.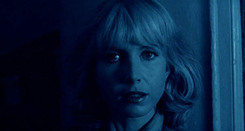 Sponsored by Center for West European Studies at The Henry M. Jackson School at U of W and Seattle Alliance Francaise
Mar 05, 2007
Jacques Rivette, France, 1975, 35mm, 121 min.
A pair of goddesses descend to Paris to search for—and battle over—a magic stone that will allow them to remain on Earth. Quieter in tone but more mysterious than CÉLINE AND JULIE, DUELLE marked the beginning of Rivette's collaboration with cinematographer William Lubtchansky. With Juliet Berto and Bulle Ogier.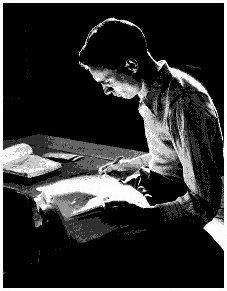 Sponsored by Center for West European Studies at The Henry M. Jackson School at U of W and Seattle Alliance Francaise



Mar 06, 2007
Claire Denis, France, 1990, BetaSP, 125 min.
An assistant to Rivette before she became a director, Claire Denis (BEAU TRAVAIL, CHOCOLAT) Filmed Rivette and the great French film critic Serge Daney discussing the director's films and his early days as part of the French New Wave with Jean-Luc Godard, François Truffaut, and Eric Rohmer. This portrait, which includes clips from Rivette's films, offers an excellent introduction to the filmmaker.