Mumble Without A Cause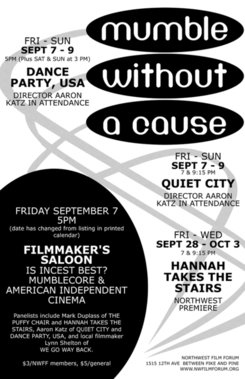 Mumble Without A Cause
September 7 - October 3, 2007
Three new films and a discussion about the emerging "mumblecore" genre.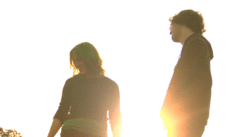 Director in attendance!
Sep 07 - Sep 09, 2007
Aaron Katz, USA, 2007, BETA-SP, 81 min
It's not often a film comes along that finds a new way to depict New York City, but QUIET CITY manages to do just that quite beautifully. The New York depicted by director Aaron Katz (DANCE PARTY, USA) is indeed a quiet place, full of listless hours, intriguing strangers, and endless promise. Twenty-one-year-old Jamie (Erin Fisher) has traveled from Atlanta to Brooklyn to hang out with a friend, but Jamie doesn't know her way around town, and her friend's not answering her phone. A chance encounter in a subway station attaches Jamie to Charlie (Cris Lankenau), a shy, soft-spoken New Yorker of the indie-rock set. The two inch closer together as they kill time in diners, art galleries, and hipster parties -- slowly but surely distancing themselves from the lives they led before they met. A hit at this year's South by Southwest festival, Katz's moving indie film confidently captures the small, quiet moments of our life that in retrospect may scream out with major significance. QUIET CITY also expresses a deep belief that today's urban landscape is a place of mystery, and confirms Katz's status as a young director to watch. A point of interest: Joe Swanberg, the director of the SXSW gem HANNAH TAKES THE STAIRS, plays Adam in the comical coleslaw scene.
Click here to visit the QUIET CITY myspace page
"Tender and sad, it is a fully realized work of mumblecore poetry."-Stephen Holden, NY TIMES

"It's sparse and simple but also colorful and interesting."-FILM THREAT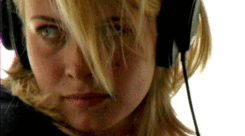 Director in attendance!
Sep 07 - Sep 09, 2007
Aaron Katz, USA, 2006, BETA-SP, 66 min
Like most teenagers, Jessica (Anna Kavan) has trouble connecting with people around her, even her best friend Christie. Then she crosses paths with Gus (Cole Pennsinger), another apathetic seventeen-year-old who spends most of his time bragging to his best friend Bill about his sexual escapades and drug use. Surprisingly, when Gus meets Jessica at the local 4th of July party, he puts his swagger aside and feels comfortable enough to open up to her. Throughout the course of the night, Gus reveals to Jessica his darkest secret. And that's when everything changes . . . Aaron Katz's pitch perfect portrait of modern teen life is as simple as it is effective. Shot on a shoestring budget and boasting great performances from newcomers Anna Kavan and Cole Pensinger, DANCE PARTY, USA is an edgy little treasure worth exploring.
Click here to visit the DANCE PARTY, USA myspace page
"Delving beneath skin level and examining the mind of an 18-next-week boy, DANCE PARTY is challenging, gritty, and true."-Darcie Stevens, AUSTIN CHRONICLE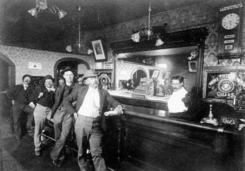 Sep 07, 2007
NWFF's quarterly Filmmaker's Saloon is a panel discussion and socializing event for the local film community. At South by Southwest 2005, Mutual Appreciation sound mixer Eric Masunaga half-jokingly coined a name for a mini-movement or scene or school or what-have-you. It's made up of filmmakers around the country who were then working independently, producing microbudgeted slices of twenty-something life, marked by fumbling inarticulate conversation and an exacting clarity in their attention to interpersonal dynamics. During the festival, a group of these filmmakers (Joe Swanberg, Aaron Katz, Bryan Poyser, Andrew Bujalski, Dia Sokol, and the brothers Duplass, among others) entertained themselves arguing over whether the spelling should be "mumblecore"or "mumblecorps."Two years later, these filmmakers are no longer working independently of each other. Their ranks have expanded, and their work is maturing. What's the deal with this mumblecore gang; how is everyone connected within this social/artistic network? Does this interconnectedness yield better films or just an insulated community? Join us for a conversation hitting at the center of one of the most interesting movements in contemporary American cinema.

Panelists include Mark Duplass, Aaron Katz, and Lynn Shelton.

The forum will be moderated by Alex Lipschultz. Alex worked with Andrew Bujalski assisting with distribution and DVD special features for MUTUAL APPRECIATION, with Mark and Jay Duplass coordinating grassroots marketing for THE PUFFY CHAIR, and with Aaron Katz recording sound on QUIET CITY. He is currently the unit publicist on TRUE ADOLESCENTS, a film by Bellingham-native Craig Johnson.
Director in attendance!
Sep 28 - Oct 03, 2007
Joe Swanberg, USA, 2007, BETA-SP, 84 Min
Joe Swanberg (LOL, YOUNG AMERICAN BODIES) is one of the leading voices in a new revolution taking place in front of our eyes; intimate stories of the lives of young people, told using low-budget, often digital filmmaking tools. In HANNAH TAKES THE STAIRS, Swanberg tells the tale of Hannah (Greta Gerwig), a young writer who wants to find a relationship that works. As she works her way through relationship after relationship, Hannah's personal and professional life is thrown into crisis. A charming film featuring wondrously natural performances, HANNAH TAKES THE STAIRS showcases a new kind of intimate, independent filmmaking that is shaping the future of the movies. Swanberg's gifted cast includes a dynamic who's-who of up-and-coming American directors, including Andrew Bujalski (MUTUAL APPRECIATION), Todd Rohal (GUATEMALAN HANDSHAKE ) and Ry Russo-Young (ORPHANS). The film introduces the "mumblecore"crowd to those discerning audiences that have embraced fresh, offbeat visions like Miranda July's ME AND YOU AND EVERYONE WE KNOW.