Press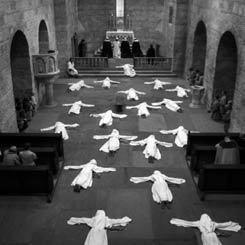 Martin Scorsese Presents: Masterpieces of Polish Cinema
JULY 7-11, MONDAY - FRIDAY
Co-presented with the Seattle Polish Film Festival
When Martin Scorsese traveled to Poland to accept an honorary degree from The Polish National Film, Television, and Theatre School in Łódź -- the institution that birthed the famed "Polish Film School" of the 1950's and 60's, which put Polish cinema on the map, he knew he needed to bring the great masterpieces of Polish cinema back with him.
In the months following the visit, Scorsese chose twenty-one recently restored Polish masterpieces by directors such as Andrzej Wajda, Krzysztof Zanussi, Andrzej Munk, Jerzy Kawalerowicz, Aleksander Ford, Krzysztof Kieslowski, and others for a North American tour.
Northwest Film Forum and the Seattle Polish Film Festival will present eight of these Polish classics in July. Each film has been digitally re-mastered and brilliantly restored on newly subtitled DCPs.
The cinematic masterpieces from the legendary school include a sweeping historical epic of the Egyptian pharaoh Ramses XIII, a Warsaw Uprising rebel turned POW camp escapee, a 1960s western, Zanussi's scathing comedy set in a university summer school camp, a medieval blockbuster, a dreamy fantasy tinged with reflections on the Holocaust, and Academy Award winner Andrzej Wajda's 19th century wedding party ornamented with lively country music and dead souls.
Stay tuned for eight more in the fall, including Wajda's Ashes and Diamonds, which Scorsese himself hailed as one of the ten best films ever made, and the alchemical surrealist classic, The Saragossa Manuscript.
A series pass is available: $70 ($40 for SPLFF and Film Forum Members).
The series launches with a catered opening night reception on July 7 at 6pm, hosted by the Seattle Polish Film Festival in the Northwest Film Forum lobby, in advance of our 7pm screening of Pharaoh.
Please see our Press Dropbox folder for access to high-resolution film stills. Email us at publicityATnwfilmforum.org for access instructions.
See a full film schedule available for download as a Word document on this page.