At The Edge Of The World: The Cinema of Lisandro Alonso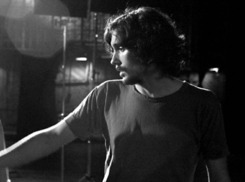 At The Edge Of The World: The Cinema of Lisandro Alonso
November 11–19, 2009
Argentine director Lisandro Alonso's mesmerizing, enigmatic cinema is a buried treasure waiting to be discovered. Strangely, this recently crowned giant of world cinema with four films under his belt has never shown a film in Seattle. It is our great pleasure to introduce the work of one of world cinema's latest masters.
Lisandro Alonso is a fascinating figure, who probably thinks more about form than any other narrative filmmaker his age. His attempts at overall unity in his work are impressive if not fearsome; his three films, La Libertad (2001), Los Muertos (2004) and Liverpool (2008), constitute one of the most notable trilogies in contemporary film. Alonso creates an evocatively atemporal and even otherworldly experience with the depiction of lone men, wandering though landscapes at once beautiful and isolated. Alonso's remaining film, Fantasma (2006), works as a curious comment on the first two. In it, the lead actors of his first two features wander through a building looking for a screening of Los Muertos. These four features make up one of contemporary cinema's richest debuts in recent memory.
Join us as we welcome Lisandro Alonso to the cinema where he'll conduct a master class, and introduce the premiere screenings of all four of his wondrous features.
"The four films from director Lisandro Alonso that are having their Seattle premiers at the Northwest Film Forum from Nov, 11-19 deserve committed viewings from everyone who considers themselves serious about film." -Seattle PostGlobe
"[Alonso's filmmaking style is] a way of looking at and framing the world—the physical space of the external and the characters that inhabit it—on the screen in a way that favors the integrity of the quotidian and the immediacy of the moment." -The Stranger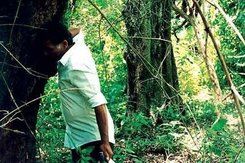 Seattle Premiere

Director in Attendance
Nov 11 - Nov 14, 2009
(Lisandro Alonso, Argentina, 2001, 35mm, 73 min)
The first feature by celebrated Argentine director Lisandro Alonso, La Libertad is a thought-provoking piece of minimalist realism. The actor playing the protagonist, a woodcutter named Misael, had never been to the movies let alone been trained as an actor. He spends his days chopping wood, transporting it, hunting and sleeping.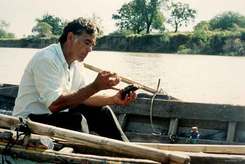 Seattle Premiere

Director in Attendance
Nov 12 - Nov 15, 2009
(Lisandro Alonso, Argentina, 2004, 35mm, 73 min)
After serving thirty years in prison, a grim man named Vargas journeys back through thick jungle and swamp to reunite with the daughter he left behind long ago. A mysterious aura emanates from him, just as it does from the inscrutable depths of the jungle, so that they meld together in a way that blurs the lines of the man's identity.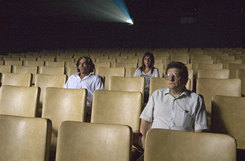 Seattle Premiere

Director in Attendance
Nov 14, 2009
(Lisandro Alonso, Argentina, 2006, 35mm, 63 min)
A rewarding meta-commentary on his first two films, Lisandro Alonso's Fantasma functions as a meditation on the themes and characters in La Libertad and Los Muertos. Alonso entices the two leading men from his previous films, Misael and Vargas, to leave their secluded rural homes and wander through the San Martin Theatre in Buenos Aires.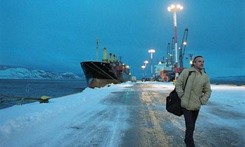 Seattle Premiere

Director in Attendance Friday & Saturday

Free screening for members on Monday at 7pm; followed by a discussion with program director Adam Sekuler
Nov 13 - Nov 19, 2009
(Lisandro Alonso, Argentina, 2008, 35mm, 84 min)
A graceful ode to solitude and the existential need for meaning, the story follows a sailor named Farrel on a lonely journey in the southernmost region of Argentina. After traveling the world, Farrel asks the captain if he can leave the ship to see if his mother still lives in their old village.
"Bleak and beautiful, this is the richest of Alonso's films to date" -The Stranger