Local Sightings 2018 – It Happened at the World's Fair with Lindy West + Ahamefule Oluo + Charles Mudede
This event took place on Sep 25, 2018
$14 General Admission
$13 Senior (65+) / Youth (under 21)
$9 NWFF and SIFF Member*
* NWFF members can receive their discounted ticket price only at SIFF cinema box offices (Egyptian, Uptown, Film Center)
** With live commentary by author/comedian/activist Lindy West (How to be a Person, Shrill), critic/writer Charles Mudede, and musician/comedian/author Ahamefule J. Oluo! **
About
* This event takes place three blocks west of the Forum, at the SIFF Cinema Egyptian! Co-presented with SIFF *
In this special presentation of Elvis' film foray to Seattle, the hip-shaking hound dog plays a crop dusting crooner named Mike Edwards. Mike finds himself a pilot without a plane after his gambling-crazed crony Danny loses it in a bet. In order to get enough money to get back their plane and get back on their feet, the two hitch a ride with a local apple farmer to the big city, where the World's Fair is in full swing and an uncharacteristically sunny Seattle is blossoming into a veritable Metrocolor metropolis.
As you would expect, Elvis leaves a handful of hearts spinning in his wake, but the film's unusual leading lady is seven-year old Sue-Lin, the aforementioned apple farmer's granddaughter. In a head-scratching judgment call by her grandpa, Sue-Lin's care at the fair is entrusted entirely to Elvis, providing a convenient sidekick, scapegoat, and sentimental anchor for the film. Shenanigans and swingin' songs are the stock-in-trade of this MGM musical, and Seattleites will thrill to the sight of a spotless Seattle Center and majestic monorail when the King shakes up the Queen City in It Happened at the World's Fair!
(Norman Taurog, US, 1963, 105 min)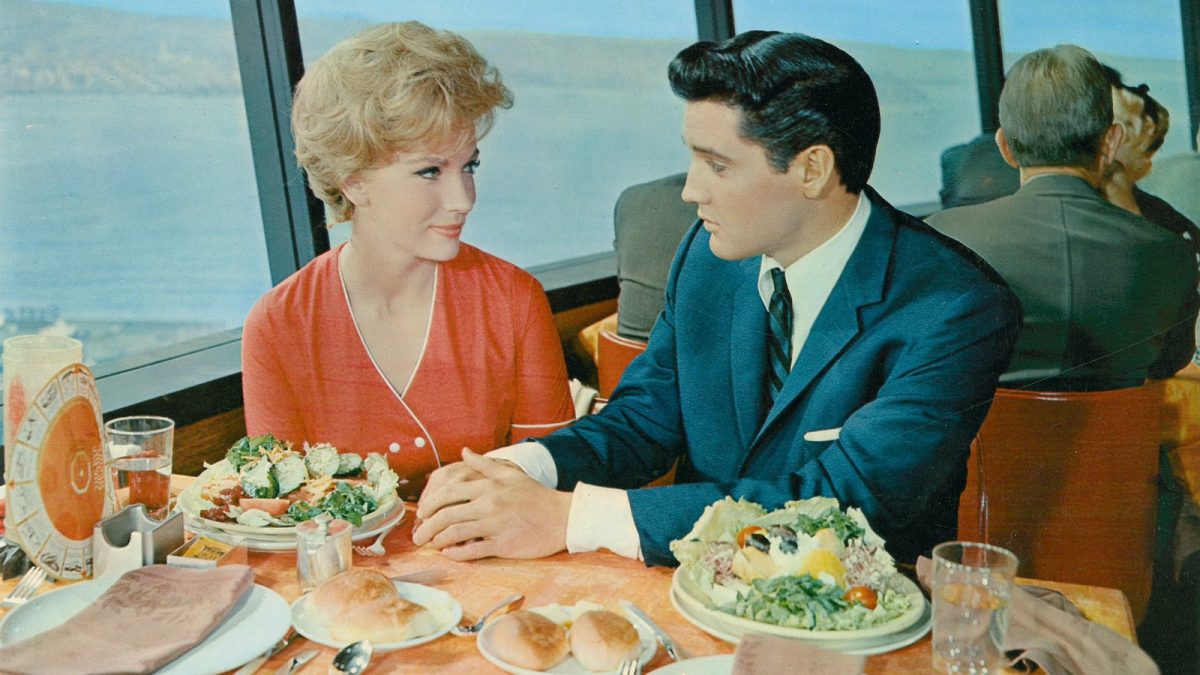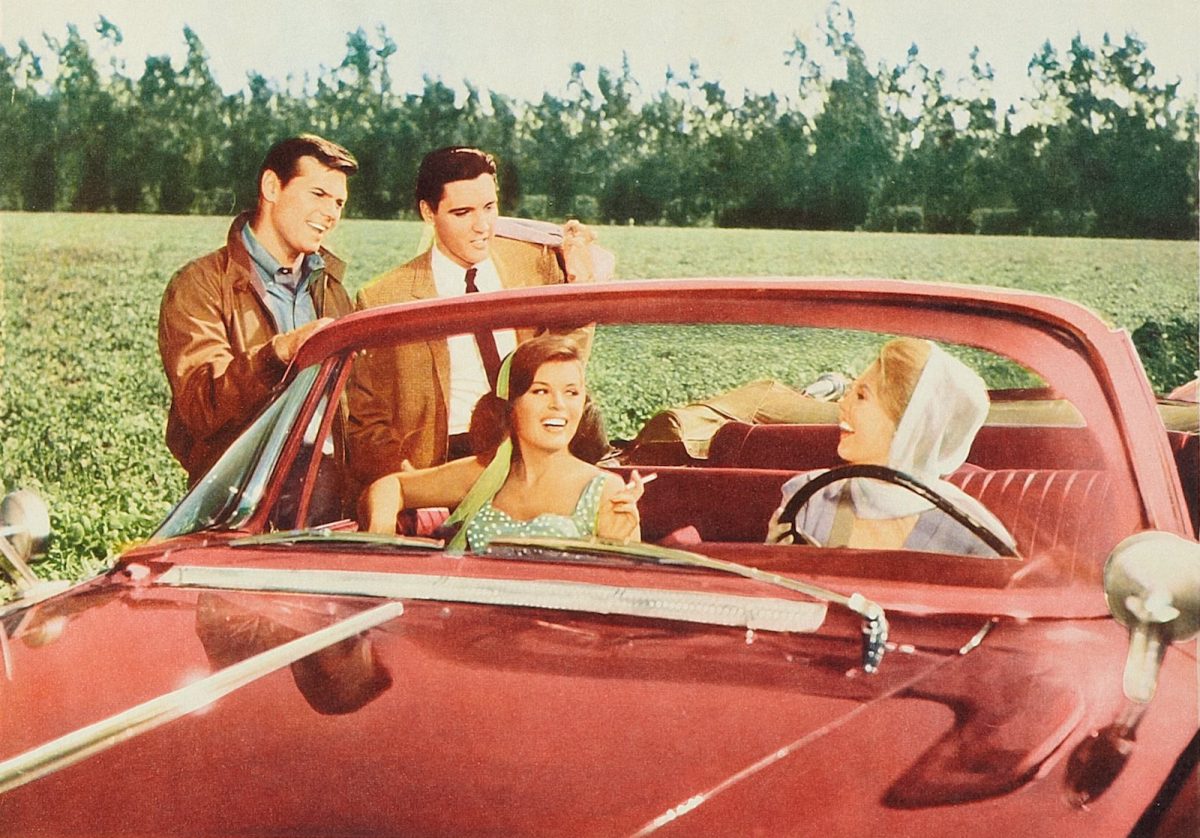 ---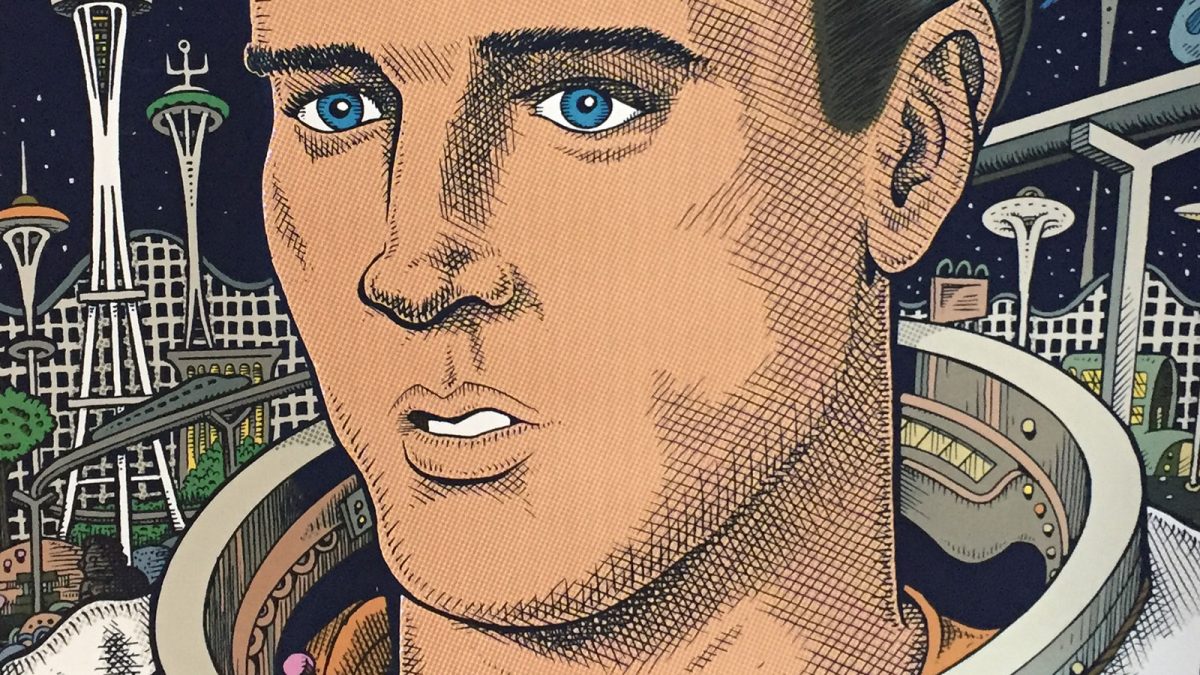 Win a silkscreened Elvis print by NW-based artist Pat Moriarity!
Each ticketholder will be entered into a drawing to win an incredible work of Elvis art!
Moriarity
 drew the original design in honor of the 50th anniversary of
It Happened at the World's Fair
for a group exhibition curated by Fantagraphics' Larry Reid. He adapted the drawing into an 8-color silkscreen print (with metallic inks!) at Seattle's
Fogland Studios
.
The print's space-suited Elvis alludes to his character's astronautical aspirations, also featuring a sci-fi-futuristic Seattle backdrop.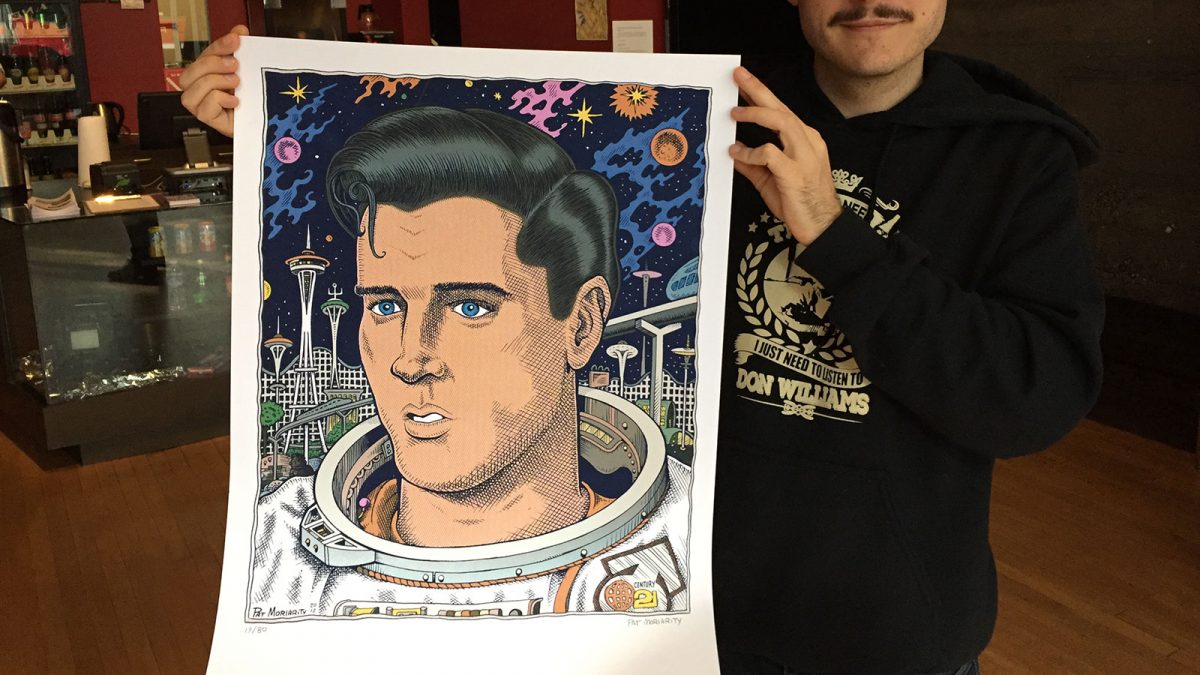 Pat has been a NW based artist since 1991, known for his comics work (Big Mouth, Real Stuff, Zero Zero, Flayed Corpse, Mineshaft), record covers (Endino's Earthworm, Banda de la Muerte, Boss Martians, Von Zippers, etc.) and illustration. He's done stuff for Fantagraphics, Subpop, Estrus, The Stranger, The Rocket, Seattle Weekly and many other Seattle-based entities. He's always working on something, and teaches comics and animation at the Seattle Art Institute. He once made a silent Super-8 film for NWFF as part of a project called Comic Artists Make Movies.
---