Contact & Visit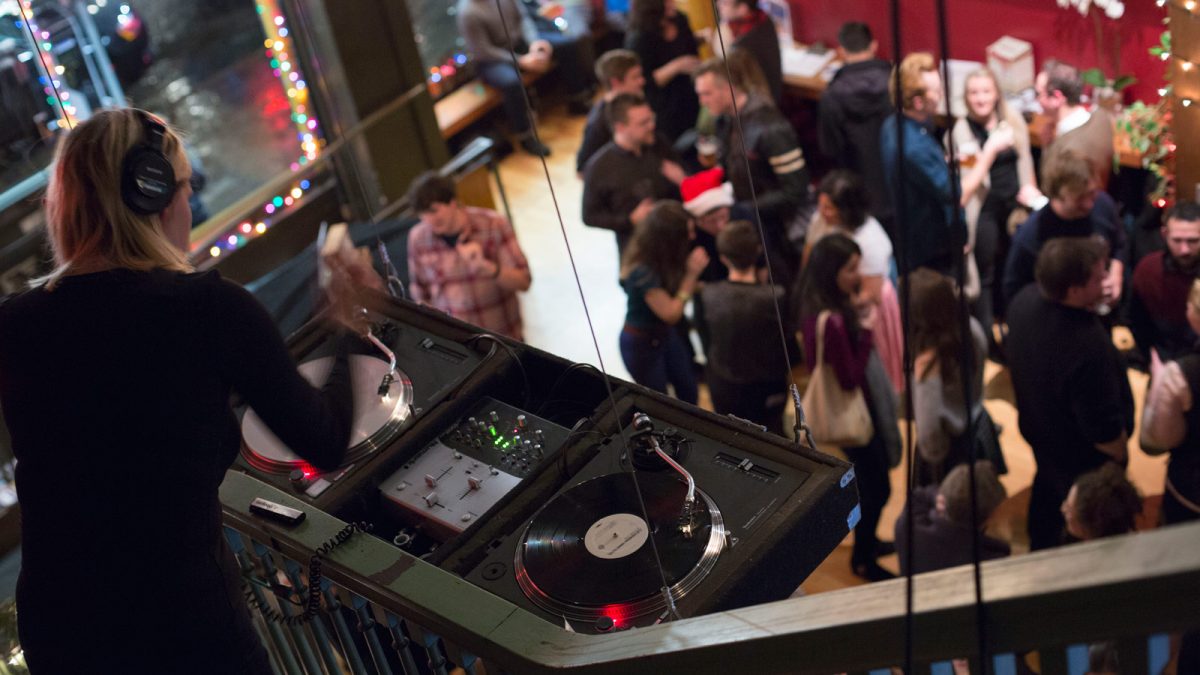 Our office, cinemas, and education facilities are located in the heart of Seattle's Capitol Hill neighborhood, on 12th Avenue between Pike and Pine Street.
Office hours are Mon–Fri, 10am–6pm. Cinema hours vary and include evening hours on the weekends and daytime hours on the weekends.

* Please note that our office is closed on most national holidays, and the week of December 24–January 1.
Accessibility Info & Sensory Access Document
Ticketing, concessions, cinemas, restrooms, and our public edit lab are located on Northwest Film Forum's ground floor, which is wheelchair accessible. Our upstairs workshop room is not wheelchair accessible.
We have a limited number of assistive listening devices available for programs hosted in our larger theater, Cinema 1. These devices are maintained by the Technical Director, and can be requested at the ticketing and concessions counter. Also available at the front desk is a Sensory Kit you can borrow, which includes a Communication Card, noise-reducing headphones, and fidget toys.
The Forum does NOT have assistive devices for the visually impaired, and is not (yet) a scent-free venue. Our commitment to increasing access for our audiences is ongoing, and we welcome all public input on the subject!
If you have additional specific questions about accessibility at our venue, please contact our Patron Services Manager at maria@nwfilmforum.org.
Made possible due to a grant from Seattle Office of Arts & Culture, in partnership with Sensory Access, our Sensory Acesss document presents a visual and descriptive walk-through of the NWFF space. View it in advance of attending an in-person event at bit.ly/nwffsocialnarrativepdf, in order to prepare yourself for the experience.

FROM I-5 SOUTHBOUND
(Coming from the North)

Take the Stewart St. Exit (Exit 166) towards Stewart St/Denny Way. Merge onto Eastlake Ave E. Take a slight right onto Stewart Street. Take a hard left onto Denny Way. Continue straight on Denny up the hill (remain in the right lane to avoid a mandatory left turn). Turn right at 12th Ave. The Film Forum is located on the right-hand side of the street in between Pike and Pine, past the East Precinct Police Station.
FROM I-5 NORTHBOUND
(Coming from the South)
Take exit 164A for Dearborn St toward James St/Madison St. Follow signs for I-5N. Keep right at the fork, follow signs for James St. Turn right at James St. Turn left at 12th Ave. Northwest Film Forum will be on your left, just after you cross Pike Street.
NWFF is located a short walk from the Capitol Hill light rail station, and within 1/2 mile of many buses including the #10, 11, 43, 49 routes. To plan your bus trip, go here.
Walking, biking, and public transportation are the best ways to reach us – parking in the Capitol Hill neighborhood is notoriously difficult.
Parking can be a challenge in this neighborhood, so we recommend walking, biking, and public transportation if at all possible for your visit!
An affordable pay parking lot is available 3 blocks from the Film Forum, at the Greek Orthodox Church, located at 1804 13th Ave. (at E Howell St.) Please note: cheaper parking is only available Mondays through Fridays; this lot may also be closed for special events.
Paid street parking is available Mon–Sat after 10pm and all day on Sundays. Please use this
downloadable map
as a guide for parking restrictions.
Ticketing
$7.00 – NWFF Members
$10.00 – Children under 12 (babies under 1 are free), Students with valid student photo ID, Veterans, Seniors over 62
$14.00 – General Admission
All tickets must be purchased at the Film Forum box office or through our website.
Tickets sold at the box office are sold only for day of show, starting 30 minutes prior to showtime.
All screenings and shows are to start on-time. No admittance after the first 15 minutes of each film.
Box office ticket sales are cash or credit card. We no longer accept personal checks for individual ticket sales.
For refunds, contact our Patron Services Manager, María Zamora: maria (at) nwfilmforum.org
You may purchase a membership at the box office and immediately receive a ticket discount.
You must show your current membership card, ID, or driver's license at the box office in order to receive either the member or children/senior discount.
Advance tickets are available online until 2 hours before showtime.
Tickets may be purchased online at the Film Forum member rate. The ticket purchaser must present Film Forum membership ID card when picking up tickets from Will Call.
NWFF discount is only valid for one ticket per member.
If you accidentally bought a ticket for the wrong day or showtime, contact our Patron Services Manager María Zamora: maria (at) nwfilmforum.org
Will Call ticket-holder seating is guaranteed until 15 minutes before each show, when empty seats will be released for purchase.
Day-of-Show Ticket Policy
Tickets may be purchased the day of show beginning 30 minutes before showtime at the box office.
Film Forum members must present membership card to purchase tickets with member discount. Member discount is only valid for one ticket per member.
Please note that Northwest Film Forum is unable to hold or reserve seats.
Volunteer & Intern Ticket Policy
Northwest Film Forum active volunteers (who volunteer at least 16 hours/month) are welcome to attend all regularly priced movies for free as space allows.
Volunteers must wait in line at the box office to obtain a ticket before entering the cinema.
We cannot guarantee admission to shows that are sold out.
We are unable to hold or reserve seats.
This policy is also valid for all Landmark Theatre employees, SIFF Cinema employees, Scarecrow Video employees, and volunteers at the Grand Illusion Cinema.
The Film Forum participates in TeenTix! Please note, TeenTix is a day-of rush ticket program. You can only purchase your ticket on the day of the show that you want to see. Check TeenTix's website for suggestions on how to best ensure entry to events.