Cadence: Video Poetry Festival 2020 [Online]
Verse meets visuals in motion at Northwest Film Forum (NWFF) in April 2020.
Cadence: Video Poetry Festival, presented by Northwest Film Forum, programmed in collaboration with Seattle author Chelsea Werner-Jatzke and artist Rana San, is a series of screenings, workshops, and discussions on the genre of video poetry, during National Poetry Month. Featuring screenings, an artist residency, generative workshops for youth and adults, and juried awards, Cadence fosters critical and creative growth around the medium of video poetry.
---
Cadence approaches video poetry as a literary genre presented as visual media that makes new meaning from the combination of text and moving image.
---
Cadence: Video Poetry Festival is SCREENING ONLINE! NWFF's physical space is temporarily closed in light of public health concerns around COVID-19, but community, dialogue, and education through media arts WILL persist.
Festival Highlights
Cadence will showcase 5 online screenings for viewers around the world!
Jourdan Keith's poem The Sound of Seeds will be translated into an exquisite corpse video by artist Rachael Lang with content generated by the 2019 Winter Poetry Festival video poetry workshop participants.
April 12–19: A special selection of video poems will screen at Common Area Maintenance, visible and audible from the street for passers-by.
Award-winning films will be eligible for publication on the Poetry Northwest website.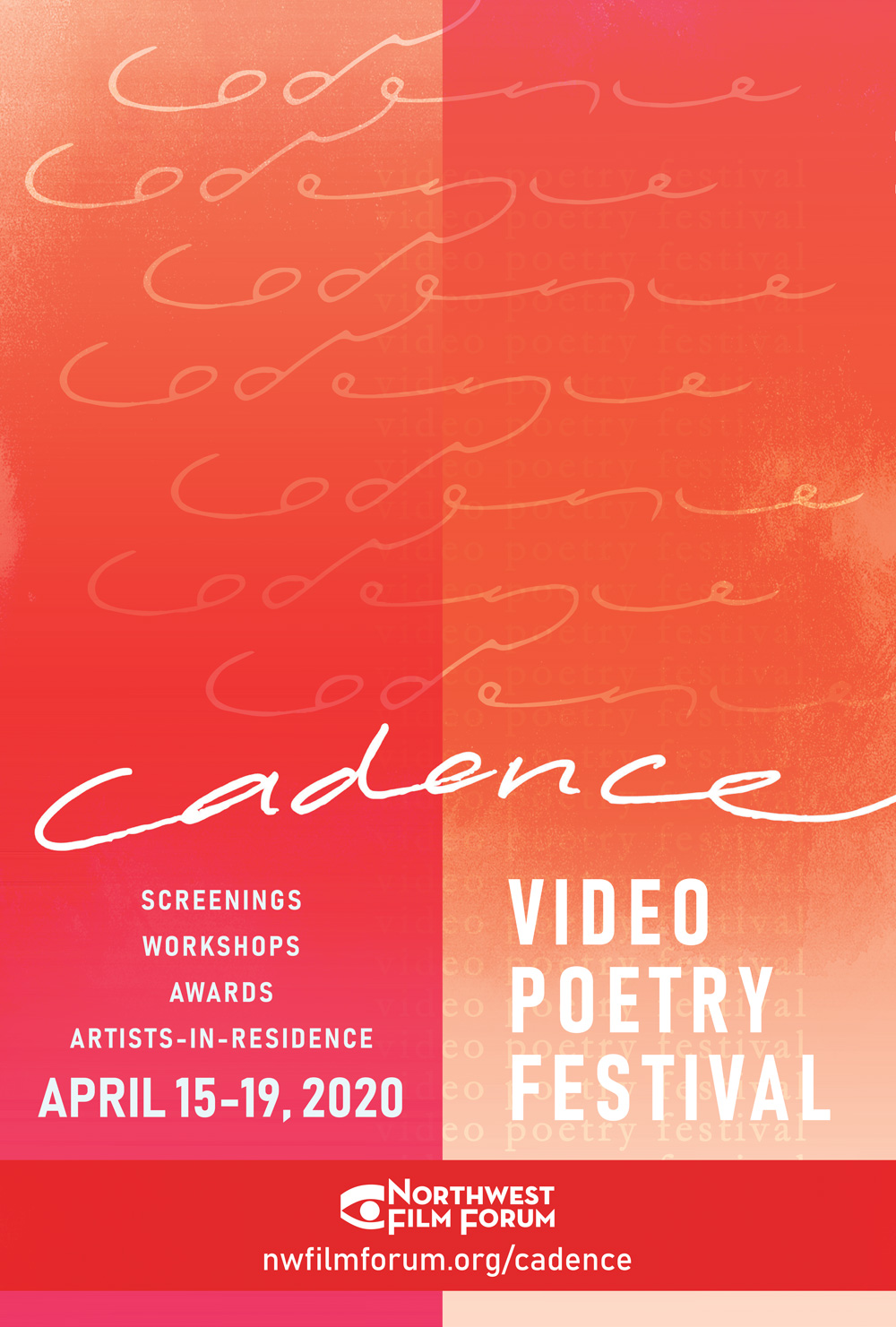 Cadence Screenings
April 15

–

19, video poetry alights on [your] screen!
April 15 at 7:30pm PST
Sight Lines
Direct and unobstructed, the video poetry in this screening opens lines of sight into narratives, communities, and hidden histories through overlooked voices and untold stories. Video poetry provides a space outside of academia and canon where diverse poetic disciplines engage in unpacking individual histories excluded due to race, ethnicity, or class; explorations of coded language for protection, secrecy, or both; the illumination of invisible or covert systems of labor, exploitation, and capitalist control; and translation through surreal, oblique, or fantastical frameworks.
The Henry Art Gallery and Northwest Film Forum co-present the In Plain Sight Film Series on the occasion of the Henry's exhibition, In Plain Sight. This series invites engagement with hidden histories and contexts unearthed with the aid of moving image media. Programs explore the myriad shades of nuance in disciplinary synthesis and delight in the discovery of new relationships between poetry, artifactology, and cinema.
—
April 16 at 7:30pm PST
Pivot Turn 
Volta, or the turn that shifts a poem's emotional tension, manifests physically inside these video poems as actual pirouette. Interspersing movement-based video poetry are works utilizing a more conventional poetic turn; shifting from scientific to familial, from catastrophic to celebratory, inside of animations or submerged in watery memories.
—
April 17 at 7:30pm PST
Breaking the Line
Enjambment carries an idea across a line without punctuation, but with a shift in meaning. These video poems deal with themes of breaking from the past personally, politically, poetically, to become something new. Transformation here can mean acceptance and realization or destruction and obliteration. Moving on can be subtle or drastic—evolving with introspection and awareness of the world, even when we feel distant from it. These pieces take meaning from the negative space of the line break.
—
April 18 at 7:30pm PST
Better Left Unsaid
Not silent, these video poems emphasize language as an auditory experience, a graphic experience, and a cultural experience. A dying language left untranslated, constraints leaving language limited, and limited language leaving emotional threads through found and filmed footage—this screening leaves room for inference and poetic impressions.
—
April 19 at 7:30pm PST
End Times
The current apocalypse, the post-apocalypse, your personal apocalypse—video poems in this screening address endings. Through premonitions and memories of the dire past, these works draw our attention to how they end, the end of an era, the end of a species, or the end of the world—all through our own making.
See all five with a festival pass! $30 Members, $45 General

** POSTPONED **
Originally scheduled for April 13 – 17 (Mon–Thu, 1pm – 4pm; Fri, 6 – 7:30pm)
Cadence Video Poetry Youth Camp
with Hanan Diriye
Ages 12–17
In this interactive camp, students will be introduced to the genre of video poetry and collaborate in groups to create a video poem of their own.
We are adapting our plan for this camp due to COVID-19.
If you're interested in participating, regardless of ability to attend in person, please fill out our interest form!

** POSTPONED **
Originally scheduled for March 26 + April 2 (6–9pm)
Video Poetry Workshop
with Rachel Kessler
Ages 16+
Applying various poetic techniques to the structure, filming and editing process, participants will work towards creating and completing a short piece to be screened during the next Cadence.
We are adapting our plan for this workshop due to COVID-19.
If you're interested in participating, regardless of ability to attend in person, please email rana@nwfilmforum.org!
Cadence Artist-in-Residence

Natachi Mez is a first generation Nigerian American writer, performer, emcee, and teaching artist from the Sacramento area in California. Natachi was a three time member of the Barnard-Columbia Poetry Slam Team. Together, they were two time finalists at the College Union Poetry Slam Invitational (CUPSI) and were awarded Best Poem and Spirit of the Slam. Natachi has featured at Oberlin College, Urban Word NYC, the Nuyorican Poets Cafe, Sol Collective, and has performed in Paris, Istanbul, Berlin, and Copenhagen.
Natachi was the selected student speaker for Columbia University's 2019 Black Graduation, and her work can be found in RATROCK Magazine and on Write About Now. Natachi has founded, curated, and emceed concerts and poetry events. Whether as a performer or emcee, Natachi creates dynamic, interactive experiences that deepen audience engagement and celebrate community voice, making fluid the boundaries between featured artists and audience members. Natachi has worked with youth communities and people who are incarcerated to engage writing and rapping as tools of empowerment, interaction, and introspection. She has led writing and performance workshops at Tufts University, Rutgers University, Rikers Island, and more. Natachi is currently based in the Sacramento region.
** The residency will resume when NWFF reopens to the public. **
Jury Awards
Video poems will be eligible for an award within their submission category:
Adaptations/Ekphrasis
Judged by Amber Flame
Amber Flame is a writer, composer and performer, whose work has garnered artistic merit residencies with Hedgebrook, The Watering Hole, Vermont Studio Center, and Yefe Nof. Flame's original work has been published in diverse arenas, including Winter Tangerine, The Dialogist, Split This Rock, Black Heart Magazine, Sundress Publications, FreezeRay, Redivider Journal and more. A 2016 Pushcart Prize nominee, Jack Straw Writer and recipient of the CityArtist grant from Seattle's Office of Arts and Cultural Affairs, Amber Flame's first full-length poetry collection, Ordinary Cruelty, was recently published through Write Bloody Press. Flame joins the Hugo House in Seattle as the 2017 poetry Writer-in-Residence, and is a queer Black single mama just one magic trick away from growing her unicorn horn.
Collaboration
Judged by Angella Kassube
Angella Kassube is an avid poetry reader and freelance Art Director/Designer/Animator from Minneapolis, Minnesota. She has worked in the film and video industry for more than 20 years. In 2008, Angella co-founded Motionpoems, a non-profit poetry film production organization, and was the executive producer for more than 30 poetry films during Motionpoems' first 5 seasons. Angella has designed and animated poetry films for Thomas Lux, Dean Young, and Robert Bly. Her films have screened in film festivals in Berlin, New York City, Minneapolis, and Rome. Angella believes poetry films have a place in education and has worked with high school students and poetry teachers to help them create their own poetry films. She happily met her future husband, Norwegian poet Dag T. Straumsvåg, through his work with Motionpoems, and will be moving to Norway during the next few years.
Video by Poets
Judged by Jordan Stempleman
Jordan Stempleman is the author of nine collections of poetry including Wallop, No, Not Today, and COVER SONGS COVER SONGS COVER SONGS OFF DAYS (forthcoming, Magic Helicopter Press). He co-edits The Continental Review, serves as the faculty editor for Sprung Formal, and curates A Common Sense Reading Series.
Poetry by Video Artists
Judged by Gretchen Burger
Gretchen Burger is an artist, educator, filmmaker and, long ago, she was a poet.  The co-founder of the creative agency FEARLESS, Gretchen has turned her creative pursuits to embodied immersive storytelling and creating public art projects, exhibitions and curriculum to facilitate understanding of the invisible digital ether pulsing around us. Gretchen has an MFA in experimental film and video installation from Massachusetts College of Art and Design and has taught at The Art Institute, Seattle University, Cornish College of Arts and The Northwest Film Forum.

Sight Lines is co-presented with Henry Art Gallery as part of the In Plain Sight Film Series
---
Cadence accepts works no longer than 5 minutes that fit within the following categories of video poetry for inclusion in Cadence Video Poetry Festival. Works that exceed 5 minutes may be submitted in the Wild Card category.
Adaptations/Ekphrasis: Videos created to bring new meaning and dimension to pre-existing poetry. Any poems used for this purpose must be in the public domain or else used with written consent of the author.
Collaboration: Video poems created in collaboration between a video artist and writer.
Video by Poets: Poets creating video from, or as, their writing.
Poetry by Video Artists: Video artists using text visually or through audio intrinsic to the poetic meaning.
Wild Card: Video work that's poetically informed or poetry that's visually informed that doesn't neatly fit into one of the other categories and/or exceeds 5 minutes.
Submissions for the 2020 festival are CLOSED as of March 1st, 2020! Please direct questions regarding 2020 submissions to NWFF Artistic Director Rana San at rana@nwfilmforum.org. Cadence Video Poetry Festival accepts entries via FilmFreeway.
DESCRIPTION
Northwest Film Forum will select an artist or artist team of two to develop a new video poem for inclusion in Cadence: Video Poetry Festival, April 15–19, 2020. The selected artist(s) will have access to NWFF's film equipment and edit lab, as well as an opportunity to participate in a scheduled workshop to develop or supplement their filmmaking and/or editing skills. The Artist-in-Residence will be asked to participate in a post-screening conversation with festival co-directors and other participating artists.
ELIGIBILITY
Artists or artist teams of two residing in Seattle, 18 years of age or older.
APPLICATION DEADLINE
11:59pm PST, March 1, 2020.
Application requirements: bit.ly/cadenceresidency
---
Chelsea Werner-Jatzke is a writer exploring the liminal spaces of the literary arts. She is the author of the chapbooks Adventures in Property Management (Sibling Rivalry, 2017) and Thunder Lizard (H_NGM_N, 2016). Her interest in how words are experienced has led to solo work and collaborations with artists across media to create gallery installations, classical music performances, broadsides, karaoke, and video poetry. She is co-founder and director of Till, a literary organization that offers an annual writing residency at Smoke Farm in Arlington, WA and a museum communications professional.
Rana San is an artist and arts administrator whose creative practice melds dreamwork, written word, body in motion, video poetry, and analog photography. She's interested in the ways we relate to ourselves, each other, our surroundings, the unknown, and the new meanings that are made in spaces where artistic mediums meet. In community, Rana crafts collective experiences that elevate the work of artists and activists using film, media, and contemporary performing arts to incite connection. She has developed and produced cultural festivals, museum programs, and intimate creative salons in Seattle, Istanbul, and Barcelona and serves as the Artistic Director at Northwest Film Forum.
---

Thank you to Entre Ríos Books for their support of Cadence: Video Poetry Festival as an Event Sponsor!
---
Past editions of Cadence:
---