---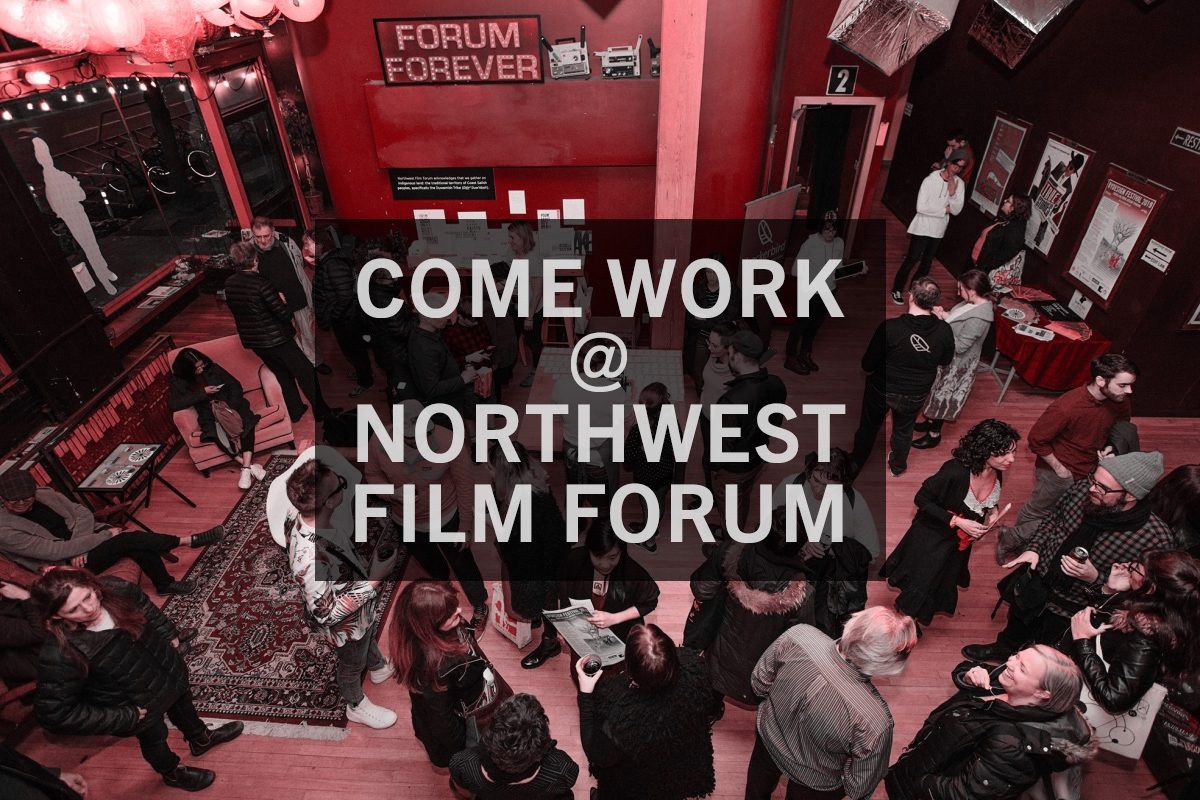 Now Hiring: Artist Services Support Lead & Grants Manager
January 7, 2022
Mission
Northwest Film Forum incites public dialogue and creative action through collective cinematic experiences.
About Northwest Film Forum
A nonprofit film and arts center located in Seattle, Northwest Film Forum presents hundreds of films, festivals, community events, multidisciplinary performances, and public discussions each year. A comprehensive visual media organization, the Forum offers educational workshops and artist services for film and media makers at all stages of their development. Artist services include access to space, gear, fiscal sponsorship, and an edit lab. Northwest Film Forum is a member-based organization. Our slogan is: MAKE FILMS / MAKE FRIENDS / MAKE CHANGE!
Vision
Our vision is a world where all people have the power to express themselves and connect with each other through visual storytelling and culture.
Values
Based in the city currently known as Seattle, we acknowledge that we are located on the ancestral lands and territories of the Coast Salish people, including the Duwamish Tribe (Dkhw Duw'Absh), who are still present among us and leading much of the important cultural and societal work in the region. NWFF donates 2% of our proceeds to the Duwamish Tribe as an action towards restitution.
In recognition of the role of the arts as a vehicle for social change, we are committed to undoing systems of oppression in our work and lives. We are working everyday to learn and dismantle racist, sexist, and inequitable systems in our lives and organization.
Artist Services Support Lead & Grants Manager (30 hours / week)
Northwest Film Forum (NWFF) is seeking a passionate Artist Services Support Lead and Grants Manager to work in close collaboration with the Executive Director and Managing Director to help steward our main artist services support programs. The programs under their purview will include our granting programs, which distribute nearly $100,000 to artists and filmmakers per year. The ideal candidate will also assist with our artist services programs, particularly around growth, marketing, and development of our fiscal sponsorship program. This strategically-minded, engaged, and detail-oriented candidate should be passionate about NWFF's mission, vision, and current organizational trajectory.
Programs the candidate will be supporting and/or overseeing include:
Collective Power Fund – A granting program in partnership with The Andy Warhol Foundation for the Visual Arts, which grants $60,000 to $70,000 to artists in the King County area
Lynn Shelton Of a Certain Age Grant – A project-based award, in honor of the late Lynn Shelton, that provides $25,000 to an individual woman, non-binary, and/or transgender U.S. filmmaker, age 39 or older, who is working on their first narrative feature as a director
Fiscal Sponsorship Program – A program which extends the Forum's 501c3 status to individuals or organizations, which opens up grant and fundraising opportunities
Northwest Film Forum believes in coalition-building and horizontal models of collaboration and leadership. The candidate for this position will be self-motivated and able to work independently as well as work in close collaboration with a larger team. All Film Forum staff wear many hats and are comfortable working in a passionate, shared environment of collaborative decision-making and visioning.
Key Responsibiltiies
GRANTS ADMINISTRATION – 65% of role
In close collaboration with Executive Director
Cultural Sensitivity: Support NWFF's grants programs while ensuring that the granting process does not cause harm to BIPOC, LGBTQ+, disability, low-income, and/or other historically underserved or under resourced communities
Best Practices: Advise on grantmaking best practices around access and equity; facilitate and incorporate community feedback
Inclusive Granting: Ensure that NWFF includes a wide range of perspectives throughout all aspects of its granting process, from application period to adjudication and final award, to ensure fair and equitable practices
Grant Development: Develop short-term strategies and long-term vision for grant programs, including updates to NWFF's Grants Management System via SlideRoom to and improve application process from year-to-year
Grant Administration: Lead on all aspects of managing the process, including grants administration policy and procedures around the management, award, and administration of funds
Grant Review Process: Collaborate with NWFF team, interns, volunteers, and community members to conduct competitive or non-competitive evaluation of grant proposals and eligibility
Application Support: Provide pre-panel and post-panel feedback to applicants on how to put together a strong application
Community Engagement: Develop, organize, and facilitate or co-facilitate grants adjudication process, focus groups, informational sessions, and other public-facing events to further granting efforts
Liaisoning: Act as NWFF's primary contact for grant applicants, grantees, and contractors from grant award notification to project closure, creating a bridge between artists and NWFF team
Reporting: Assist with the input and collection or project data; prepare detailed, end-of-cycle reports on the status of grant programs and applicants for internal and external use
Contracts: Generate grant agreements, contracts, and amendments for grantees, grant panelists, and community partners
ARTIST SERVICES / FISCAL SPONSORSHIPS – 35% of role
In close collaboration with Managing Director and Marketing Team
Year-Round Strategy: Work with Managing Director to envision, schedule, and develop ta year-round timeline and strategy to grow fiscal sponsorship programs, with a focus on equity
Info Sessions: Plan and facilitate public-facing informational sessions to further fiscal sponsee opportunities and elevate NWFF brand
Feedback: Actively solicit and listen to feedback from fiscal sponsees and community members, then incorporate feedback in program design and evaluation
Marketing: Work with the marketing team to create effective marketing strategies and outreach plans to raise awareness of fiscal sponsorship program, especially among diverse constituencies
Copywriting & Coordination: Develop and maintain cohesive standards for fiscal sponsee descriptions, in collaboration with each project
Website Maintenance: Collect project information and maintain up-to-date pages on NWFF's website for each fiscal sponsee
Artist Highlights: Interview fiscal sponsees and work with Marketing team to regularly highlight and promote projects through all platforms
Special Events: Help curate special events and fiscal sponsee mixers to create community among them
Education: Align fiscal sponsees with potential educational opportunities year-round and during NWFF film festivals, in collaboration with Education Director
Data Management: Maintain donor records for each project through shared spreadsheets with fiscal sponsees and input data into company CRM
Reporting: Assist with calendar maintenance and help gather quarterly reports from fiscal sponsees
Qualities, Qualifications, and Experience
Proven track record of centering patron experiences to create a warm, welcoming, and inclusive environment.
Ability to see, value, and adapt to cultural differences. Demonstrated and/or lived experience working with people of diverse ages, genders, sexualities, ethnicities, cultures, races, abilities, and socio-economic backgrounds, including those from society's historically underserved by mainstream arts organizations.
Passion for and dedication to NWFF's history, mission, vision, values, and programs.
Familiarity with and deep understanding of independent film and arts communities, especially those in the Pacific Northwest region and Seattle area.
Experience with nonprofit organizations with multiple programs serving diverse constituencies in film, arts, and/or media.
Lived commitment to and investment in racial and social justice and anti-oppression analysis.
Experience with Google Suite extremely helpful.
Excellent written and verbal communication skills, with excitement for working in a collaborative team environment.
Self-starter, with an ability to multi-task and juggle distinct priorities and relationships gracefully.
Employment Information, Compensation, and Benefits
This staff position is 30 hours a week, with a $39,000 annual salary range, and reports to the Executive Director and Managing Director. Flexible work schedule, plus access to filmmaking gear, computers, and workshops. After a positive two-month review, this position will be eligible for benefits, including 100% coverage of health, dental, and vision.
Candidate must be local to Western Washington area. Due to the public nature of NWFF's work and our diverse constituency, the hired candidate must be fully vaccinated against COVID-19 at that time. Candidates can choose to be remote or in-person at this point during the COVID-19 pandemic, but eventually will resume to in-person when NWFF leadership deems it appropriate to do so.
To Apply:
Please send resume, any applicable portfolio or work samples, and statement of interest (written, audio, or video) to Executive Director Vivian Hua at vivian@nwfilmforum.org with the subject line: Artist Services Support Lead & Grants Manager at NWFF
Audio and video statements are not to exceed 3 minutes in length and can be sent via wetransfer.com to vivian@nwfilmforum.org.
Northwest Film Forum is an Equal Opportunity Employer. Employment policies and programs of Northwest Film Forum are nondiscriminatory in regard to race, gender, religion, age, national origin, disability, veteran status or sexual orientation. All potential candidates who identify as Black, Indigenous, person of color, immigrant, living with a disability, low-income, or LGBTQ+ are highly encouraged to apply.
Deadline for applications is January 21st, 2022. Interviews will take January 27th and 28th. Ideal starting date is in early February.
---