Resources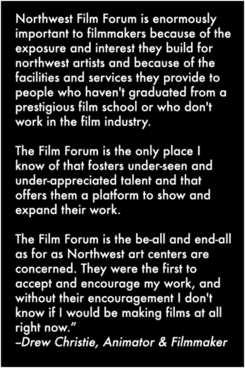 Membership at Northwest Film Forum
Join the Film Forum and receive special benefits ideal for working filmmakers!
Benefits include:
discounts on workshops & classes, equipment and facility rentals, and filmmaker networking events (please visit our workshops calendar and equipment rental pages for more information)
discounts at local film production vendors
library access and DVD/VHS borrowing privileges
voting privileges at the Annual Meeting
$3 off all movies and discounts to special events
and more!

Click here to find out more about joining Northwest Film Forum.
The non-profit Northwest Film Forum is a member-supported organization. Members receive big discounts on movies, classes, equipment and facility rentals, and production services. Your membership will keep the Film Forum strong and stable, and help shape the future of the organization.
Support independence in film by joining Northwest Film Forum, and join a community of film lovers and makers.
For the cinephile or the cine-curious, there's no greater deal in Seattle!