About Us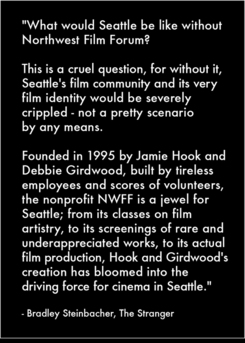 Organizational Overview
Northwest Film Forum is Seattle's premier film arts organization, screening over 200 independently made and classic films annually, offering a year-round schedule of filmmaking classes for all ages, and supporting filmmakers at all stages of their careers.
Founded in 1995 by filmmakers Jamie Hook and Deborah Girdwood, the Film Forum now operates the a leading regional non-profit center for the film arts. The Film Forum's programming embraces film production as well as film exhibition, with two cinemas, film production and post-production facilities and equipment, educational workshop space, and filmmaker offices in our space at 1515 12th Ave.

The Film Forum aides filmmakers in the production of films, and provides workshops for over 800 students annually. Our Fiscal Sponsorship program supports 40 film productions and projects.

Our cinemas showcase the best in American and international cinema, as well as unique live multimedia performances. Past highlights include a 27 film retrospective of Japanese filmmaker Yasujiro Ozu that included ten commissions for live musical scores; the annual Local Sightings Film Festival, celebrating achievements in filmmaking from the Northwest; an annual Children's Film Festival Seattle with movies from over 80 countries; and strong music film programming.
Our 8,000 square foot facility in Capitol Hill houses:
A 118-seat 35mm/DCP Dolby-equipped cinema and mainstage live theater
A 46-seat 35mm/Blu-ray Dolby-equipped cinema and theater
Dedicated workshop space/ filmmaker lounge with free WiFi
Access to production gaer