Children's Film Festival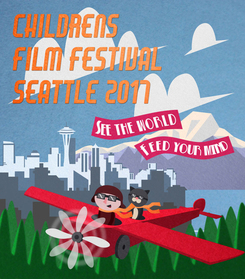 January 26 - February 11, 2017
Children's Film Festival Seattle featured more than 188 films from 50+ countries. At CFFS, kids can hear the music of dozens of different languages in the festival, and feast their eyes on gorgeous animation, crisp live action and features films that run the gamut from laugh-out-loud funny to unforgettably poignant.
Now more than ever, it's a great time to remind our kids that Planet Earth is home to many different and beautiful cultures and ways of life. Our festival films also show that we share much in common with people who live in vastly different circumstances than we do. We all have the same longings — to laugh, to love, to belong and find the deeper meaning of our lives. An international children's film festival is a perfect place to discover common ground, to build empathy and celebrate our shared humanity.
​Our festival offers something for everyone ages 2-14, from gentle animation for our youngest viewers to meaty docs and narrative films about important issues for older kids. School groups are joyously welcome — please let us know at [email protected] if you are an educator interested in bringing a field trip group to the festival.
Each year, guest filmmakers from around the world are on hand to enlighten audiences about how their films were made, and young audience members will also get a chance to step behind the camera to make their own films at festival workshops.
Kids are always in charge at the festival. At our 12th Children's Film Festival Seattle, we reached a wonderful milestone — our youth jury was led by a group of amazing teenaged graduates of the jury program, which began in 2007.
To find out more about the children's jury, contact [email protected].
​Our festival motto is simple: See the World, Feed Your Mind. From the beginning, we've believed that kids can only change the world if they've seen the world. We hope this festival opens their eyes.
Streaming CFFS content from years past:
Are you missing all the fun of Children's Film Festival Seattle? Great news — our friends and partners at kidflixglobal.com now have two great compilations of prize-winning short films from past festivals available for home viewing! And better still, if you stream their selections now, they will make a donation to Northwest Film Forum! Check out this and all their other wonderful international children's films for sale, rent, or streaming.