History
History
Northwest Film Forum began life in 1995 as "WigglyWorld Studios," a filmmakers' collective focusing on post-production founded by filmmakers Jamie Hook and Deborah Girdwood. As the organization expanded to include more aspects of production, it also started showing films - first with the historic Grand Illusion Cinema in 1997 and then with the newly-built Little Theatre in 1999. The name "Northwest Film Forum" was created to describe all of the organization's exhibtion, education, equipment access and production operations. In 2004, NWFF sold its two cinemas and began the move to a brand new space that would consolidate all aspects of the organization under one roof. The current space, at 1515 12th Ave (between Pike and Pine), is Seattle's first proper cinematheque, located on Capitol Hill and housing two theaters (one seating 119, the other 48) as well as facilities and equipment for filmmakers, a dedicated space for workshops as well as filmmaker offices.
For a full history of the organization, written by longtime programmer Peter Lucas for NWFF's 10th Anniversary in 2005, please read below.
Introduction
Prelude
Wiggly Beginnings
A Grand Expansion
A Little Theatre, Big Plans
New Directions
A Cinematheque
Accomplishments
Introduction
AFTER YEARS OF RELENTLESS WORK, growth, and change, it's difficult to trace the steps that led Northwest Film Forum to become what it is today. It has not been uncommon for our various screenings, performances, special events, film shoots, rehearsals, and workshops to be back-to-back or even simultaneous. Not to mention the continual production of our film calendars, renovation of our facilities, or repairing of equipment. For this reason, our records, and our memories, are not completely thorough or clear. And in any case, an exhaustive history of this hyperactive, multi-directional organization would be, well, exhausting. But on our 10th anniversary, we thought we'd take a stab at chronicling at some of the sparks, clouds, and shrapnel of our glorious explosion of celluloid madness.

What follows is a brief, near-chronological history of Northwest Film Forum's first ten years, assembled from the ramblings and murmurs of founders Jamie Hook and Deborah Girdwood, long-time captain Michael Seiwerath, and others.
Prelude
Our story begins in the early 1990s, when two people came from the East Coast to Seattle for no good reason. They didn't know each other yet, but their future collaboration would change the landscape of the arts in Seattle.

Jamie Hook had studied Asian literature and history before coming to Seattle and getting involved in his real love, filmmaking. He landed a job on the set of Bertolucci's Little Buddha, but was disappointed to find that his sole duty was to pick up the Italian crew's cigarette butts. He learned more from working with local filmmakers Steve Les on his film The Red Ball and Gregg Lachow on The Seven Mysteries of Life. Jamie and Gregg edited that film on the Steenbeck 16mm editing table at 911 Media Arts. They spent countless hours in that room cutting and shaping the film, all the while lamenting the marginalization of celluloid, the expense of post-production, the lack of member power at 911 at the time, and the lack of support in the city for film artists.

Meanwhile, Deborah Girdwood had arrived in Seattle after studying English literature and art history in college and living in New York City for a couple of years. Soon after she arrived, she volunteered as an usher at the Seattle International Film Festival. The films she saw in the festival spawned a revelation- a real love and appreciation for cinema.

Jamie and Debbie met on the set of Sam Redfield's feature film production, The Postman. Jamie was acting in it as well as handling other aspects of the shoot (meanwhile continuing to edit with Gregg at night). Debbie was the Production Manager and then, after the script was thrown out, became Script Supervisor (code for impromptu writer and chronicler of new ideas). They worked closely with Sam on the writing and direction of the film. Shot in Belltown, there was a tremendous energy on the set and the cast and crew was comprised of great people (including founding WigglyWorld member John Jeffcoat). But finally the film ran out of money and favors, and was never completed. Jamie and Debbie were inspired by the great creative spirit and collective process of the production, and equally frustrated by the lack of a support system for filmmakers to complete projects.
Wiggly Beginnings
The two were inspired to form some kind of organization that supported Seattle filmmakers in the vulnerable post-production phase after moral and financial support dwindles. They envisioned an organization built on the backs of artists, instead of the other way around. For around the same cost as one production, they believed they could enable scores of filmmakers to complete work. Hearing their ideas, Mark Murphy, then Director of Seattle performance center On The Boards, suggested they apply for a King County Special Projects grant. The application was due in three days, and they had never applied for a grant before. But they managed to pull it together. On the day it was due, after missing the last post office pick-up, Jamie frantically photocopied and addressed the application while Debbie stood in the road and stopped a passing mail truck. And away it went.
Soon after, they went camping in the Cascades with a marriage license in their back pocket. When they returned to Seattle, they were married and also found out they had received the $10,000 they had asked for. They used the first $2000 to purchase the 911's underused 16mm film equipment, including the Steenbeck (the editing table that Jamie and Gregg had edited Seven Mysteries on, and the very one that still resides in WigglyWorld's 16mm editing suite to this day). 911 was supportive of their efforts and happy to focus their own attention on new digital video tools.
Having already planned to spend the fall in Maine with Jamie's family, they rented a small storage space on Eastlake Avenue to stow the equipment and left town. During their time in Maine, they did research, wrote the by-laws for their new non-profit organization, and filed the paperwork with the IRS on Sept. 1, 1995. They called their new dream factory WigglyWorld Studios. Taken from an early Devo song, the name reflected moving image, the fluidity of the creative process, and the fearless balancing act that the organization would become known for. The structure of the organization ensured the importance of the members and the art above all else, and allowed for change and growth.
When they returned to Seattle with all of the ingredients for a pioneering film arts organization in hand, they began recruiting their first members. The earliest members included filmmakers John Jeffcoat, Tony Chiotti and Steve Les, and the first board meetings attacked such hot topics as the acquisition of a disco ball and a keg. This was going to be a work hard/play hard thing.
It was not long before their first dedicated volunteer entered the picture. After having studied history at the UW and then spending a year in Chile, Michael Seiwerath returned to Seattle and went to 911 Media Arts to become a member. When he expressed that he was really more interested in film than video, they referred him to Jamie and Debbie's new film arts organization. Over the next ten years, Michael would hold nearly every position in the organization (excluding only those tasks which required legible handwriting).
A month later, they joined forces with Gregg Lachow, whose north Capitol Hill storefront space on Turner Way became the first official WigglyWorld Studios location and whose film The Wright Brothers became the first feature film project awarded WigglyWorld's "Out Of The Can" post-production grant. In this small, hot space, with one computer, a phone, a 16mm editing room in the back, and a long dark shooting studio in the middle where they would also screen rough cuts of films in progress, the organization was finally getting productive. Young animator Web Crowell (who would become a fixture at the organization both making films and also fixing and building everything under the sun) began creating a short film there. And many other new faces popped in to see what this whole WigglyWorld thing was about.
Meanwhile, the unpaid staff were juggling other odd jobs, from filing medical reports to driving busses to scooping tropical fish. Debbie worked for the Seattle International Film Festival as Promotions Assistant, which opened her eyes to the ins and outs of film exhibition. She and Michael then worked at Andy Pratt Negative Cutting, where Andy and the filmmakers working there were supportive of their efforts. Before and after long days of work, they managed to run the budding film organization, acquiring more film equipment, applying for more grants, involving more artists, and, yes, even finally completing projects!
A Grand Expansion
In the summer of 1996, the Grand Illusion Cinema in the University District was going out of business. The historic independent theater had started as the Moviehouse in 1967 and was renamed after the Jean Renoir film in 1977, but since the late-80s had dissipated into near obscurity. Owner Paul Doyle approached WigglyWorld about buying the business. Even though the organization was only a year old, they loved the idea of having an exhibition space to show independent arthouse films, repertory films, and undistributed local work. They saw exhibition as a way to provide Seattle artists with knowledge and inspiration for their own work, the cinema as a place for artists and audiences to converge and mingle, and the potential revenue as a way to support future WigglyWorld productions. They knew that they could infuse the dying filmhouse with energy, enthusiasm, and charm, and they thought they could promote it better. The only obstacle was money. They began a grass roots capital campaign to save the historic cinema, but it was not until businessman Nick Hanauer entered the picture that the purchase really became a possibility. Nick's father was a big film buff and told him about the legacy and importance of the small cinema. He saw the potential of Jamie and Debbie's plans for the space and agreed to contribute money as well as talk others into giving. He also suggested the use of an overarching name for the organization that would include both production and exhibition. Since Jamie and Debbie were fans of the Film Forum in New York, the name Northwest Film Forum was adopted. By December 1996, they had raised enough money, and in January, the Grand Illusion Cinema opened its doors under new management.

The first film screened was with D.W. Griffith's Birth of a Nation. The grand reopening of the cinema featured special guest Ray Carney, whose writing championed independent cinema. Carney introduced a screening of Cassavetes' Woman Under The Influence. The season continued with the work of independent filmmakers Su Freidrich and Cavey Zahedi (with Zahedi in attendance), a special Valentine's Day screening of Sid & Nancy, and an outrageously eclectic mixture of other cinematic experiences.

A couple of the theater's existing projectionists stayed on, including Scott Palmer (who ended up totaling 12 years at the GI). Jamie worked on film productions during the day, and worked at the theater every night (for nearly 90 nights straight). Debbie programmed the new films as well as handling the finances, and Michael did repertory programs as well as managing the theater and handling the marketing. Robert Graves also contributed programming, from silent films to late-night oddities. Web Crowell created an animated trailer for the theater, and would later become the theater manager. Mainstays Matt Cunningham and Spenser Hoyt soon began working as projectionists. The cinema was a success, and opened the organization up to the public. It grew from a small group of filmmakers to a larger membership base and audience, and of course a much bigger job with weekly movies to program and promote and a theater to run.

Meanwhile, WigglyWorld was buzzing with productions and filmmaker workshops. Gregg Lachow's film, The Wright Brothers, was completed and premiered at the Seattle Art Museum. Alaskan filmmaker Matt Shields did post-production for his film Misty Isle Out there, as did Mike Walker for his film Letters At Midnight. There were intimate filmmaker workshops/sessions at WigglyWorld as well as screenings and discussions held at the Grand Illusion with local filmmakers including David Russo, Web Crowell, John Jeffcoat, Serge Gregory, Jessica Wilson, Zola Mumford, John Adair, Thom Harp, and Sue McNally. The Media School rented WigglyWorld's space to hold its classes (although they were kicked out after it was learned that they were using the script for Sister Act as the case study for their screenwriting class!) A small gauge film group, "Super 8 Thugs," began with filmmakers Rachel Lord, Reed Harkness, Trish Van Huesen and others. WigglyWorld acquired more equipment and implemented programs to grant free access to artists. In order to start producing feature films, the ambitious Start-to-Finish grant program was started, with Gregg Lachow's MONEY BUYS HAPPINESS to be the inaugural project. And a young Dave Hanagan, current Studio Director, began as a promotions intern.

Lumpy seats, water stained curtains and a miserable 35mm platter system that made it impossible to show complex programs or archival film prints necessitated renovating the Grand Illusion. The tremendous project of expanding the projection booth and refurbishing the theater's interior was undertaken in the spring of 1998. Web Crowell headed up the renovation (and sadly even slept there on occasion.) Michael, Debbie, Randall Fehr, and host of other dedicated volunteers poured all of their energy into the ridiculous, magical and exhausting communal effort. The theater narrowly escaped being shut down due to code violations, thanks to a film-loving government official. But after a month, when every inch of the place had been given loving (if not tender) care, the newly refurbished cinema re-opened its doors.
A Little Theatre, Big Plans
On the heels of the Grand Illusion remodel and the Money Buys Happiness production, Jamie insisted that WigglyWorld needed a new home and scoped out a new location on 19th Avenue East that could not only house the office and production facilities, but also the kind of venue they had always envisioned- a laboratory for workshops, film shoots, rehearsals, and live theater as well as regular film screenings. The capital campaign for the move and remodel of this new space began and ended with Nick Hanauer, with whom Jamie, Debbie and Michael were fortunate to meet with just days after Amazon.com's stock went public. An early investor in the company, Nick was feeling particularly generous and wrote a check to cover nearly the entire project. So, ridiculously soon after the Grand Illusion remodel, here they were again building out a new space. Michael Chick led the renovation. The crew salvaged every piece of projection equipment from the condemned Bay Theater and got the Paramount Theatre's old seats. During the construction, Debbie was pregnant, broke her foot, and gave birth to their daughter Ivy (in her cast), seemingly never putting down the paintbrush. And, of course, WigglyWorld film productions and exhibition at the Grand Illusion continued through all of the harrowing construction process. But somehow it all got done without casualties.

In January 1999, the new space and venue, The Little Theatre (named, like the Grand Illusion, after a Renoir film), opened its doors. And of course there was a big party, including performances by Herbert Bergel's band Rat Cat Hogan and the Typing Explosion, a dj set by Andy Rohrman (aka Scientific American), and amazing food provided by Monsoon. The first film program in the new venue was a Renoir series, starting with the film for which the cinema was named. Michael Seiwerath became the organization's Program Director. John Deshazo had just moved to town and, with experience and a great enthusiasm for film and live theater, quickly became the theater Manager. It was soon evident that The Little Theatre was a different beast than the Grand Illusion. Repertory films did terribly there, while live events, specialized series' and community festivals did well. The Little Theatre presented Michael Chick's phenomenal serial play Local Union 608, regular Super 8 Thugs screenings, and began hosting the Seattle Underground Film Festival, Seattle Lesbian and Gay Film Festival, Seattle Arab & Iranian Film Festival, and New Dance Cinema. There were art shows in the lobby curated by Eric Fredrickson (now curator of Western Bridge). During the day there were workshops and film rehearsals. And if there was ever a lull in noise or movement, the aikido studio next door would break the silence with occasional floor-shaking vibrations.

The new space provided WigglyWorld with room to grow. A filmmaker's lounge and library was added, as well as new equipment (including cameras, light kits, and a non-linear editing system) and new grant programs which included insurance partnership for productions.

The inaugural Start-to-Finish feature project, Money Buys Happiness, premiered at the Los Angeles Film Festival and then locally at the Seattle International Film Festival, with the ticket sales from its sold out screenings at the Cinerama going toward future Start-to-Finish projects. After its tremendous success at SIFF, WigglyWorld began producing a "performed film", SILENCE!, to premiere in the following year's festival at the Paramount Theater. Shot entirely within blocks of the Little Theatre (in the theatre, the office, and neighborhood), the project fused film with live acting, dance, and music performance. It was also the first WW film edited digitally. SILENCE! premiered at SIFF in 2000, and the following year went on to performances around the country.
New Directions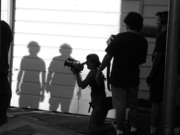 Meanwhile, Jamie Hook left the staff (but stayed on the Board of Directors) to become the film editor of The Stranger. This led to some cast changes in the organization. Michael became the Executive Director, and Debbie became the Program Director (working part-time to allow for more time with her daughter). Lilith Piri, who had volunteered as Jamie's assistant, became the new Studio Director. Peter Lucas, who had just moved to Seattle from Austin, came on as Promotions Director and contributing programmer. And Kat Bachert came on as Financial Director. This new crop of staff members did their best to make sense of the amazing legacy and tremendous mess they had on their hands, while bringing their own new ideas to the organization.

After years of preparation, Seattle's new music museum, Experience Music Project, opened and contracted Northwest Film Forum to present a weekly Music+Film series in their theater. Michael and Peter took the reigns of that program, presenting historic, rare, and new music films as well as bringing directors and musicians to town for screenings. The series opened in the fall of 2000 with guitarist Tom Verlaine performing a live score to classic avant-garde films. Music+Film was one of the first programs of its kind in the country, and music films and live score events would forever continue to be a strong part of NWFF's programming.

Now with film exhibition in three different venues around town and a bustling filmmaker's collective, the organization needed to clarify its identity. Promotions focused more on the name Northwest Film Forum and the calendars were consolidated into one single quarterly publication. The Little Theatre programming was coming into its own, as specialized annual programs were created and video documentaries began to take off (it was one of the first theaters in the country to present theatrical runs of work on video). The Grand Illusion screen continued to flicker with everything from classic Hollywood movies to new world cinema to trashy cult flicks. And WigglyWorld was commissioning short films from a variety of artists and expanding its workshops to young people through its summer "Youth Voices" programs.

With the organization blossoming, Debbie Girdwood left her regular staff position in order to devote more time to the development of a feature film project, THE NAKED PROOF, which she and Jamie began writing the year before. Peter Lucas took on the Little Theatre programming in addition to the Music+Film series. The following year, current Program Director Jaime Keeling, a dedicated volunteer who had moved to Seattle largely because of her enthusiasm for the organization, became the Little Theatre programmer. Zack Carlson, fresh from Olympia, became the Grand Illusion programmer. And filmmaker and long-time volunteer Dave Hanagan succeeded Lilith Piri in the position of WigglyWorld Studio Director.

In 2002, Jamie and Debbie's feature, THE NAKED PROOF, was completed through the "New Model Edit" program and premiered at SIFF, Start-to-Finish feature projects BUFFALO BILL'S DEFUNCT and HEDDA GABLER both went into production the same week (and would both later premiere at SIFF), Gregg Lachow's short film Working On A Building was commissioned for an event with composer Philip Glass, and short films were commissioned and exhibited at the Little Theatre through the "Artists Make Movies" and "Trailer Training" initiatives. The next year, WigglyWorld announced Start-to-Finish recipients Rob Devor and Charles Mudede for the feature film Police Beat, an ambitious project that would gain acclaim at its premiere at Sundance and other festivals around the world.
A Cinematheque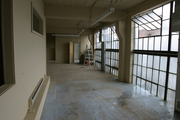 In the midst of producing films, facilitating grant programs, conducting workshops, and exhibiting a diversity of films and live performances, it became evident that the organization had outgrown its digs. One insane week in late Summer 2003 illustrated the point. Each day from 8am to 3pm there was a youth filmmaking class in The Little Theatre. At 3pm sharp, the teenage filmmakers left and the cast of Point Break Live ran in the theater for a quick rehearsal, only to get pushed out at 5 for two Childish Film Festival screenings. As kids and parents left the lobby, they were confronted with a rowdy, beer drinking crowd for Point Break Live at 8. With the space completely trashed, everyone went home after midnight, only to have to return at 7am to clean up before the next day's workshops.

At the 2003 annual member meeting, Northwest Film Forum's staff, board, and members discussed the idea of moving to a new, bigger space that could house everything under one roof. Everyone expressed excitement, and plans moved forward to create Seattle's great cinematheque in an open space on 12th Avenue.

After running the Grand Illusion Cinema for 8 years, the theater was passed on to long-time employees Guerren Marter and Spenser Hoyt, who were enthusiastic about continuing its legacy. Designer Jerry Garcia began planning the transformation of the 12th Avenue space into future theaters, offices, and edit suites. Michael and Managing Director Susie Purves began raising funds. Programmers began booking films and events in advance for the not-yet-existent venue. And a used van, formerly owned and souped-up by heavy metal radio station KISW, was purchased to carry our dreams (and office furniture, hundreds of films, wood, and sheet rock) to the new location.

Once again, a mighty volunteer army converged for the effort. Taking a break just long enough to enjoy the Seattle premieres of Start-to-Finish films HEDDA GABLER and BUFFALO BILL'S DEFUNCT at SIFF, the organization spent ten long months building-out its new home. Giant columns came down. Huge curved walls went up. Concrete was sawed through. People stood on tip-toes atop 20-foot scaffolds to reach the highest points of the lobby walls with paint. Finally, the space was completed in September 2004, just in time for a fabulous fall program to start.

With two new cinemas and more space for workshops and productions than ever before, Northwest Film Forum was ready to shine. An eclectic fall program began with a documentary series including a visit from director Ross McElwee, and continued with our 7th annual Local Sightings Festival. And, of course, we just had to throw a party. The legendary grand opening party, complete with spotlights and red carpet, filled the space with great music, film and video projections, and just about everybody in town. And the beloved "rock van" made its final drop-off that night, transporting half a dozen "debutante" greeters to the red carpet.

Just months after the doors opened at the new facility, Start-to-Finish production POLICE BEAT premiered to great acclaim at the Sundance Film Festival and went on to other festivals around the world.

After ten long, difficult and glorious years, Northwest Film Forum is Seattle's cultural crossroads and one of the few organizations of its kind in the world. What has made it all work from day one is passion. Northwest Film Forum is not just a moviehouse. It's a place where the Executive Director is the first one to put on work gloves, where the audience loves film so much they will bolt down the theater seats themselves, and where the artists whose films are shown have also painted the walls and hung the curtains that surround their art. Northwest Film Forum has become a film society in the truest sense. It says a lot about the strond ideals of NWFF's founders and the great many people who've helped to build the organization. And it says even more about a city in which these things are possible.
Accomplishments
Since moving to the new space in 2004, NWFF has launched local artists and locally made work into the national arena. For the past two years the Children's Film Festival Seattle toured to the RedCat Theater in Los Angeles. In 2007 the program also toured to Bellingham and British Columbia. The NWFF commissioned score, by Danny Barnes and Robbie Fulks, for the silent TRAMP, TRAMP, TRAMP toured to Chicago and Indiana. The NWFF commissioned score by Leslie McMichael for the silent PETER PAN is currently touring the west coast. POLICEBEAT the feature film produced by NWFF for its Start-to-Finish program was in national theatrical distribution this past year and was recently released on DVD. The local documentary WALKING TO WERNER is being distributed nationally by NWFF.

NWFF took the organizational lead on organizing a major touring retrospective of the films of Shohei Imamura. With no less than the Smithsonian Institution as a partner, Program Director Adam Sekuler sent the tour to nine major venues including The Harvard Film Archive, The Smithsonian, The Siskel Center in Chicago, and International House in Philadelphia. A catalog with essays by Martin Scorsese and NY Times critic Dennis Lim was distributed free to audience members.

This past fall NWFF brought back to Seattle the locally shot and produced film BRAND UPON THE BRAIN! directed by Canadian Guy Maddin, and sold out the 800 seat Cinerama two nights in a row as part of our Local Sightings festival. The silent film was narrated by Karen Black one night and Guy Maddin the next. Sound effects were provided live by three foley artists and an original score was performed by an 11 piece orchestra. The film was a resounding critical and popular success.

Over the past two years 300+ artists have received vital and unique support for their filmmaking efforts at NWFF. There is a significant film community coalescing in the region. More features are being shot. More films are competing in festivals worldwide. There are now several homegrown producers, cinematographers, writers, and other crew-members who are working steadily, both here and abroad, in no small part due to the connections made and experience achieved through Northwest Film Forum.