BTS Stories – "The Off Hours" by Megan Griffiths 10th Anniversary [Online]
No password is necessary to view this program, but donations are encouraged! All donations will benefit NWFF and help sustain them through their closure.

Please note: Ticket sales cut off one hour before the screening, but you may still livestream the event on Facebook!
Join NWFF and writer/director Megan Griffiths for a LIVE virtual 10th anniversary screening of her film The Off Hours! The screening will be accompanied by a live chat with Griffiths, Lacey Leavitt, and Ben Kasulke, and other cast/crew about the making of the film (and any Qs the audience may have throughout the screening!), and will also be followed by a recorded conversation between Griffiths and actors Amy Seimetz, Scoot McNairy, and Ross Partridge.
The Off Hours is a feature made in Seattle in 2010 by Griffiths and producers Lacey Leavitt, Mischa Jakupcak, and Joy Saez. It premiered at the 2011 Sundance Film Festival and was nominated for a Film Independent Spirit Award for Ben Kasulke's lush cinematography. Set in the netherworld of an all-night diner, it explores the effects of solitude and inertia on its characters' hopes and ambitions (a particularly resonant theme for a pandemic!).
The making of this film stands as a testament to perseverance and the power of community, as it came together after a seven-year development period thanks to the collaboration and enthusiasm of a phenomenal cast and crew, many of whom have gone on to great success in the film and television world.

Support the Forum through their closure!
About the film:
You're awake when everyone else is asleep. You're standing still as traffic is whipping by at 70mph. Your off hours are spent trying to figure out why you're here, whether you want to stay, and how to leave.
In The Off Hours, Amy Seimetz (Upstream Color, Pet Semetary) alluringly commands the screen as Francine, a waitress whose liberation from her mundane existence is long overdue. In the restless world of the night shift at a highway diner, Francine's life consists of casual encounters and transient friendships. What she wants is out of reach—or is it that she's lost track of wanting anything at all? When a banker turned big-rig driver played by Ross Partridge (Lamb, Stranger Things) becomes a regular, he sparks hope in Francine. As change begins to invade the quiet diner, Francine is reminded that it is never too late to become the person she was meant to be.
Writer/director Megan Griffiths draws complex characters and stays true to them, respecting their shortcomings and yearnings for connection. Lynn Shelton (Humpday), Scoot McNairy (Argo, Gone Girl), Tony Doupé (Simple Creature, Sadie), Bret Roberts (In Search of a Midnight Kiss) and newcomer Gergana Mellin round out the all-star indie cast of The Off Hours.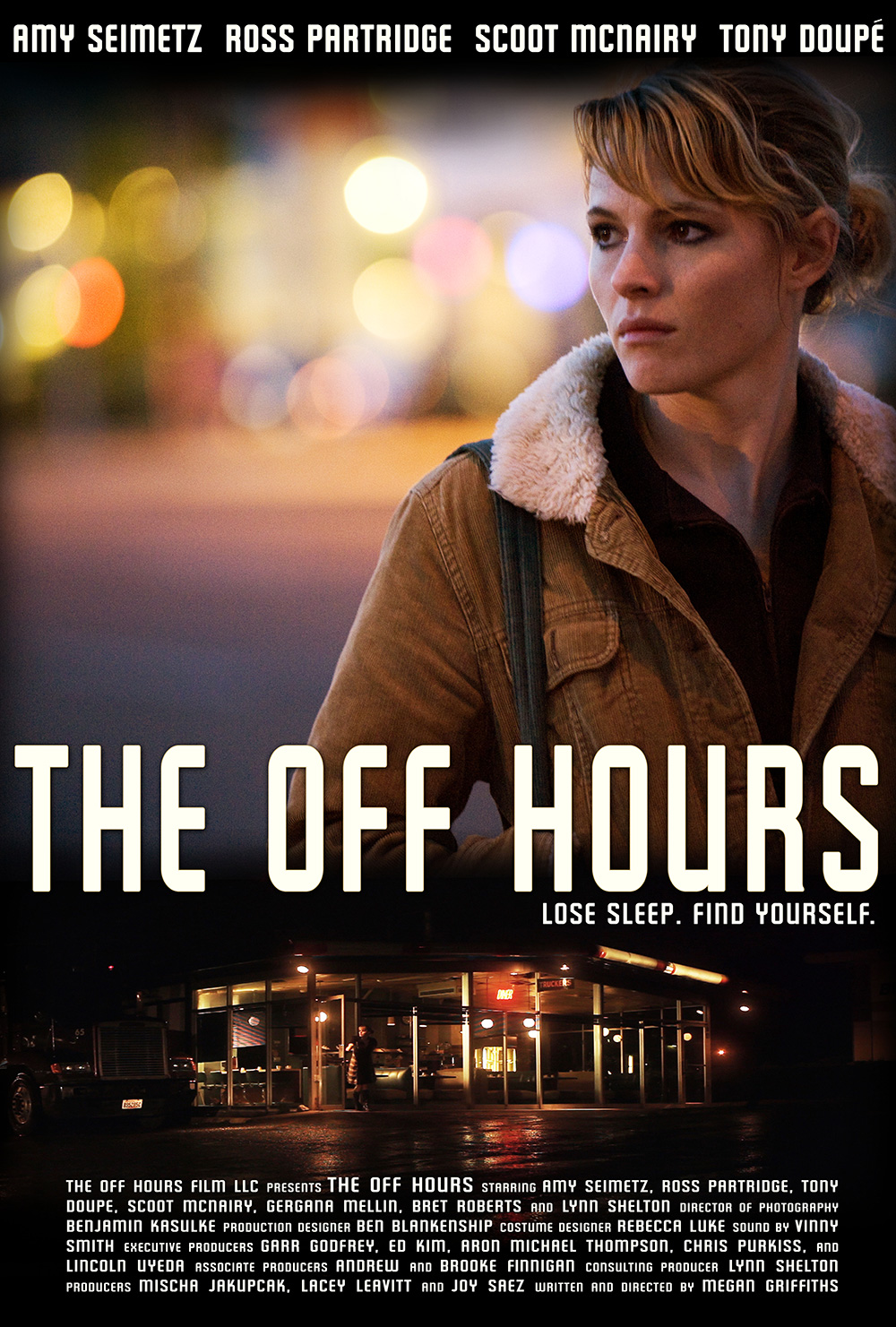 ---