Cadence 2022 – Animated Poetry Workshop with Neely Goniodsky [Virtual + In-Person]
TWO-PART HYBRID WORKSHOP
March 27, 2022, 1:00 - 4:00PM PST
April 3, 2022, 1:00 - 4:00PM PST
UPDATE: WE ARE ONLY ACCEPTING WAIT LIST SUBMISSIONS AT THIS TIME.

All workshops have a suggested registration fee of $75.
Sliding scale, pay-what-you-can prices are available starting from $0, but we humbly request that participants contribute the amount that they are able to ensure that the programs remain accessible.
Duration: 3h
Instructor: Neely Goniodsky
About
Work with animator Neely Goniodsky on creating a visual interpretation of Janae Johnson's poetry, using paper and stop motion techniques!  
The introductory, generative, and hands-on workshop is recommended for adults, youth ages 14+, and ages 10+ with adult assistance. This workshop will also be presented virtually with live captions. Virtual participants will be sent a workshop kit in advance of the workshop and can follow along with the instructor, and get live assistance from the instructor and other NWFF staff.  
WHAT TO EXPECT:
The workshop begins with a short storyboarding exercise, where each participant will be given a few lines from a poem by Janae Johnson and learn how to translate words into visual compositions and motion design. 
After a demonstration of the process, participants will dive straight into animating and have an opportunity to share their works-in-progress with the class. Time will remain for feedback and suggestions from the instructor, as well as additional tricks and techniques, shown in real-time.  
Participants are encouraged to continue experimenting with their animations between the two workshop sessions. Finished works will be uploaded to a shared online folder, so that they can be assembled into a single poetry film which will be shown during Cadence: Video Poetry Festival 2022.  
WORKSHOP KITS WILL INCLUDE:
Animation Station – Cardboard box that can fit your paper, light, and device
Collection of multi-colored paper
Tape
RECOMMENDED MATERIALS:
A tablet or phone with Stop Motion Studio installed
Small Light – Here are some ideas, but get creative and see what you can do with a reading lamp or a flashlight. The paper should be bright, but everyone's light won't work the same.  
Scissors
COVID-19 VACCINATION POLICY
For all in-person attendants, we are requiring either proof of vaccination or negative COVID-19 test within 48 hours of the event.  We are highly recommending that all attendants be double masked and socially distant during the workshop.  We will be providing additional disposable masks for those that need them, we will also have hand sanitizer and additional cleaning supplies available to clean all used surfaces.
If you have any additional questions, please email NWFF Education Director, Derek Edamura, derek@nwfilmforum.org.  
---

Neely Goniodsky
Neely Goniodsky has a BA in animation from Concordia University, Montreal, and an MA from the Royal College of Art, London.
Her main focus is 2D animated films, but her body of work also includes video installations, paintings, drawings, and collage. Some of her noteworthy productions include 'Conception Series Season 2' for the New York Times, 'The Smiths' a Seattle University production, and 'Pearl' a  National Film Board of Canada production.
Her films have been screened at many local and international film festival, such as Animasivo, Local Sightings, Ottawa International Animation Film Festival, Anifilm, Animafest, NW Animation Festival, and Encounters.

About Janae Johnson
Janae Johnson (she/her) is an award-winning poet, performer, educator, curator and DJ with a collection of work that celebrates Black queer masculinity, kinship, and belonging. She is a National Poetry Slam Champion, Women of the World Poetry Slam Champion, and a founder of two nationally recognized poetry venues: The Root Slam (Oakland, CA) and The House Slam (Boston, MA). Her work has been featured in multiple outlets such as PBS NewsHour, ESPN, and FreezeRay Poetry. Janae holds a M.Ed in Educational Leadership and currently facilitates writing workshops for incarcerated and justice impacted women and youth.
Her new poetry book Lessons on Being Tenderheaded launches April 5, 2022!
In Janae Johnson's debut poetry collection, the concept of being tenderheaded is less about Black hair; more how we are taught to disguise pain through suppression of macro and micro traumas. What began as a book of poetry about women's basketball transformed into a coming-of-age story centering Black queer masculinity, emotional restoration and belonging. From lyrically experimental to personified prose, each poem encourages humor to rise after an eight hour hair appointment and the ultimate decision to wear a ponytail.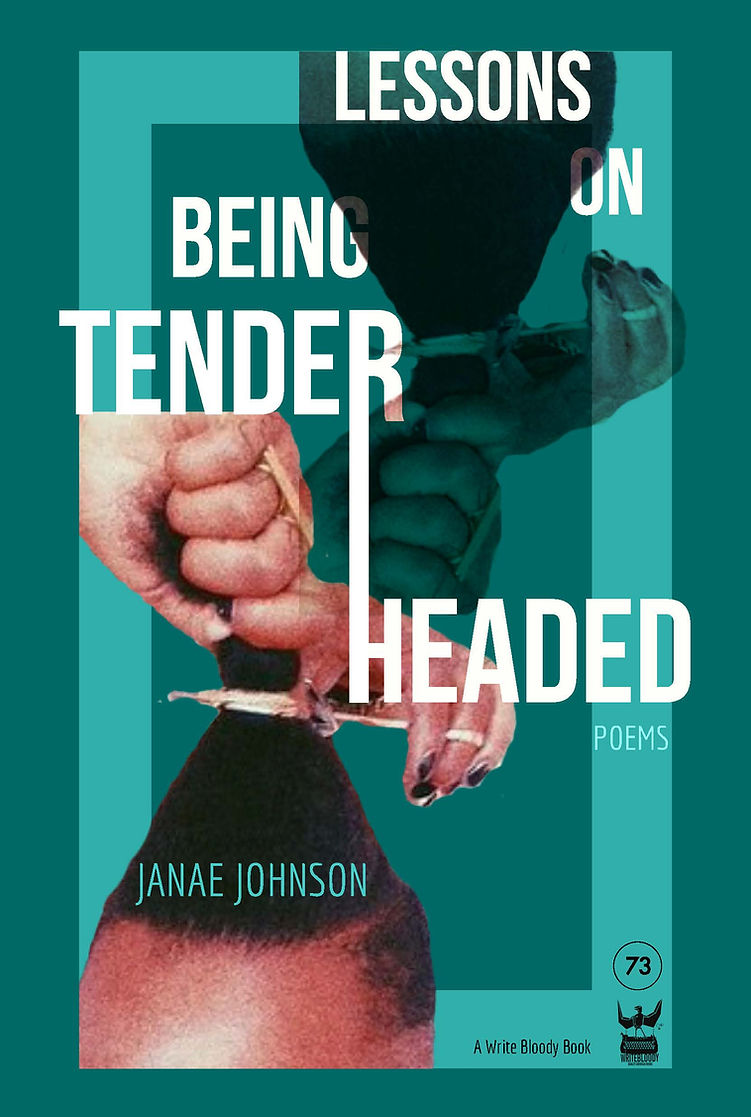 ---
Back to Festival Catalog:
Cadence: Video Poetry Festival is an annual series of screenings, workshops, and discussions on the genre of video poetry, held during National Poetry Month. The festival approaches video poetry as a literary genre that is presented as visual media, cultivating new meaning from the combination of text and moving image.
In its fifth year, the 2022 festival features 51 artist teams from throughout the world. Cadence is the Pacific Northwest's only festival dedicated to the form of video poetry.
Short film programs at NWFF:
Satellite short film programs:
Live collaborations:
Literary resources:
---
---