CFFS 2020 – Postponed: Direct Cameraless Animation Workshop (All Ages)
Sliding scale tuition: $15, $30, or $45
Those who can afford to pay at higher price point are encouraged to do so, to create more accessibility for those who might not.
** Scholarships available: email Jonah@nwfilmforum.org **
Capacity: 12–16 students
For All Ages; adults who accompany youth may attend!
LOCATION:
The location was moved from Rainier Arts Center to Northwest Film Forum – but the workshop has now been postponed with the rest of the festival closing weekend events.
Duration: 3h
Instructor: Devon Damonte
About
** Co-presented with Engauge Experimental Film Festival, hosted in November at NWFF! **
Children and parents can explore experimental filmmaking in this hands-on, analog workshop. Learn how to create beautiful, handcrafted motion graphics on 16mm film without any cameras or computers, and watch the results projected right away! Direct animation is an analog fine art offering experiential liberation from increasingly digital visual cultures. In this workshop, participants will scratch, draw with sharpie markers and collage directly onto film leaders to create unique effects. Parents/guardians are welcome to attend with children at no additional cost; youth under 12 must be accompanied.
---

Devon Damonte
Since 1989 Devon Damonte has made, taught, and shown handcrafted cameraless direct animation hither and yon, including: REDCat Theater at Disney Hall in LA; New York Film Festival Views from the Avant Garde; Ottawa International Animation Festival; Pacific Film Archive at Berkeley Art Museum; Quickdraw Animation Society in Calgary; and McMurdo Station, Antarctica. Devon is featured in recent books The Animation Bible by Maureen Furniss, and Experimental Filmmaking: Break the Machine, by Kathryn Ramey. Damonte is currently adjunct faculty at Evergreen State College in Olympia, WA teaching a summer Visual Music 16mm & 35mm direct animation intensive, also a ringleader of the Crackpot Crafters collective, and believes we are now all smack dab in the Golden Age of Adhesive Tape.
---
Jackie Argo is a Latina multimedia experimental artist, poet, filmmaker and musician currently living in Seattle. She enjoys experimenting with analog and digital techniques and has created music videos for independent bands.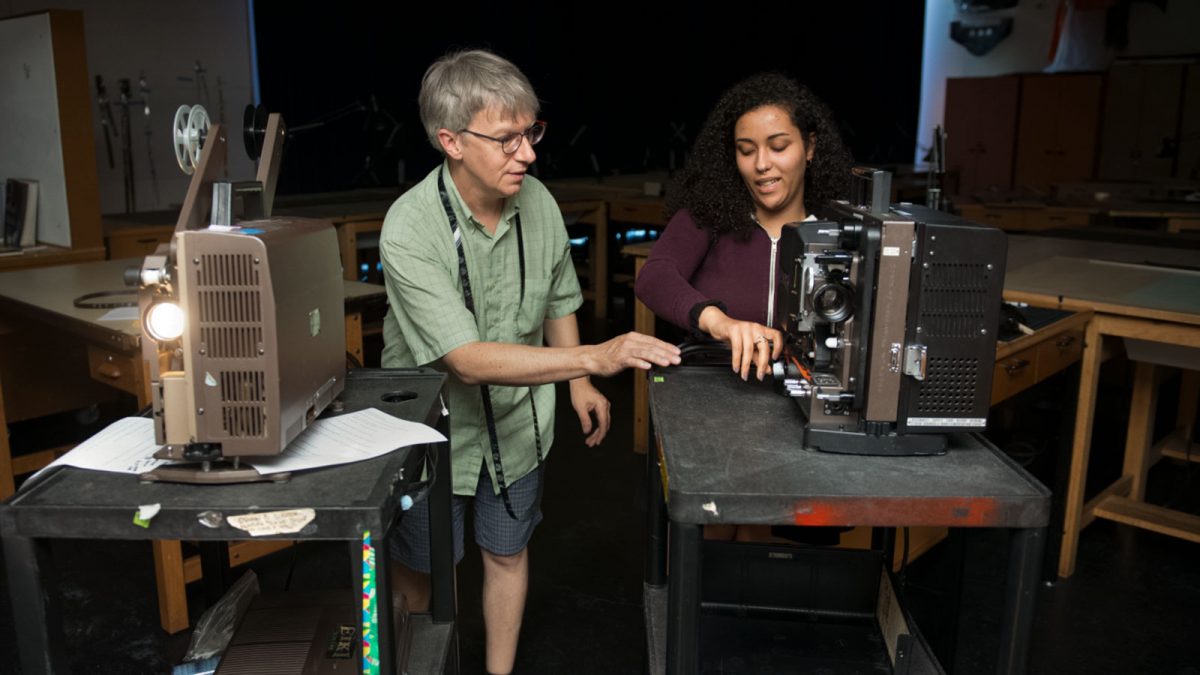 Photos of Devon's previous workshops courtesy of The Evergreen State College.
---
This event takes place at Rainier Arts Center!
On Sunday, March 8, join Children's Film Festival Seattle off-site at Rainier Arts Center (3515 S. Alaska St.) for a full day of colorful Closing Day festivities!
Celebrating the festival's globally-minded programs in one of Seattle's most diverse neighborhoods, the morning will kick off with your choice of "Om Nom Nom" or "Lift-off" – two programs that combine breakfast and a film screening – and then continue throughout the day with films for all ages, intergenerational hands-on workshops, and an awards ceremony!
Finally, the entire festival closes out with a live performance by youth from the School of Spectrum Dance Theater, who will choreograph a routine exclusively in response to the evening's feature film, Moving Stories! Moving Stories follows youth from around the world to showcase the transformative power and universal language of dance.
• 9:30am Early Breakfast Smörgåsbord (Special Event) – All ages
• 10:30am Om Nom Nom (Shorts) – All Ages
• 11:30am Late Breakfast Smörgåsbord (Special Event) – All ages
• 1:00pm Lift-off (Shorts) – Ages 9+
• 2:00–5:00pm drop-in hours Direct Cameraless Animation (Workshop) – All Ages
• 3:00pm Icing On the Cake (Shorts) – 2+
• 5:00pm Awards Ceremony (Special Event) – All ages
• 7:00pm Moving Stories Feature Film Screening & Dance Experience – 9+
---
Who should participate? Is any experience necessary?
Newbies heartily encouraged! Especially science nerds and random misfits.
What is the minimum age for participation?
Participants under 16 should come with an adult responsible for monitoring stuff like razor blade usage, etc.
What materials will students be working with?
Sharpies, razor blades, inks, paints, plastic tablecloths, washi tapes, candy wrappers, bleach if everyone's feeling bold, safe, and fume-tolerant.
Can students bring their own materials?
Heck yeah! Best results = permanent inks and semi-transparent materials that stick on bending plastics without flaking off.
What kind of finished product might one expect?
Participants can make 16mm loops and bring them home, wear them as necklaces, string up raspberry plants with them, shoot their loop with cellphones to save it for digital posterity… whatever they'd like to do!
---
Back to Festival Catalog:
---