Just Shoot It: Short Filmmaking in Seattle
This event took place on Dec 17, 2019
Registration for this workshop is full, but we will accept people at the door if there is room from unclaimed seats.
** Free with RSVP! **
About
Local filmmakers from a variety of genres and styles share their work and discuss their experiences making shorts, music videos and commercials in Seattle; from building a community of collaborators to how they've approached micro and larger budget projects. We'll screen one project from each filmmaker, walk the audience through its production and the different approaches, and answer any questions. Supplementary materials (shot lists, story boards, production schedules, etc.) available to anyone interested in how to organize their projects.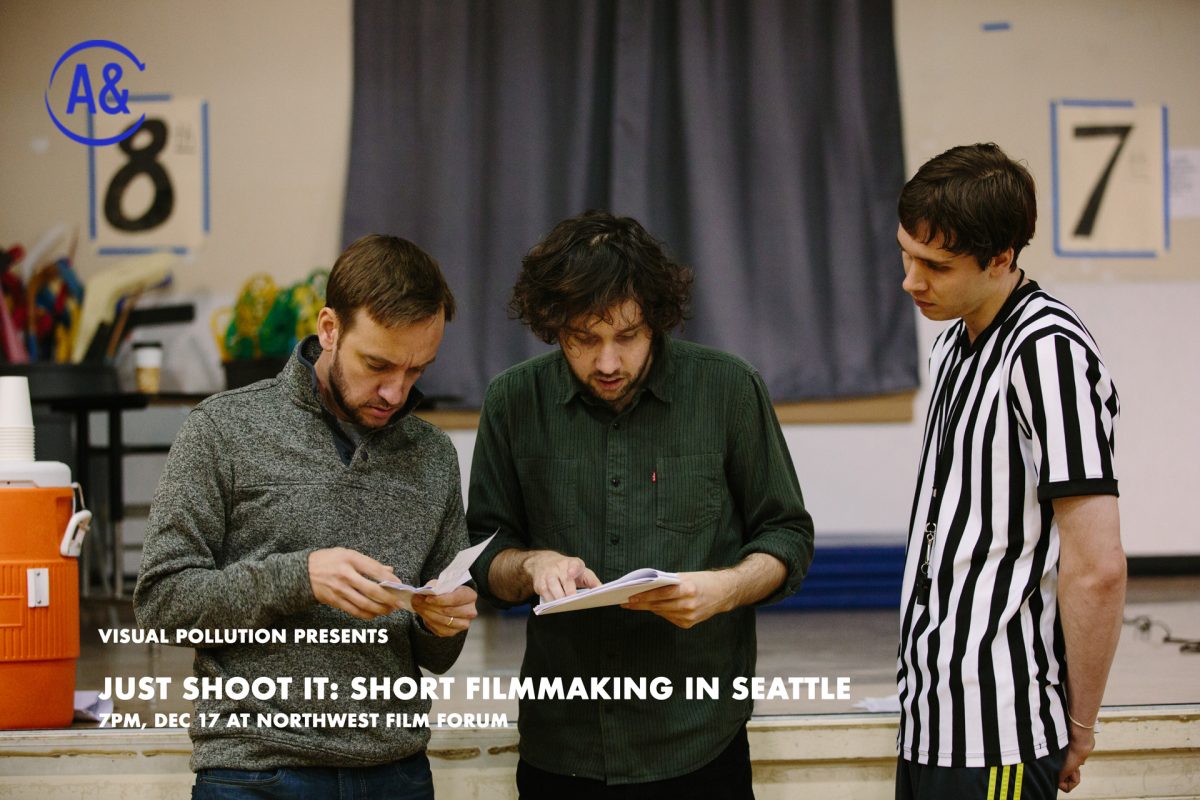 ---
Claire Buss
Claire Buss is a writer and director who has created videos for Snapchat, Netflix, Showtime, Google Arts & Culture, and more. She is the head writer and host of The Future is 0, a live game show series that was also recognized as a finalist for the NYTVF truTV Comedy Breakout Initiative. Claire is the co-founder of the art collective Weird Dog Productions. She currently works as a director at Cut.com.
Peter Edlund
Peter Edlund is a writer/director based in Seattle, WA. His short film Mixtape Marauders screened at festivals including Aspen, Clermont-Ferrand, Palm Springs and Raindance, received a nomination for Vimeo's 2018 Comedy of the Year, and was named Short of the Week's Comedy of the Year. He's attending the 2020 Sundance Talent Forum with the feature adaptation. On Chase the Clouds, Edlund collaborated with musician Erik Blood to tell an unsettling story of first love. The project was a finalist for Best Narrative at the Radar Music Video Awards and a Vimeo Staff Pick. Before that, Edlund directed The New West, a moody neo-western that also received a Vimeo Staff Pick.
Carlos A.F. Lopez
Carlos A.F. Lopez is a multi-faceted filmmaker with over a decade of experience in all stages of production: directing, producing, editing, shooting and writing. His short film Ghosting the Party premiered at the 2017 Nashville Film Festival and was the recipient of a Special Jury Prize. He was a producer on The Procedure, recipient of the Special Jury Prize for Best Short Fiction: U.S. at the 2016 Sundance Film Festival. He has directed and produced music videos for top independent music labels and artists, his work in this field garnering him the Grand Jury Prize at the 2016 Sync Music Video Festival. He is a karaoke enthusiast and inventor of the hot new dance craze sweeping the nation, The Slug.
Lael Rogers
Lael Rogers is the co-founder and creative director for the award-winning commercial and original content production studio All is Well. Her films have played film festivals nationally and been featured by Rolling Stone, Film Shortage and The Seattle Times. In 2019 she co-wrote and directed a short film, The Claw, commissioned by Film Independent and Visit Seattle that was awarded a Vimeo Staff Pick.
June Zandona
June Zandona is a Seattle based filmmaker. As a camera person over the last 15 years June has worked on a wide range of features, commercials, music videos, and documentaries. In 2015, June relocated back home to the Pacific Northwest to focus on directing her own work. Her most recent short film Wedding Video premiered at the 2019 Seattle International Film Festival.
Megan Leonard
Megan Leonard is a producer and festival programmer based in Seattle, WA. She has produced multiple award-winning shorts which have premiered at festivals around the globe. Mixtape Marauders was awarded Short of the Week's Best Comedy of the Year, and Leonard attended the 2019 Sundance Creative Producer Summit with the feature adaptation. Leonard started working for film festivals in 2010 and is currently the head Programmer for New American Cinema and ShortsFest at Seattle International Film Festival. She has also programmed for DOC NYC, Indie Memphis and Cucalorus, and has served as a mentor at SXSW and Film Independent Forum.
---
---