Local Sightings 2020 – What is Documentary in This Moment?
Sat Sep 19: 6.00–8.00pm PDT
• • HOW TO ATTEND THE TALK VIRTUALLY • •
Purchase your sliding-scale, pay-what-you-can ticket through Brown Paper Tickets. 
1 hour before the talk, NWFF will send a link to your registered e-mail address. (Don't see it? Check your spam folder.)
If you encounter any issues joining, please contact jonah@nwfilmforum.org. (But please, check your spam!)
Duration: 2h
Instructor: Karen Toering
A Black-Led Mediamakers' Panel Discussion Co-presented with Seattle Documentary Association & 206 Zulu
What is Documentary in this Moment? is resoundingly relevant each day within civic and creative life, as documentary is the make up of cinematic non-fiction, to journalistic inquiry, to cell phone and bodycam/surveillance… What is being documented, by whom, and why?
This panel discussion focuses on Black-led media documentation of current social and political engagement around the fight against police brutality and reinvesting in Black and Brown communities; a central and critical discourse in our country and communities. This panel, facilitated by Karen Toering (film programmer/curator), with panelists Omari Salisbury (Converge Media), Seattle Morning Marchers (Livestreamers) and Anthony Tackett (Black June documentary), explores perspectives on what documentary media is in this moment, what its future potential could and will be, and the importance of who is telling the story.
Event host Seattle Documentary Association cultivates and supports an equitable and professional community of nonfiction storytellers.
Donation & info portals for each: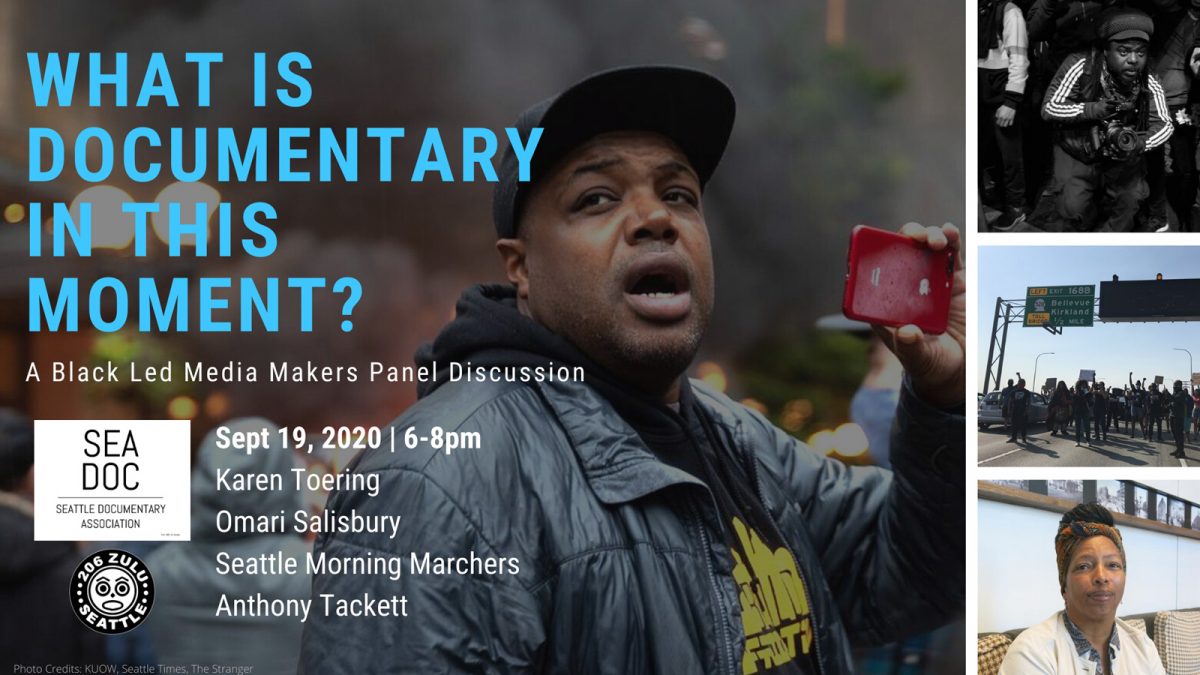 ** Co-presented by 206 Zulu – Dedicated to providing accessible spaces while serving communities through the upliftment, preservation, and celebration of Hip Hop culture **
---
Back to Festival Catalog:
Presented by Seattle's Northwest Film Forum, the 23rd Annual Local Sightings Film Festival [Online] virtually showcases creative communities from throughout the Pacific Northwest. The 2020 program, which runs from September 18-27, features a competitive selection of curated shorts and feature film programs, inviting regional artists to experiment, break, and remake popular conceptions around filmmaking and film exhibition.
Local Sightings 2020 champions emerging and established talent, supports the regional film industry, and promotes diverse media as a critical tool for public engagement. This year's festival also celebrates NWFF's 25th Anniversary as an organization.
Vote for your favorite films by 12pm PDT on Closing Day, Sep. 27; BEST FEATURE and BEST SHORT winners receive a future screening opportunity at NWFF!
---
---