BAZZOOKAFEST: BIPOC-Powered Interdisciplinary Music & Arts Festival 2022 [In Person]
FRI, AUG 19
Drag Performances:
5-10pm PT

SAT, AUG. 20
BIPOC Market and Vendors:
3pm-5pm PT
Live Music:
5-10pm
All events at Jefferson Park in Jefferson Park! Events are FREE with optional donations, and RSVP is encouraged!
About
The brainchild of filmmaker and musician Danny Denial, the second annual BAZZOOKAFEST is a physical and virtual space where BIPOC artists, creators, entrepreneurs and business owners can connect, and celebrate strength in solidarity.
Open to all-ages and demographics, the free two-day festival takes place on Friday, August 19 and Saturday, August 20 at Jefferson Park in Beacon Hill.
On Friday evening is BAZZOOKA BALL; from 5pm to 10pm, drag performances will be presented by BeautyBoiz and the Royal House of Noir.
Saturday includes a BIPOC marketplace with vendors during the daytime, with live music running from 5pm to 10pm. Performers will include Shaina Shepherd, Down North, Bijoux, Rainbow Coalition Deathcult, Combat Mommy, Jaiden Grayson, Da Kween, Supercoze, and Brujita XO.
—
Hosted in partnership with Northwest Film Forum, REDEFINE magazine, and The Vera Project.
Funded by Seattle Parks & Rec.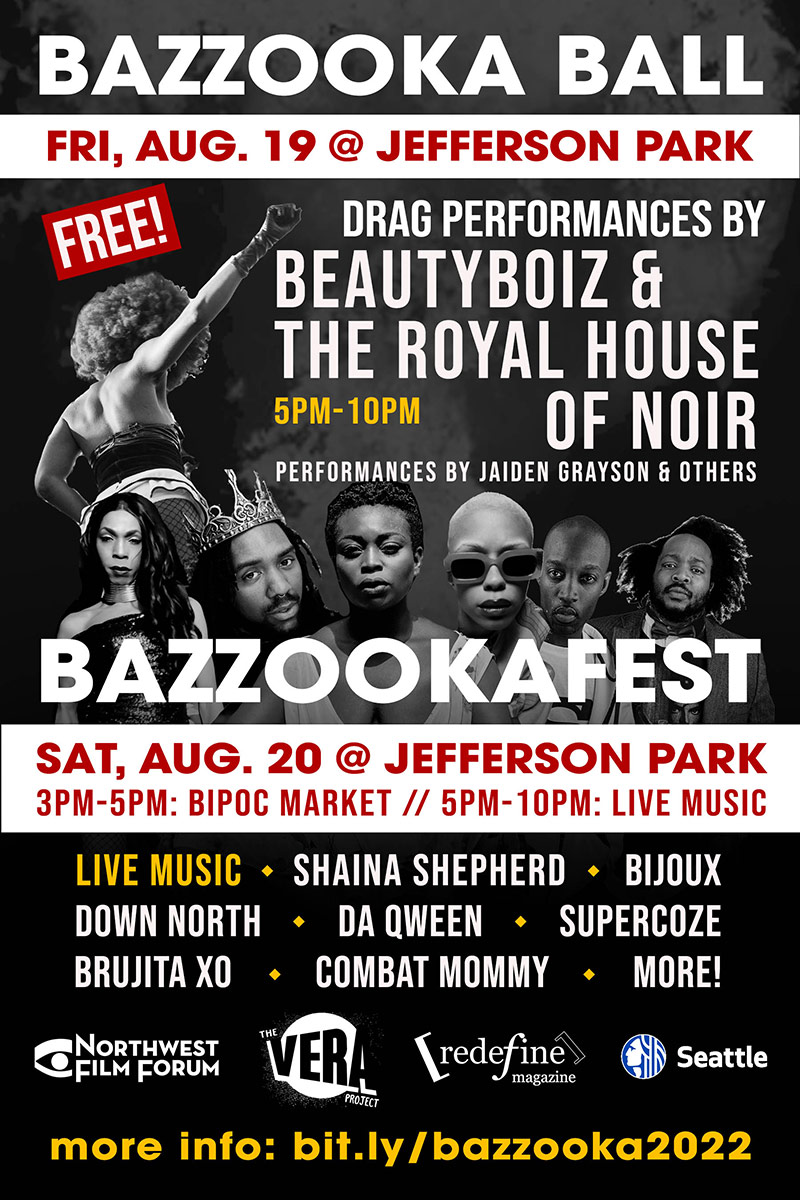 SCHEDULE OF EVENTS
FRIDAY, AUGUST 19 – BAZZOOKA BALL
3:00-7:00: DJ PRE-SHOW
7:00-8:00: BEAUTY BOIZ Presentation

HOT PINK SHADE 700-7:10
KAYLA CARRINGTON 7:10-7:12
ROULETTE DELGADO 7:15-7:27
DIVINE AUGUSTINE 7:30-7:42
JAIDEN GRAYSON 7:45-7:57

8:00-8:30: BALLROOM DJ
8:30-9:00: MINI-BALL CATEGORY (Runway) w/ CarLa, Elle, LuChi
9:00-9:20: CarLa & Elle
9:20-9:30: BALLROOM DJ
9:30-9:40: Rens ft. Elle
9:40-10:00: BALLROOM DJ
SATURDAY, AUGUST 20 – BAZZOOKAFEST
12:00: MARKET SETUP

3:00-5:00: MARKET & DJ PRE-SHOW

5:00-5:20: COMBAT MOMMY

5:30-5:50: SUPERCOZE

6:00-6:30: BRUJITA XO

6:40-7:10: DA QWEEN

7:20-7:50: DOWN NORTH

8:00-8:40: BIJOUX

8:50-9:30: SHAINA SHEPHERD
All events at Jefferson Park in Jefferson Park! Events are FREE with optional donations, and RSVP is encouraged!
PARTICIPATING BANDS
SHAINA SHEPHERD
Shaina Shepherd is a singer, songwriter, vocal teacher, and community organizer in Seattle, WA. Known for her pervasive style as front-woman to soul-grunge band BEARAXE, her notable vocal stylings have brought her into various creative spaces — from collaborating with Duff McKagan, Chong The Nomad and Acid Tongue to sharing stages with rock stars like Dave Matthews and Thunderpussy to being a soloist with the classical ensembles around the country. Inspired by the parallels between gospel and garbage metal, Shaina Shepherd is not your average vocalist. Living in the city where both Soundgarden and Quincy Jones cut their teeth, Shaina lends her soulful voice to projects of all genres.
DOWN NORTH
There are some performers who come to music later in life. Then, there are folks who you can just tell were voracious students and consumers of music since before they could talk. Seattle / Los Angeles / North Carolina based quartet Down North fall squarely into the latter group. Trying to pin genre tags onto their unique brand of psych-infused punk soul is an exercise in futility. These creatives pick and choose just-right bits and flavors drawn from the whole of modern western music like painters with unlimited palates. 
RAINBOW COALITION DEATHCULT
DA QWEEN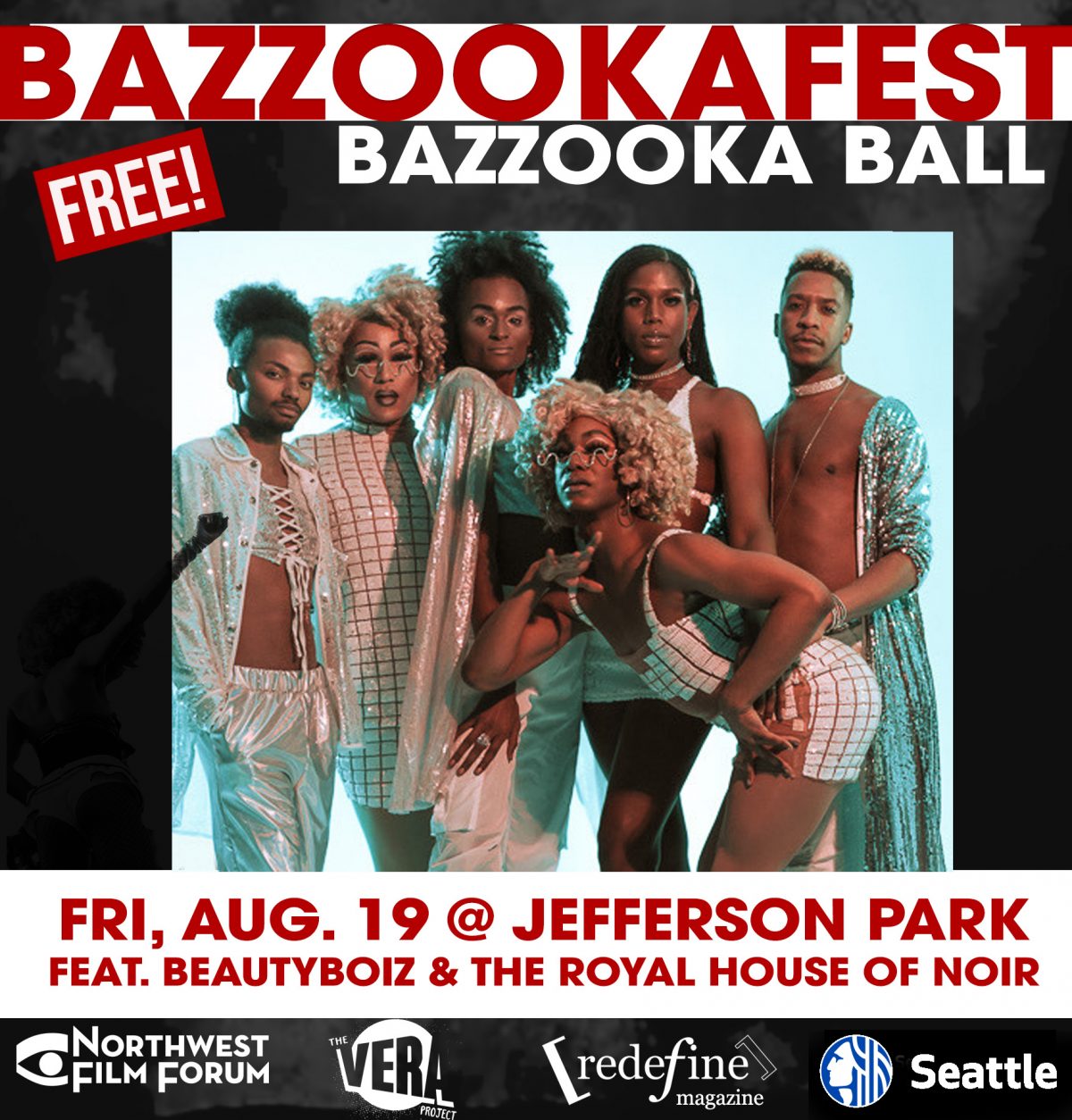 DRAG PERFORMANCES
BEAUTYBOIZ
BeautyBoiz is powered by Forward Flux Productions, a 501(c)3 non-profit live arts production company. All donations are tax-deductible as allowed by law, and go to support our work providing a safe space for the LGBTQ community, and providing queer artists with paid opportunities to share their beauty with the world.
The Royal House of Noir builds visible community, and provides space and resources through our talents for the BQT community.
The Royal House of Noir aspires to excellence and success within themselves and fellow BQT folx in hopes to inspire others.
The Royal House of Noir is a house where you can be who you are in a safe environment and feel uplifted, empowered, and celebrated.
The Royal House of Noir centers trans black people, their experiences, their livelihood, and their continued existence.
**Specifically Black Trans Womxn have paved the way and are vital to the future of our culture.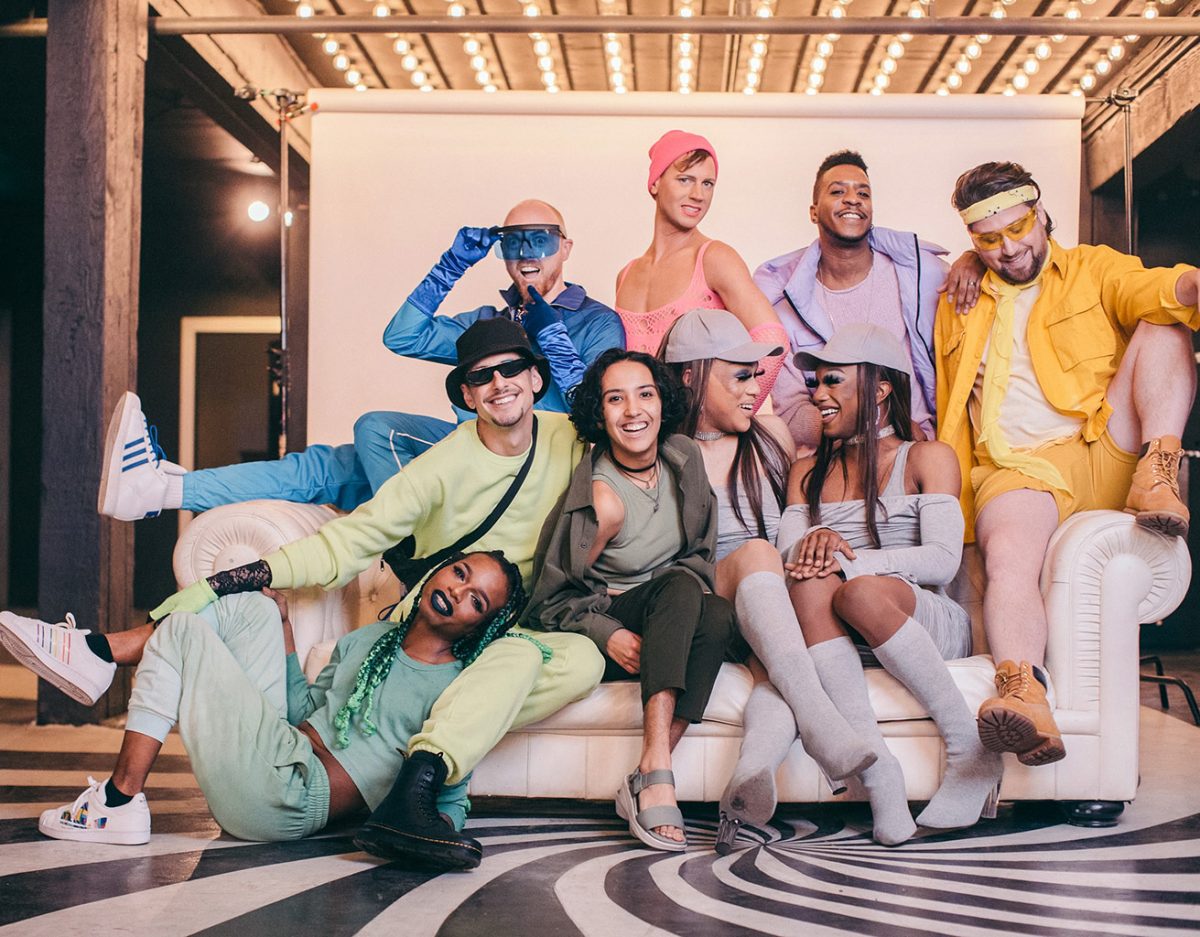 ---