Enby Party 2023 [Hybrid]
Saturday, Aug. 19
Day 1 (doors at 3pm) 4–6pm
Night 1 (doors at 7pm) 8–10pm

Sunday, Aug. 20
Day 2 (doors at 3pm) 4–6pm
Night 2 (doors at 7pm) 8–10pm
To make Enby Party as accessible, community-oriented, and sustainable as possible, we offer variable ticket pricing from $15 to $45.
When selecting your ticket price, please consider the identities you hold and your financial position. We offer this scale as a suggestion, but leave it to your discretion to decide what you can afford to pay and respect any price you choose:
$15 | Trans, Black & Indigenous, or anyone experiencing financial insecurity
$20 | Trans, People of Color
$30 | Trans, White people
$45 (Pay It Forward) | Cisgender ally, has expendable income, etc.
Questions about ticketing? Please contact enbyparty@gmail.com
Want to support Enby Party's work?
Enby Party is all volunteer-run and funded entirely by ticket sales. Your in-kind donations will ensure that we can compensate artists well and cover event costs. Thank you for investing in us so that we can invest in community! Donations are processed by our fiscal sponsor, Northwest Film Forum, and are tax-deductible.
Click for Accessibility Info
Ticketing, concessions, cinemas, restrooms, and our public edit lab are located on Northwest Film Forum's ground floor, which is wheelchair accessible. All doors in Northwest Film Forum are non-motorized, and may require staff assistance to open. Our upstairs workshop room is not wheelchair accessible.
The majority of seats in our main cinema are 21″ wide from armrest to armrest; some seats are 19″ wide. We are working on creating the option of removable armrests!
We have a limited number of assistive listening devices available for programs hosted in our larger theater, Cinema 1. These devices are maintained by the Technical Director, and can be requested at the ticketing and concessions counter. Also available at the front desk is a Sensory Kit you can borrow, which includes a Communication Card, noise-reducing headphones, and fidget toys.
The Forum does NOT have assistive devices for the visually impaired, and is not (yet) a scent-free venue. Our commitment to increasing access for our audiences is ongoing, and we welcome all public input on the subject!
If you have additional specific questions about accessibility at our venue, please contact our Patron Services Manager at maria@nwfilmforum.org. Our phone number (206-329-2629) is voicemail-only, but we check it often.
Made possible due to a grant from Seattle Office of Arts & Culture, in partnership with Sensory Access, our Sensory Access document presents a visual and descriptive walk-through of the NWFF space. View it in advance of attending an in-person event at bit.ly/nwffsocialnarrativepdf, in order to prepare yourself for the experience.
NWFF patrons will be required to wear masks that cover both nose and mouth while in the building. Disposable masks are available at the door for those who need them. We are not currently checking vaccination cards. Recent variants of COVID-19 readily infect and spread between individuals regardless of vaccination status.
Read more about NWFF's policies regarding cleaning, masks, and capacity limitations here.
Enby Party & NWFF Present: Life Cycles Non-binary Music, Film & Art Festival
About:
Howdy buds, blossoms, and brambles! We're blooming and grooving together, all over again!
Enby Party is a non-binary art and music collective based out of Duwamish, Suquamish, Muckleshoot, and all Coast Salish lands (AKA Seattle), founded in 2018. Our aim is to create safe and accessible spaces for queer and trans joy, centering the contributions of QTBIPOC artists.
This year Enby Party and Northwest Film Forum are presenting a two-day festival featuring live music, film, dance, drag, performance and visual art exploring non-binary identity and life cycles. The lineup will showcase over 25 live performers and filmmakers, plus a virtual gallery of visual artists who were selected from an open call. Additionally, Enby Party will be releasing Volume 4 of our cassette tape compilation and their very first zine!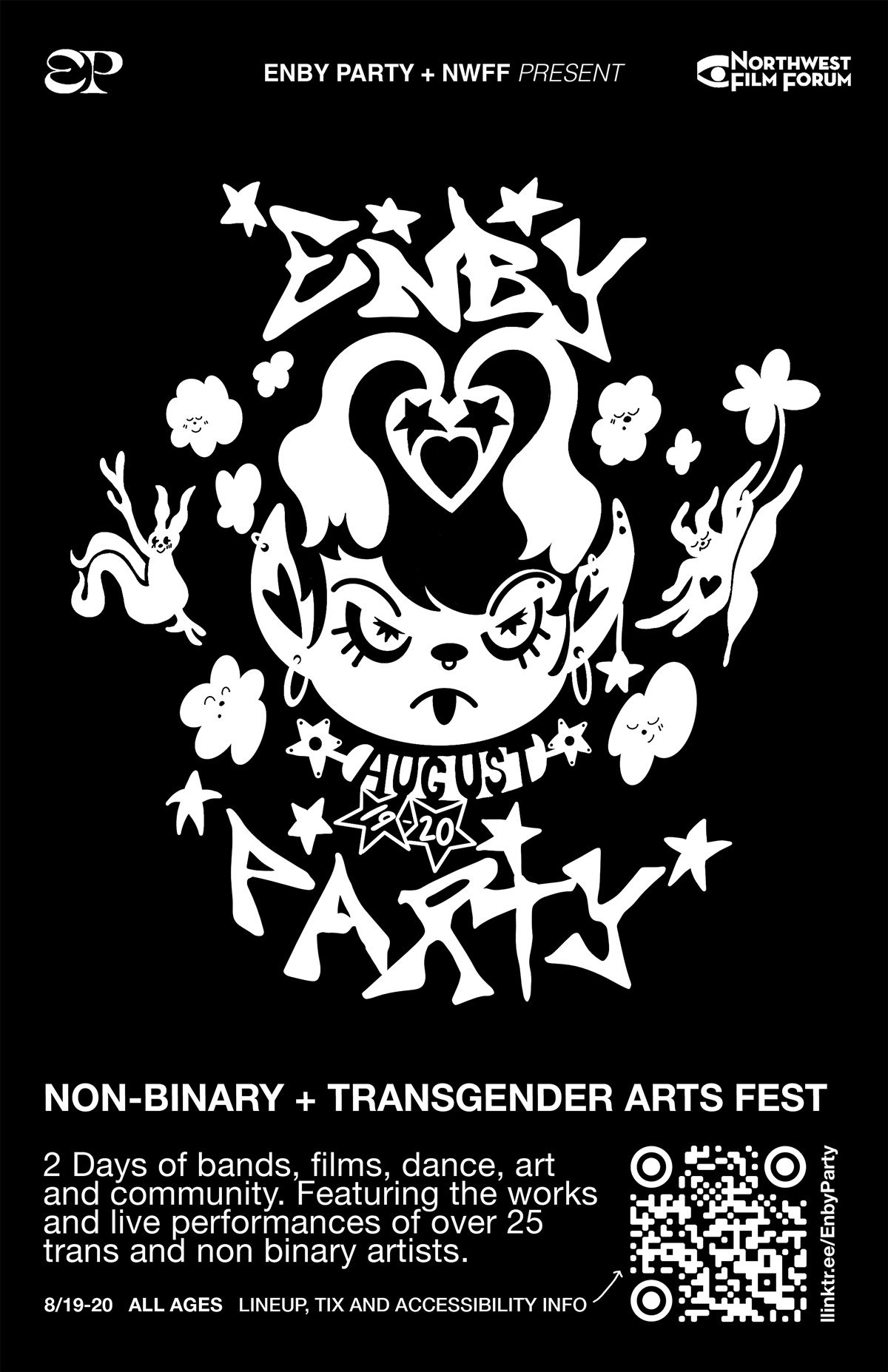 ---
Saturday, Aug. 19
Day 1 (doors at 3pm) 4–6pm
🎶 Chiku Nance
👠 Baby
🎶 LoPhildelity Radio
🎶 True Friend
🎬 You Got This by Chips
🎶 DJ set by Rascal Rae
Night 1 (doors at 7pm) 8–10pm
🎶 Glass Noose
🎬 Moto Baby by awa-moon
🎶 Freddie Lee Toyoda
🩰🎬 House of Kilig
🎬 Swing Low by Minna Lee
🎬 Disfigured Flames by Sepia Katsoolis
Sunday, Aug. 20
11:30am – 2:30pm
House of Kilig: Behind the Techniques
Interdisciplinary Dance & Film Workshop
Separate registration through House of Kilig here >
Day 2 (doors at 3pm) 4–6pm
🎬 Reckless Spirits by Vee Hua 華婷婷
🎶 Porch Cat
🎶 SoyJoy
🎶 Toxic Tears
📝 Xōchi
🍌 Jupiter Bacchus
🎬 emasculate conception by boymoder
🎬 My Pretty Woman Is A Real Handsome Man by Wes Weisbaum
Night 2 (doors at 7pm) 8–10pm
🎶 Da Qween
🎶 Iron Angler
🎶 IZUMI
🎬 Jigna by Leah Solomon
🎬 selections from 'a compilation' by Amaya Zhané
🎶 DJ Exesive
---

hi i'm nance 🙂 i'm a CHamoru (indigenous to Guåhan) musician, fiber artist and comedian based out of seattle, wa. in my work i like to explore and express the intersections of my identity as a queer, non-binary, indigenous Pasifika, mentally ill human being. my songs are kind of like my diary, they're how i process grief: with emotional lyrics backed by happy go-lucky melodies.

west coast angel, drag producer, hot grrrl, & ur boyfriend's favorite DJ

LoPhildelity Radio
(they/he)
I'm a Taiwanese trans masc multi disciplinary performer. I perform my personal concepts through dance, music (trumpet), and am influenced by many of my friends who are drag performers.

True Friend
(Noah - they/them, Josh - he/him, Chadley - he/him)
rock music, fun with different time signatures. my most recent EP "Nature Walk" explores themes of social anxiety, interaction with nature animals and the outdoors as comforting and relaxing spaces but also places of selfish decadence where ppl end up destroying the spaces in the process of enjoying them.

Hi! I'm Rae, I use a combination of found sound and synthesis to deliver messages of joy to whoever will listen. I mainly produce techno and house music, but I'm also known to get weird with my violin and create delicately unfolding ambient soundscapes. I like to tailor my compositions towards the space and audience it will be received in, and I'm applying because I feel like it would be good for my soul to be around a whole gaggle of other gender nonconforming creatives ✨

I am a 21 year old nonbinary first gen Filipinx creative :0) I dabble in jewelry making as a space for self expression, solace, community, and healing. I've been experiencing a lot of grief and life changes the past few years that I've been simultaneously finding and losing myself in continuous cycles.

Glass Noose
(they/them/any)
i am an agender musician who writes music about self-discovery, sociopolitical issues, and dealing with mental illness, overcoming self-loathing, etc. heavy-post-genre-core

Freddie Lee Toyoda
(Freddie - they/them, Keegan - he/they, Aiden - he/him)
Freddie is a trans non-binary sunflower, grown on Duwamish land. They make sadpunk tunes and scream about their feelings.

A love letter magnifying the intersection of transgender identity, nature and motorcycles.

Minna is a playwright and animator living and working in Lenapehoking. Their play, My Home on the Moon, will premiere at San Francisco Playhouse in January 2024.

House of Kilig Performance + Harana for the Aswang screening
(V Babida - they/them, Arabella Bautista - they/she/he, Gaby Colon - she/they, Moonyeka - they/them)
Join House of Kilig at Enby Party to celebrate a works-in-process showing of Harana for The Aswang! Starting at 8PM, we will show a film excerpt of our BASE residency experience (edited by V Babida) with a poem animation digitally produced by Arabella Bautista. Following this viewing, there will be a dance excerpt performed by Gaby Colon. Stay at the end to hear about our upcoming workshop and to listen to a short Q+A about our experience!
Harana for the Aswang is an audio-visual-performance work centered on queering the research of harana, a Filipinx-Ilocano-Southern Americas diasporic serenade song form rooted in courtship and grief rituals. Aswang is an umbrella term for various shape-shifting, mythological, animist, folkloric, "evil" spirits and creatures in Filipino folklore. Harana for the Aswang is researched through 7 different Aswang archetypes, starting with the Siren archetype. This research modernizes Aswang spirits to those who root into our intersectional QT diasporic lives.

Sepia Katsoolis
(he/they)
I am a 22-year-old non-binary Trans man emerging visual artist and experimental 16mm filmmaker. In Disfigured Flames (2023), two transmascs rise from a claw-foot bathtub filled with homemade soy milk, I eco-processed the film itself in soy milk as well. The characteristic white liquid is reminiscent of artificial beings and cyborgs in dystopian Sci-Fi: bridging the gap between natural and constructed or human and artificial. I confront my audience with their enforced cognitive separation of transgender and cisgender bodies along false lines of "genetics" and "biology." A prevalent motif around the first world war was the Dance of Death, which I use to warn of the blistering infection of tech corporations in Seattle and the genocide of trans people in America.

House of Kilig Workshop
(Moonyeka - they/them, Amori - she/her, Arabella - they/she/he)
House of Kilig is a Trans + Queer diaspora centered collective that utilizes 𝘬𝘢𝘱𝘸𝘢 and 𝘬𝘪𝘭𝘪𝘨 as a compass in pursuit of interdisciplinary art creation. Behind the Techniques is a generative dance x film workshop for curious creatives, dancers, film makers, and digital magicians who are interested in developing collaborative skills in this process-based skill share. Tickets sold separately through House of Kilig

Vee Hua 華婷婷 is a writer, filmmaker, and organizer with semi-nomadic tendencies. Much of their work unifies their metaphysical interests with their belief that art can positively transform the self and society. They are the Editor-in-Chief of REDEFINE, Interim Managing Editor of South Seattle Emerald, and Co-Chair of the Seattle Arts Commission.

Porch Cat
(Chan - they/them, Emily - she/her)
Chan is a queer, disabled Mexican-American artist and musician working under the name Porch Cat. Their visual art depicts the macabre, magical realism, flora and fauna, and the cycle of life and death, while drawing inspiration from Mexican art and culture. Alongside their partner Emily Ayden on guitar, Chan writes and performs as Porch Cat, a DIY queer folk punk band known for their passionate and intimate live shows, which celebrate the diversity of queer and marginalized identities. Living with chronic conditions like Narcolepsy with Cataplexy, Ehlers Danlos Syndrome, and PTSD, Chan finds solace in both their music and their art.

I'm a singer-songwriter and I play a 12 string guitar. I write songs that hopefully provide comfort and healing to folks that are marginalized in all sorts of ways.

Toxic Tears
(Jeane - they/them, Eva - she/her)
we r two soft queer and trans poc punk bros who want to empower queer soft bois to be in their feels and thrash and let go on the dance floor. we r singing songs about gender, rage and feels.

Xōchi uses movement, song, and speech to convey their learnings to those around them. Their time spent exploring their grief and cultivating their garden of joy has allowed them to create Spanish spoken word as it relates to their current stage of growth, love, and community healing.

Jupiter Bacchus
(they/them)
I do various forms of banana art, this would sort of be like my interactive art at SEAF but basically it would be more like banana therapy, where people write or draw their woes or hopes on a banana and then proceed to interact with it to release their emotional expressions. My participants have found this to be extremely emotionally gratifying and it brings so much joy to me.

boymoder
(ava - she/her, sho - she/they)
emomathpop for the sadgirls, boymoder started as a solo project for ava (she/her) on guitar/vox, recently joined by sho (she/they) on drums/vox. from abandoned backlots to dingy diy spaces, this is a celebration of queer liminality, a mourning of our marginality, and so much more! come make a scene with us<3

Wes Weisbaum is an award winning multimedia artist living in Los Angeles, CA. They are currently completing their MFA in Photography and Media at the California Institute of the Arts. Focused primarily in poetry and filmmaking their work touches on the intersections of their identity as a trans salvadoran-American in the San Fernando Valley. Rendering Homemovie HI-8 to a contemporary cinematic state.

Black Queer Non Binary Raptress Spitting from the 206
Royal Moon Babe. Conscious Hoodrat. Black Black BLACK.

Reggaeton, Merengue, Dancehall, Mountain&Jungle Cumbia, Salsa, Bachata

IZUMI is on the hunt for fear, rage, and forgiveness through song. They invite a visceral energy that can validate one's past self and vitalize who is to come. With clever, biting, yet poised lyrics, and deft guitar riffs, Izumi creates a balance between folk, art pop, post-punk, and indie in a style all their own.

the pirate & the dreamboat

Leah Solomon is a multidisciplinary artist & experimental filmmaker. Her work seeks to explore new sonic and visual methodologies through abstraction, oral histories and material ecologies.

Amaya Zhané is a black, queer, gender nonconforming director/producer/curator in live performance. I've just graduated with a BFA in Original Works from Cornish College of the Arts. These two short films/ music videos [featured in Enby Party] were a part of her thesis project 'a compilation', "a show about life, death, the before, the after and the in-between".
---